How smaller businesses can stave off the job loss epidemic
SMBs need to move beyond buzzwords and start to plan for the future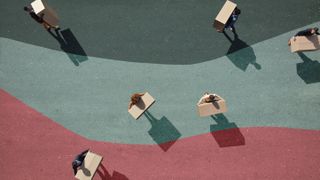 (Image credit: Getty Images)
This article originally appeared in issue 30 of IT Pro 20/20, available here. To sign up to receive each new issue in your inbox, click here
The UK is Europe's leading startup destination, and ranks fourth globally in the countries on share of billion dollar startups (Unicorns), behind the US, China, and India according to the Startup Index of Nations & Regions from the Center for Global Innovation at the University of Southern California.
Despite the growth of unicorns beginning to slow, 2021 proved to be an exceptional year for startups in the UK, with its ecosystem value leaping up by nearly 43% - towards $1 trillion (£840 billion) - with Sifted ranking the UK third worldwide, as its value equalled that of France, Germany, and Sweden put together.
Progressing into 2022, despite the looming global economic crisis and the aftermath of Brexit and the pandemic, the UK still saw a YoY growth of nearly £3bn in the first quarter of this year, compared to Q1 2021, from investment in UK tech startups. However, signs indicate that UK investment is starting to slow with funding becoming harder to access.
"The current economic slowdown, which has caused some of the largest companies in the world like Tesla, Netflix and Uber to announce hiring freezes and layoffs, will inevitably touch all businesses, large and small," says Ekaterina Almasque, general partner at European Series at VC, OpenOcean. "With the cost of doing business high and fears of a global recession, startups will find VC funding much harder to come by than previous years."
Job losses on the horizon
Freetrade, the London-based trading platform, recently announced it's making 15% of its staff redundant, stating the "difficult decision" was necessary as "global stock markets have been falling and funding for businesses like ours has slowed". London HQ'd Curve, a digital wallet aggregator, has made between 60% to 70% of people redundant, with CEO Shachar Bialick telling Sifted the company had made the decision "with the aim of putting us in the best possible position for growth in the second half of the year."
Similarly, London-based casual recruitment platform Stint confirmed that 20% of its 140 employees are at risk of redundancy, Zapp, a UK-based fast grocery delivery startup, said that it's shedding 10% of staff, and Cazoo – once one of the highest funded new tech businesses in the UK – reduced its headcount by 15% in June 2022, impacting 750 jobs across its UK & EU operations with the termination of its used car markets.
RELATED RESOURCE
Market guide for web, product, and digital experience analytics
Analyse customer and user behaviour, digital product performance and usage patterns to improve the digital customer experience
"The combination of rising inflation and interest rates with supply chain issues caused by the pandemic and war has driven up the cost of living and hit consumer confidence," says Alex Chesterman, Cazoo's founder and chief executive. "This perfect storm has placed cash conservation top of mind for the company, ahead of growth."
This wave of layoffs isn't only occurring in the UK, however, with companies globally feeling the pinch of slower business growth and rising labour costs. In November 2022, Stripe - the fintech startup from Silicon Valley - announced they were reducing their workforce by 14%, equating to around 1,000 jobs, as a result of the rising energy costs, higher interest rates, and reduced funding.
To date the Layoffs.fyi tracker indicates that 105,000 people have lost their jobs at private startups in 2022, with Meta and Twitter making the most recent headlines. It's a definite warning sign to others, as well as small and medium-sized businesses (SMBs) across the UK, to ensure that they don't become the next victims.
Funds are drying up
One of the more obvious reasons that companies are reducing their headcount in 2022 is the rapid rise in energy costs, particularly when this comes after Brexit and the COVID-19 pandemic recovery, along with tax and interest hikes.
According to the first Simply Business SME Insights Report - an annual study of the UKs SMBs - nearly 90% have lost a significant amount of income over the last two years, and one in six says they'll never fully recover.
"The reason small businesses are likely to suffer in 2022 is due to their primary source of funds being provided by VC ventures," Samuel Leach, founder and chief executive of Samuel and Co Trading, tells IT Pro. "Their dependence on cash from 'raising"' may prove problematic as the year continues. And as inflation rises, we can see a potential recession on the horizon, making it less likely for investors, banks, and financial institutions to part with their capital, no matter the business's potential.
"The number of deals is projected at 6,904, a 22% drop from the previous quarter, and the continuing decrease in VC funding and lack of liquidity is guaranteed to take a further toll on small businesses."
Andy Oury, partner at Oury Clark Chartered Accountants, adds: "The bubble has burst on cheap endless money. A perfect storm of shocks has seen VC money somewhat dry up. Of course, the uncertainty is impacting all businesses, but it's small businesses that face the brunt of it."
Damian Hanson, co-founder & director at CircleLoop, believes that the shift to hybrid working has also played a part as SMBs and startups struggle to adapt to the widespread demand for flexibility. "Unfortunately, though it seems simple in theory, implementing this hybrid working to the benefit of employees as well as business revenue is something that has gone wrong for a number of businesses this year," he tells IT Pro.
"Numerous startups and SMBs have risen to the challenge, committing to a hybrid working model in an effort to move with the times. If only it were that simple. Too many SMBs have learnt the hard way that more than just commitment is needed to make hybrid working a success."
How to avoid becoming the next casualty
Startups and SMBs need to act now to ensure they're not the next victim, says Henrik Grim, MD of Europe for Capchase. He tells IT Pro there's a rapidly growing alternative financing scene that could help companies avoid reducing its headcount, which is, in many cases, counterproductive.
"If you require capital to weather an economic storm, there are options available," he says. The startup scene is not entirely reliant on VC capital to fuel growth. In 2008 the collapse in funding meant that new startups were hobbled, failures were exacerbated, and growth severely curtailed. Now, however, there are scores of companies offering numerous ways for viable startups to continue to get capital. Traditional finance is also very different, with loans from banks a genuine option for many startups.
Grim adds the tech downturn is likely to be very uneven, affecting some types of startups more than others: "Tech-enabled businesses – which have lower margins and capital efficiency – such as logistics, proptech and physical goods retailers are going to find it a very tough time. However, pure tech businesses – such as software as a service (SaaS), cyber security and many fintech startups – are going to be much less exposed".
For those startups looking to continue on the route of more traditional funding methods, Almasque notes they need to move beyond buzzwords: "They need to demonstrate that they're solving real problems; addressing IT infrastructure efficiency, tackling data analysis problems or in some other way improving people's lives in a tangible way."
Leach adds that while it's clear there's no reason for all small businesses to panic just yet, it's vital to build a contingency plan to allow them to allocate company budgets more effectively. "The four main areas business should be monitoring and focusing on are company debt, decision making, digital transformation, and workforce management," he tells IT Pro. "Avoiding the mass layoffs that we have seen recently is due to poor planning and change management."
According to Dutta Satadip, chief customer officer at ActiveCampaign, startups can also weather the current economic storm if they focus on providing a superior customer experience to their competitors. "Many SMBs and entrepreneurs have a lot to win against larger brands, especially in the face of 'shop small' movements," he says. "People understand the impact that supporting an SMB can have and sometimes will even make a point of trying to shop outside of the tech giants, which is why providing 1:1 experiences help with customer retention.
RELATED RESOURCE
Market guide for web, product, and digital experience analytics
Analyse customer and user behaviour, digital product performance and usage patterns to improve the digital customer experience
"However, to win these customers and have them return back as repeat customers, developing radical transparency is a must. Radical transparency begins with keeping customers informed, from informing them about delays on circumstances out of your control to proactively updating them rather than the customers chasing the company for updates."
It's not just customers that need to be kept happy, as Hanson – who warns that a failure to implement hybrid working could also be having a detrimental impact on UK startups – says a proactive approach to flexibility is also key. "The at-home set-up for each employee must be considered and supported carefully," Satadip continues. "Without an office of colleagues to ask immediately for help or ad hoc tech support, it's even more essential the tools and platforms your business operates on work seamlessly together to remove potential points of friction for your staff."
This article was first published on 06/09/2022 and has since been updated.
Get the ITPro. daily newsletter
Receive our latest news, industry updates, featured resources and more. Sign up today to receive our FREE report on AI cyber crime & security - newly updated for 2023.
Carly Page is a freelance technology journalist, editor and copywriter specialising in cyber security, B2B, and consumer technology. She has more than a decade of experience in the industry and has written for a range of publications including Forbes, IT Pro, the Metro, TechRadar, TechCrunch, TES, and WIRED, as well as offering copywriting and consultancy services.
Prior to entering the weird and wonderful world of freelance journalism, Carly served as editor of tech tabloid The INQUIRER from 2012 and 2019. She is also a graduate of the University of Lincoln, where she earned a degree in journalism.
You can check out Carly's ramblings (and her dog) on Twitter, or email her at hello@carlypagewrites.co.uk.