Is anything as a service (XaaS) fit for purpose?
Digital transformation is becoming key to enterprise survival, and its relationship with the cloud is dramatically shifting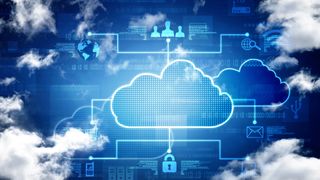 (Image credit: Shutterstock)
The pressures on businesses to keep up with the speed of innovation is mounting. Not only did COVID-19 force many organisations to completely transform their approach, with many turning to the cloud, but recent economic pressures are only adding to this demand.
Modern digital transformation has always been underpinned by the anything as a service (XaaS) model, which allowed enterprises to pursue the greener grass of digitisation, higher efficiencies and new products and services. With the purpose and nature of these traditional cloud models changing, though, it prompts us to ask whether the XaaS approach is fit for purpose in today's age.
As digital transformation only accelerates, with the global market expected to grow to $1 trillion by 2025, how organisations tap into it, given the changing nature of XaaS and cloud computing, might determine whether projects end in success or failure.
The shifting sands of cloud computing
"Digital transformation is about apps, data, and user experience (UX). Cloud reminded us that it was not about keeping the lights blinking but about those apps and data that power our businesses," says Mike Dorosh, senior director analyst at Gartner. "The first decade or so of the cloud was all about figuring it out and getting there. We saw a lot of lift and shift of apps without a whole lot of refactoring or reworking."
Since about 2019, though, organisations underwent a shift towards cloud nativisation – that is the use of the native platform capabilities of the cloud, while software vendors also optimised their apps for cloud deployments, Dorosh adds. We've also seen a shift in buying focus from infrastructure as a service (Iaas) capabilities, which is capital-free and on demand, to platform as a service (Paas) becoming the focus. Gartner sees the market as combined infrastructure and platform services now, with customers selecting the platform not for IaaS benefits but for the best PaaS fit and software vendor mix.
"In addition, most of the IT services market has shifted to focus on cloud adoption, as well as delivering traditional on-prem hybrid cloud services from the cloud," he continues. "The hardware vendors are all beginning to deliver their hardware 'as a service'. At the same time, most enterprises realised the move to the cloud had the benefit of modernising how they deliver and consume IT. Their cloud journeys will take years, and the rising tide of adoption will drive cloud tech further into enterprises."
The XaaS supremacy
With almost everything in the IT stack becoming readily available in as-a-service forms, most commodified IT systems will be consumed this way, VP and principal analyst with Constellation Research, Dion Hinchcliffe, tells IT Pro. "This leaves differentiation of the businesses as the last major bastion of existing and new custom development in IT departments. In this way, IaaS has become the foundation for most new IT, with SaaS providing a quick way to adopt and scale new applications."
PaaS, however, which is the most evolved and strategic form of the as a service model, has become a way to quickly climb the cloud maturity cure when it comes to successfully delivering on differentiated IT. What's known as integration as a service, too, has become a key cog, making it much easier to connect together multiple IT systems in the cloud with trends like seamless customer experience (CX) becoming ever more critical to the business.
Contrary to wider sentiment, though, principal analyst at Forrester, Lee Sustar, tells IT Pro the XaaS model is somewhat outdated. This uses the framework of cloud application services, development services, data analytics services and infrastructure services, which all collectively underpin digital transformation.
"Lift and shift has given way to differentiation based on workload affinity and new capabilities in the cloud and the edge as well as residual needs for on-premise infrastructure," Sustar says. "The result is an IT estate that may encompass SaaS for many enterprise applications, some on-premise workloads that remain due to inherent difficulties in modernisation, data security or latency concerns, and edge computing where content distribution or local computing is needed. The public cloud, and increasingly multiple public clouds, are the centre of the IT estate."
Digital transformation, at your service
Cloud is essential to digital transformation today, since cloud provides a scalable, flexible, elastic, easily accessible and cost-efficient platform to run the business, says IBM's EMEA solutions leader for data and technology transformation, Ahijit Chatterjee. Without this layer, the enterprise would not be able to achieve the required automation and orchestration for the subsequent data layer, comprising big data and analytics.
The increased agility – being able to quickly deploy hardware and applications – and the flexibility of a pay as you go model moves traditionally Capex models to Opex where enterprises are able to experiment at a significantly lower their risk. They can also act in an agile way and try out different use cases before prioritising and focus on the top ones.
During the pandemic, digital transformation picked up like never before, with all manner of businesses engaging in projects. "Both CX and digital workplace were updated for the times in time frames that many didn't believe were possible before," Hinchcliffe adds. "We saw mortgage companies moving to all digital servicing, including the actual document signatures themselves. We saw healthcare networks adopt telehealth for delivering healthcare services that were almost always delivered in-person before. The cloud is what made these shifts happen so quickly and so well, and it was, in particular, PaaS and IaaS that made it happen so rapidly for thousands of organisations."
RELATED RESOURCE
Flexible IT for agile service providers
Leverage consumption-based economics to create competitive advantage
"Yara, one of the world's leading fertilizer companies and a provider of environmental solutions, created an industry-wide business platform to connect and empower independent farmers," Chatterjee tells IT Pro. "It will use Internet of Things (IoT) sensors and artificial intelligence (AI) to provide hyperlocal weather forecasting, crop damage prediction, and real-time recommendations. Already downloaded by over 600,000 farmers, this platform is transforming Yara's existing supplier relationship and expanding its value."
Moving to the cloud has become an enabler towards goals like operational efficiency, higher value creation, and better CX leading to more growth as well as revenue for the enterprise. Digital transformation enabled by cloud‐based applications and supported by emerging technologies is gradually becoming the core of the intelligent enterprise.
Stay up to date with the latest news and analysis from the world of cloud computing with our twice-weekly newsletter