Haswell vs Broadwell vs Skylake
We look at Intel's family of processors and ask if you should stick with Haswell, buy Broadwell or opt for Skylake?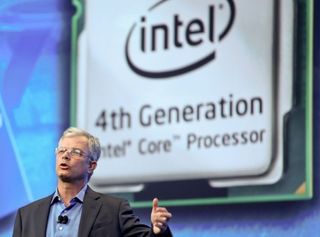 If you're shopping around for your next processor, you'll almost certainly have come across the terms 'Haswell', 'Broadwell' and 'Skylake'. Essentially, these are the codenames for Intel's various processor microarchitecture families, with each one representing the 4th, 5th and 6th generations, respectively.
The oldest of the three, the Haswell line of CPUs, was officially announced back at Computex Taipei in 2013 and featured a number of performance improvements over its Ivy Bridge (3rd gen) predecessor. In the autumn of 2014, Intel then launched its Broadwell range, complete with further improvements to battery life, as well as a slight boost in performance over Haswell. Broadwell was also the first to sport the firm's Core M moniker. Then along came the 6th generation Skylake platform in August 2015, with Intel boasting of even more CPU and GPU performance gains, as well as a reduction in power consumption.
Even for the initiated, comparing the various pros and cons of each of these platforms can be a headache-inducing task. Whether you're deciding on a processor for a home PC or for your business, various factors such as performance, power consumption, cost and OS support can come into play.
Below, we take an in-depth look at each to make comparing Haswell, Broadwell and Skylake that little bit easier.
Intel Haswell vs. Broadwell vs. Skylake: latest news
01/05/2018: Microsoft releases new Spectre 2 updates for Windows
Microsoft has now issued new Windows updates addressing the Spectre 2 security flaw in Intel's Haswell, Broadwell and Skylake CPUs.
Windows users are able to manually download patches KB4078407 and KB4091666 from the Windows Update Catalog now. The former of the two is a critical software update for both Windows 10 and Windows Server 2016, whilst the latter includes Intel's microcode updates for x64 and x86-based systems.
The new downloads follow the Redmond giant's KB4090007 fix back in March, which contained Intel microcode updates for a range of Skylake, Broadwell and Haswell CPUs running the Windows 10 Fall Creators Update.
Together, the Windows patches address the Spectre 2 flaw across the majority of Intel's 4th, 5th and 6th generations of processor chips.
"We continue to work with industry partners on further mitigations and tools to help protect against the Spectre and Meltdown vulnerabilities," John Cable, director of program management at Windows Servicing and Delivery, said in a blog post last month.
"As always, we emphasize the importance of keeping your devices up to date for both Windows security and feature updates. Windows 10 version 1709, the Fall Creators Update, is the most secure version of Windows and is fully available for all devices.
22/03/2018: Broadwell and Haswell chips receive Spectre patches
Intel has finally rolled out Meltdown and Spectre patches for its older Haswell and Broadwell CPUs, the company has confirmed, following a previous fix for its Skylake, Kaby Lake, and Coffee Lake chipsets.
The microcode updates aim to protect users against Variant 2 of the Spectre and Meltdown flaws discovered by Google's Project Zero, which allow attackers unwarranted access to system information through manipulation of CPU behaviour.
Previous attempts at fixing the problem caused system instability issues when installed by users, leading Intel to advise manufacturers and users to stop deploying and installing its updates. At the time, the firm's executive vice president, Navin Shenoy, said the patches "may introduce higher than expected reboots and other unpredictable system behaviour".
Now, however, Intel has assured users that its new fixes are stable following their release to hardware manufacturers. Customers will receive the Spectre and Meltdown patches through firmware updates from their manufacturers, Shenoy said, reminding customers to "always keep their systems up-to-date".
Patches are available for 5th-gen Broadwell chips with CPU IDs of: 50662, 50663, 50664, 40671, 406F1, 306D4 and 40671.
For systems sporting the older 4th-gen Haswell architecture, those numbered with CPU IDs of 306C3, 4066, 306F2, 40651 and 306C3 are also ready.
06/02/2017: Skylake-X and Kaby Lake-X due in August?
The new Skylake-X and Kaby Lake-X processors could be set to arrive in August, according to reports.
In line with previous suggestions of a Q3 2017 release, Chinese website Benchlife reports that the processors may debut at this year's Gamescom event in Cologne, Germany (22nd-26th August).
The website's sources say that the new chips will carry the 7000-series label, adding that Intel may reveal four Core i7 versions when the processors are unveiled.
If the information proves accurate, these will consist of three Skylake chips in 10-Core, 8-Core and 6-Core variants, as well as a 4-Core Kaby Lake iteration.
As reported previously, the processors are expected to run on Intel's X299 platform and feature LGA 2066 sockets. The CPUs will also feature four-channel DDR42667 memory, 24 PCIe 3.0 lanes - as well as 10 USB 3.0, 8 USB 2.0 and SATA 3.0 ports.
Intel has also been working on providing Optane technology support for Skylake-X and Kaby Lake-X, according to the website.
In terms of thermal design power (TDP), the Skylake-based SKUs are tipped to possess a 140W rating, whilst the Kaby Lake version is expected to have one of 112W.
21/12/2016: New CPUs to appear in Q3 2017
The next-generation Skylake-X and Kaby Lake-X chipsets could be unveiled in Q3 2017.
According to a report from DigiTimes, Intel is planning to debut the Extreme Edition processors at next year's Gamescom 2017 event in Germany.
The high-end range will replace the current Broadwell-E series with both reportedly set to sport new LGA 2066 sockets and support for DDR4 memory. Skylake-X and Kaby Lake-X will also pair with the company's new X299 chipsets, the website claims.
Kit Guru adds that pricing for the new CPUs will begin at US$470, with others set to cost over US$1700. The website also predicts that whilst core counts and clock speeds were not mentioned in the initial report, a ten-core extreme edition chip is likely.
Intel is yet to unveil any official details about the upcoming Skylake-X and Kaby Lake X series - but more information will surface as 2017 progresses.
The company is, however, on course to release its 7-series Kaby Lake processors at CES 2017 from 4 January.
29/09/2016: Will new MacBooks sport Skylake CPUs?
Apple's upcoming MacBook Air and MacBook Pro 2016 could arrive with Skylake processors, according to the latest reports.
Rhoda Alexander, director of tablet and notebook PCs at research firm IHS Markit Technology told Forbes that production of the devices started in the second quarter of this year -- adding they will launch "in late September or October of 2016".
If true, an October release could significantly dampen the possibility of the new MacBooks shipping with Intel's new Kaby Lake processors - sticking, instead, with the current Skylake iteration.
Alexander said that "given the timing of the start of production, inclusion of [Intel's] Kaby Lake chip appears unlikely".
Forbes's Brooke Crothers also adds, however, that "whether Apple will use the Intel Skylake processor or the newest Kaby Lake silicon is anyone's guess" and that "Alexander reiterated in a phone conversation that the Q2 production start may preclude Kaby Lake".
As Crothers notes, a key issue will be the graphics chip performance: Kaby Lake provides a significant improvement over the current Skylake models and sticking with the current iteration could mean the devices being "locked into the older Skylake design for months".
Tech Times's Vamien McKalin also offers that, while these latest comments do not provide any concrete information, they do "give the impression that the chances of seeing Kaby Lake inside the new MacBook Pro and MacBook Air are quite slim at this point".
The new MacBook Pro has also been tipped to come equipped with USB-C technology, Touch ID fingerprint sensors and Apple Pencil compatibility.
06/09/2016: Microsoft does U-turn on support for Windows 7/8.1
Microsoft has performed a U-turn on its policy regarding support for Skylake processors on Windows 7 and 8.1 devices.
Skylake-equipped computers will now receive the usual length of support as opposed to the shorter lifespan originally scheduled by the company.
Before the change of heart, Microsoft had planned to end support for the 6th-Generation Intel Core Skylake devices running the operating systems on 17th July 2018.
Now, the end of life dates (EOL) will reflect that of the support for each respective operating system, bringing Skylake's support lifetime in line with its Broadwell counterpart.
For Windows 7 users, that date is 14th January 2020; for Windows 8.1 the end date is scheduled for 10th January 2023. Users of Windows 8, however, should upgrade to 8.1 as it has already reached its EOL.
Shad Larsen, director of Windows Business Planning, said in a blog post: "This change is made possible through the strong partnership with our OEM partners and Intel who will be performing security update validation testing and upgrade testing for 6th-Gen Intel Core systems running Windows 7 and 8.1 through the end of support dates."
"This change is designed to help our customers purchase modern hardware with confidence while continuing to manage their migrations to Windows 10," He added.
The company also reiterated that future platforms such as Intel's upcoming 7th-Generation Intel Core (Kaby Lake) family of processors and AMD's 7th-Generation (Bristol Ridge) processors will only be supported on Windows 10, with all future silicon releases requiring the latest release of the operating system.
27/06/16: Skylake-X and Kaby Lake-X could debut at Computex 2017
Following the initial rumours of a Skylake-X and Kaby Lake-X arrival in Q2 2017, fresh details have emerged revealing some exciting developments.
The Skylake-X chips are positioned as the successor to the newly released Core i7-6950X Extreme Edition "Broadwell-E" processor, which currently acts as Intel's flagship enthusiast solution. These high-end processors are serious business, with the existing Core i7-6950X retailing at around $1700.
Building on earlier announcements, Skylake-X is expected to consist of two SKUs with 10 physical cores and a maximum thermal envelope of around 140 watts. The two Skylake-X chips are rumoured to be compatible with the new R4 socket, aka LGA20166.
We can also expect the new Kaby Lake-X processor, with four physical cores and a thermal envelope around 95 watts, to also support the R4 socket.
21/03/16: Microsoft backs down and extends support for Skylake PCs
Microsoft has apparently backed down and extended support for Skylake PCs with older versions of windows. The move comes in response to feedback from customers regarding the issue.
In a blog post, Jeremy Korst, general manager of marketing at Microsoft, said that to help "provide greater flexibility for customers who have longer deployment timeframes to Windows 10, the support period for Windows 7 and Windows 8.1 devices on Skylake systems will be extended by one year: from July 17, 2017 to July 17, 2018."
He added that after July 2018, all critical Windows 7 and Windows 8.1 security updates will be addressed for Skylake systems until extended support ends for Windows 7, January 14, 2020, and Windows 8.1 on January 10, 2023.
He said that the guidance is designed to help its customers purchase modern hardware with "confidence" while continuing to manage their migrations to Windows 10.
"As our customers upgrade to Windows 10 on Skylake devices, they can benefit from the latest capabilities that come from modern hardware and software," said Korst.
He said that when compared to Windows 7 PCs, Skylake combined with Windows 10, enables up to 30 times better graphics and three times the battery life.
07/03/16: 2016 MacBook Air to feature Skylake?
It's rumoured that the soon-to-be-released 2016 MacBook Air will feature Skylake processors.
The new chipset offers a number of improvements compared to its predecessor Haswell, but still focuses on giving the new Apple laptop and notebook more battery life, notes the Parent Herald.
Other reports suggest that the 2016 MacBook Air would come in three variants – a 12-inch one, a 13-inch model, and a 15-inch version.
The Apple launch is expected sometime around March 15, 2016.
10/02/16
Intel puts stop to overclocking
Intel is putting an end to overclocking with an upcoming microcode update that will close a loophole that lets users overclock Skylake CPUs.
The company told PCWorld that an update would "align" the CPUs in question.
"Intel regularly issues updates for our processors which our partners voluntarily incorporate into their BIOS," says an Intel spokesman. "The latest update provided to partners includes, among other things, code that aligns with the position that we do not recommend overclocking processors that have not been designed to do so. Additionally, Intel does not warranty the operation of the processor beyond its specifications."
According to PCWorld, since December, overclockers have been able to run lower-priced CPUs above their rated speeds by cranking up the clock setting on a chip – something Intel normally charges more for.
28/01/16
Intel ships most powerful chips
Intel has started shipping some of its fastest laptop chips to date.
While Intel shipped the first Skylake chips last year for everyday laptops, these new chips just added to Intel's price list, are aimed at high-end devices.
They include Core i7 Skylake processors, as well as mobile Xeon chips for portable workstations.
The fastest, at 2.8GHz, is the quad-core Core i7-6970HQ, which has 8MB of cache and a list price of $623 (£435). Other new Skylake parts include the Core i7-6870HQ and i7-6770HQ.
25/01/16
Microsoft lists Skylake-powered PCs to lose support
Microsoft has revealed the list of Intel Skylake-based PCs that will lose support after 18 months if the computers are downgraded from Windows 10 to Windows 7 or 8.1.
The software firm has published a list of 100 Dell, HP, Lenovo and NEC PCs that will be affected.
The company had previously said it would support downgrades to Windows 7 and Windows 8.1 until January 2020 and January 2023. However, it will now only support Skylake PCs that have been downgraded from Windows 10 until next year.
Windows 7 and 8.1 running on processors prior to Intel Skylake, such as Haswell, will be fully supported to January 15, 2020, and January 11, 2023 respectively.
Myerson added that a downgrade to Windows 7 and 8.1 on Skylake PCs should only be temporary, and users were expected to shift to Windows 10 no later than 2017.
22/01/16
Skylake devices to drive PC sales
The global PC shipment market is expected to receive a boost from sales of premium devices featuring Intel's Skylake processors.
The global PC shipment market is expected to total 287m units in 2016, a decline of one percent year over year, but will recover to see an increase of four percent in 2017.
"Ultramobile premium devices are expected to drive the PC market forward with the move to Windows 10 and PCs built around Intel's Skylake architecture," says Gartner research director, Ranjit Atwal. "We expect that businesses will deploy Windows 10 faster than with previous Windows upgrades."
18/01/16
Enterprise support for Windows 7 and 8 slashed on Skylake machines
Microsoft has dramatically reduced support for older versions of its software on Skylake devices.
As part of the company's savage cuts to the support lifecycle of legacy Windows deployments, it has revealed that all but six Skylake devices will not be supported on anything other than Windows 10.
Microsoft will support older versions of Windows on six devices: the HP EliteBook Folio and G3, the Dell Latitude 12 and XPS 13, and the Lenovo Thinkpad T460s and X1 Carbon.
However, this support will only last 18 months, and expires on July 17 2017. Any other computer carrying a 6th-gen Skylake CPU will not be eligible for Windows 7 and 8 support going forward.
15/01/16
Skylake delays contribute to drop in PC shipments
IDC has cited the late availability of PCs based on Skylake architecture as contributing to the continued decline in PC sales in EMEA.
The analyst says the region saw another quarter of double-digit year-over-year decline in PC shipments, as vendors remained focused on clearing out their older inventories of Windows 8. However, it said shipment problems with Skylake also delayed some purchases.
04/01/16
Skylake shortages
It appears that there are supply problems with Intel's Skylake chips, which in turn is delaying Microsoft's Surface Book and Surface devices.
According to reports from DigiTimes, shipments of the devices could slow over processor shortages and be postpones in the first quarter of this year. While the Surface Book has been available in the US and recently Australia, it has still on hit UK shores as of yet.
This was backed up by a report by Anandtech, which said that retailers have been increasing prices of such chips as a result of such shortages. The report added that Amazon had no Intel Core i7-6700Ks directly in stock.
However, a later report from Fool.com found that supply issues may have been overcome with Newegg.com in the US having the processors in stock and with a full two days of availability. It said this was evidence of a "more robust supply".
The same report said that Intel is improving the yields of its wafers that are used to cut chips from, rather than just making more wafers. Intel has managed to cut capital expenses, which points to improved yields rather than making more wafers to produce more fully functional Skylake processors.
17/12/15
Processor bending scandal
Intel's Skylake CPUs have been hitting the headlines for the wrong reasons in recent weeks, according to recent reports from German tech website, Games Hardware.
Through independent testing, the site reported that certain third-party CPU coolers could damage the Skylake CPUs and motherboards due the processors' thinner construction. The damage is said to be caused by overly high mounting pressure most likely to occur during shipping or relocation of the system.
To combat the issue, MSI has launched a new product called the CPU Guard 1151. The product aims to reinforce Skylake's CPU socket using a tough metal bracket which essentially replaces Intel's stock lever-arm. The CPU Guard is said to add extra strength to the corners of the Skylake processor preventing it from bending during mounting.
The CPU Guard 1151 aims to support all 1151 process across the Core, Pentium, Celeron and Xeon lines. Although MSI has yet to openly reveal costing, this will likely be a cheap alternative to protect your Skylake processor.
In the wake of this processor bending scandal, many of the popular CPU cooler manufacturers are scrambling to verify their products comply to Intel's specifications. Intel went on record to state the mounting specifications for the Skylake processor remain unchanged from previous processors. This squarely points the finger at CPU cooler manufacturers as the cause of this new bending phenomenon.
05/11/15
Shuttle
Intel's Skylake CPUs have made its way to yet more desktop PCs – this time thanks to small form factor OEM Shuttle.
The manufacturer has announced Skylake variants of its 1-litre, 3-litre and XPC Cube models, all of which feature the company's signature petite dimensions.
All three are aimed equally at business and consumer users, with Shuttle touting applications like digital signage, as well as their usefulness as home theatre PCs.
For business customers, Shuttle offers customised BIOS and imaging services, allowing customers to "to quicken deployments and reduce costs while maintaining consistency".
All three models feature support for driving up to three independent displays via two DisplayPorts and one HDMI port. They also all support Core-i3, Core-i5 and Core-i7 Skylake processors.
09/10/15
Skylake devices arrive
The first wave of Skylake-powered devices have started to arrive onto the market, and they look good, according to IT Pro.
Dell has been quick to update their products to Intel's latest processor, refreshing its XPS portfolio of business ultrabooks with 6th-generation chips.
Also fitted with the new CPUs are the latest products from Microsoft. Not only is the forthcoming Surface Pro 4 available with Skylake processors, the newest chipset will also be found in the company's debut first-party laptop, the Surface Book.
07/09/15
Official launch
The wait is over, following last month's big reveal, Intel's Core i7-6700k Skylake processer was launched last week at the Ifa tech show. No doubt over the coming weeks we'll see a flurry of posts outlining the successes and failures of the new chipset. It should soon become clear to the channel whether to stock the shelves with hardware packing the latest Skylake chipsets, or hold on to existing Broadwell stock.
Intel will certainly face challenges convincing users they will need the new devices. This comes in the wake of a blow dealt by Microsoft; the tech giant is offering Windows 10 as a free upgrade to consumers, stating the software should be no more taxing on processors than Windows 7 or 8. This could encourage the average consumer to hold on to their existing device and still reap the rewards of Windows 10. Watch this space.
13/08/15
What we know so far
Last week, Intel revealed the first of its eagerly anticipated sixth generation Skylake processors. The Core i7-6700K and Core i5-6600K processors were revealed at the video game tradeshow Gamescom in Cologne, Germany and promise exciting new features. For those debating whether to stock hardware with the new gaming processors, here's what we know so far.
There are some impressive advancements in Clocking and Cache features. The top-end, quad-core Core i7-6700K, with 4 cores and 8 threads is clocked at 4 GHz, whilst the Core i5-6600K sporting 4 cores and 4 threads is clocked at 3.5 GHz. Both come retrofitted with 8 MB of Intel Smart Cache, meaning much faster access to data for users. They also both support the DDR4 RAM as well as two channels of DDR4-2133 and DDR3L-1600 memory.
Both feature the new Z170 chipset and LGA1151 CPU socket. As these are not compatible with older tech, consumers will be either be looking for a new motherboard or PC to go with the new processors. Supporting overclocking capabilities, the new Z170 chipset will enable increased memory frequency and contain finer grain increments.
The i7-6700k and i5-6600 also feature Intel Turbo Boost Technology 2.0. Intel state this will enhance processing speed to 4.2 GHz improving application performance. Intel claims the processors will boost PC performance up to 10 percent with a 20-40 percent performance increase in Intel HD graphics. You can also expect a performance improvement in multitasking thanks to Intel's Hyperthreading Technology.
A look at Haswell
Haswell is Intel's successor to the Ivy Bridge processor, its microarchitecture is built using a 22nm processor. The processor is a 'tock' in Intel's 'tick-tock' release schedule. Being bigger than both the Broadwell and Skylake microarchitectures makes the processor less powerful and energy efficient.
Consumers can choose from a range of Haswell processors marketed across the full range of Core i3, i5 and i7 iterations available for desktop, laptop and mobile devices. There also exists a low-power iteration designed for hybrid ultrabooks named the "Y" suffix.
Haswell CPUs are compatible with the Intel 8 Series chipsets, Intel 9 Series chipsets and the C220 series chipsets. The top of the range processor is capable of reaching clock frequencies of 4.6GHz. Though, when compared like for like its successor unsurprisingly Broadwell comes out on top producing performance gains across the board. This means applications on Haswell will load slower than its successors, whilst offering lower quality in the visual graphics department.
However, is Broadwell that much better than Haswell that it will have consumers jumping ship to the processor, or waiting for Skylake? Let's find out.
A look at Broadwell
As already mentioned, Broadwell is the 14 nanometer die shrink successor of the 4th Gen Haswell microarchitecture. It is the "tick" in Intel's tick-tock release pattern and is the next step in semi-conductor range. What this means in English is that the CPU is physically smaller, leading to reduced power usage whilst retaining the same clock frequency.
For the consumer, this means improved battery life and a slight increase in performance over Haswell. The processor is available from Intel across the same three iterations - Core i3, i5 and i7 with a range of dual or quad-core offerings. There are some definite improvements and performance gains in the 5th Gen processor – biggest of which is the 10-30 percent increase in battery life.
But it's not just efficiency that processor offers. There are some impressive performance enhancements like three second boot time, HD video conversion 8x faster and for avid gamers a 12x enhancement in graphics for 3D gaming. The processor also supports brand new features such as 4K, wireless display and built-in security with fast data encryption among the most exciting.
The platform benefits from compatibility with the Intel 9 chipset, whilst also retaining backwards compatibility with some of the Intel 8 Series chipsets. Meaning, if you are currently using Haswell and want to upgrade your laptop/PC processor, you can do so without the need to purchase a new motherboard.
Despite all these improvements, it appears many manufacturers are choosing not to adopt Broadwell processors. Choosing instead to stick with the Haswell architecture or hold off on release for Skylake's arrival. Apple is a perfect example, surprising the industry by announcing the new 27in Retina iMac retrofitted with Haswell processors, rather than the latest Broadwell versions. With high-end Macs scheduled for launch in late Q4 2015, rumour has it they will arrive with Skylake processors, meaning the Broadwell processor range will be skipped altogether.
So what's so great about the 6th Gen processor that has manufacturers opting to wait?
A look at Skylake
Since its announcement, Skylake has experienced a series of high-profile leaks. The contents of which have left the industry expecting the 'most significant processor advancement' for a decade. Where Broadwell is perceived as a version upgrade from Haswell (iPhone 5 to 5s), Skylake has been promised as a major microarchitecture re-design, think iPhone 3 to iPhone 6.
The next Gen processor promises impressive performance gains of 20 percent on Broadwell, while also offering a further 30 percent improvement on battery life. It will also support Intel's new 100 series chipset, though this will require a new motherboard due to design differences – a stumbling block for those upgrading. Skylake is rumoured to support all Broadwell feature improvements whilst also supporting the next generation of third party technology. Most exciting among the support capabilities are DDR4 memory, wireless charging and Thunderbolt 3, a new data transfer tech running on USB type-c cables at speeds up to 40Gbps.
But that is not all, the processor has also been designed to integrate seamlessly with Windows 10 and supports the enhanced security features like 2 biometric authentication. There is even a new high-spec integrated graphics card promising to satisfy all but the hardiest of PC gamers. To top it off, in 2017 the processor will transition to 10nm offering further efficiencies in energy consumption.
All in all the new Skylake processor is set to be a game changer, but what does this all mean for the channel?
What does this mean for resellers and retailers?
Skylake's imminent launch raises some interesting conundrums on what to do with Broadwell and indeed Haswell stock. Hold off on purchasing additional units, or buy in now and hope you don't get burned by an early Skylake launch – meaning you'll be left with Haswell and Broadwell units gathering dust on the shelves.
While I can't predict the future, the pragmatist in me says continue to order in Broadwell units and ditch Haswell. Intel's 2015 proxy sales figures show the company has exceeded its 2015 PC and tablet billing target volumes – hitting 135 percent of its target. Broadwell units have, and are continuing to be, purchased in droves with demand for new devices constant. The majority of consumers are impatient, simply not willing to wait till September-November for Skylake to emerge. It is also worth remembering historic launch issues which plagued Haswell and Broadwell. While H2 2015 is the projected launch date, manufacturing delays could easily push the release back Q1 2016.
While caution is still advised, I have no doubt the launch of Skylake will curtail and eventually eclipse Broadwell sales. So buy in Broadwell now, but don't overbuy. When Skylake finally arrives Intel is expecting a new best seller with the 6th Gen processor.
Read next:
Stay up to date with the latest Channel industry news and analysis with our twice-weekly newsletter
Dan is a freelance writer and regular contributor to ChannelPro, covering the latest news stories across the IT, technology, and channel landscapes. Topics regularly cover cloud technologies, cyber security, software and operating system guides, and the latest mergers and acquisitions.
A journalism graduate from Leeds Beckett University, he combines a passion for the written word with a keen interest in the latest technology and its influence in an increasingly connected world.
He started writing for ChannelPro back in 2016, focusing on a mixture of news and technology guides, before becoming a regular contributor to ITPro. Elsewhere, he has previously written news and features across a range of other topics, including sport, music, and general news.
Stay up to date with the latest Channel industry news and analysis with our twice-weekly newsletter
Thank you for signing up to Channel Pro. You will receive a verification email shortly.
There was a problem. Please refresh the page and try again.