Wearable Technology: A Quick Guide
Everyone's talking about wearables, but where's the potential for profit?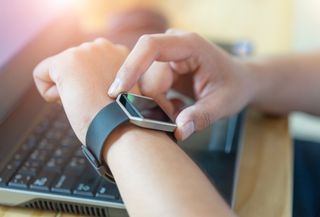 Wearable News
04/03/16
Wearable users compromising security at work
Unmanaged wearables are infiltrating the enterprise, according to survey from the RSA conference this week.
The report by Centrify states that 69 percent of wearable device owners say they forego login credentials, such as PINs, passwords, fingerprint scanners and voice recognition, to access their devices.
56 percent of wearable owners use their devices to access business apps such as Box, Slack, Trello, Dropbox, Salesforce, Google Docs, Microsoft Office or a combination of these.
Perhaps most alarming, despite the lack of login credentials and ready access to corporate data, 42 percent of wearable owners cite identity theft as their top security concern when it comes to their devices. Lack of IT management and device control comes in second (34 percent) and a general increase in breaches of sensitive work data or information comes in third (22 percent).
"As wearables become more common in the enterprise, IT departments must take serious steps to protect them as carefully as they do laptops and smartphones," said Bill Mann, chief product officer at Centrify. "Wearables are deceptively private. Owners may feel that due to their ongoing proximity to the body, they're less likely to fall into the wrong hands. However, hackers don't need to take physical possession of a device in order to exploit a hole in security."
11/02/16
Sales of smartwatches have "greatest revenue potential"
Gartner forecasts that 274.6m wearable electronic devices will be sold worldwide in 2016, an increase of 18.4 percent from 232m units in 2015 (see Table below).
Sales of wearable electronic devices will generate revenue of $28.7bn in 2016. Of that, $11.5bn will be from smartwatches.
"From 2015 through 2017, smartwatch adoption will have 48 percent growth largely due to Apple popularising wearables as a lifestyle trend. Smartwatches have the greatest revenue potential among all wearables through 2019, reaching $17.5bn," said Angela McIntyre, research director at Gartner.
"Though the sales of smartwatches are the one of the strongest types of wearables, their adoption will remain much below sales of smartphones. For example, in 2016 more than 374m smartphones will sell in mature market countries and in large urban areas of emerging market countries, for example, in Hong Kong and Singapore."
Table 1: Forecast for wearable devices worldwide (millions of units)
Swipe to scroll horizontally
| | | | |
| --- | --- | --- | --- |
| Device | 2015 | 2016 | 2017 |
| Smartwatch | 30.32 | 50.40 | 66.71 |
| Head-mounted display | 0.14 | 1.43 | 6.31 |
| Body-worn camera | 0.05 | 0.17 | 1.05 |
| Bluetooth headset | 116.32 | 128.50 | 139.23 |
| Wristband | 30.15 | 34.97 | 44.10 |
| Smart garment | 0.06 | 1.01 | 5.30 |
| Chest strap | 12.88 | 13.02 | 7.99 |
| Sports watch | 21.02 | 23.98 | 26.92 |
| Other fitness monitor | 21.07 | 21.11 | 25.08 |
| Total | 232.01 | 274.59 | 322.69 |
Source: Gartner (January 2016)
Fitness wearables — which include wristbands, smart garments, chest straps, sports watches and other fitness monitors — continue to increase in popularity, driven in some part by wellness programmes.
"Of all the fitness wearables, sports watches will be the one product category to maintain its average retail price over the next several years," says McIntyre. "Race runners, cyclists and divers will choose sports watches over smartwatches because the user interface, capabilities and durability are tailored to the needs of an athlete in their sport. Continued advances in sensors and analytics for sports watches will bring new capabilities that bolster average retail prices."
What is wearable technology?
Wearable technology, or wearables, can be described as electronic devices that are incorporated into items of clothing or worn as accessories – for example fitness trackers, or perhaps most notably, smartwatches.
Wearables featured heavily at Mobile World Congress earlier this month, including the announcement of the Huawei Watch, its new smartwatch which runs on Android Wear. However it was Apple's unveiling of the Apple Watch that predictably made headlines around the world.
Apple's announcement has led to a heightened interest in wearables among consumers, and a number of further couplings between tech and fashion brands have since been revealed – high-end watch manufacturer Tag Heuer is also planning an Android rival to the Apple Watch, while Will.i.am is collaborating with Gucci on a smartband.
However it's worth noting that most of current generation of smartwatches are useless unless coupled with a smartphone. The exception is the Samsung Gear S which with the right mobile plan will even allow you to make and receive calls using the same mobile number as your main smartphone.
Who is it aimed at?
The wearable tech market is growing at an incredible rate.
Cisco's annual Visual Networking Index forecast (VNI) predicts that by 2019 there will be more than half a billion wearables globally, up from just 109m in 2014.
In the UK it predicts there will be 16.4m wearable devices by 2019, up from 2.8m in 2014, growing annually by 42 percent. This, says the report, is expected to fuel 18-fold growth in mobile traffic from wearable devices between 2014 and 2019, with most of it channelled through smartphones.
Wearables are currently being championed by the consumer space. However, there's some debate as to where they will fit in the enterprise, and what opportunity exists for the channel to profit from the trend.
[Update: June 2015 research from 451 Group claims that wearables are moving from consumer niche interest to the enterprise - it predicts that cellular IoT and machine to machine (M2M) connections will increase nearly fourfold globally from 252m in 2014 to 908m in 2019.]
Market opportunity
So what's in it for the channel? Where's the revenue opportunity with wearable tech?
At first glance a key vertical being targeted by wearable manufacturers is healthcare, where there are clear use cases. Some distributors have already jumped on board the wearables wagon; broadliner Exertis for example has signed up a number of wearables vendors over the past 12 months with a focus on communication, multimedia and fitness and health.
Elsewhere the smartwatch trend may accelerate desktop phone replacement, especially as these new devices with their own microcosm are also SIP-compliant allowing some clever telephony/data connectivity. This could allow smart resellers to create value-added telephony data packages in particular within "duty of care" instances, such as lone workers that need to be able to call for help quickly.
ISVs that can develop innovative apps that are optimised for watch form factor and power profile is another area of opportunity.
However, it's not just in the devices where the channel can really profit, say experts. In the same way that employees using their personal devices into the workplace have created a world of consulting, deploying and managing BYOD strategies for the channel, so the same will happen with wearable devices.
The sheer number of new devices flitting on and off the network is likely to cause data management problems. Data loads will have to be monitored more carefully within datacentres and bandwidth should be tracked to avoid bottlenecks.
The channel will need to advise customers on preparing their networks for 'Wear Your Own Device' (WYOD). (Ipswitch's Stephen Demianyk talks about WYOD for Channel Pro here.)
Also, no matter how briefly it is connected, any item that is on the network poses a security risk. Last year, the Information Commissioner's Office (ICO) published a blog highlighting how easy it is to collect personal data using wearable technology.
He argues that the challenge that lies ahead for a reseller isn't simply selling products; it is selling peace of mind. This will comprise consultancy, services and training, as well as selling complimentary products. There is an opportunity to develop a whole package for wearable tech.
Duncan Forsyth, UK MD at distributor Westcoast points out that many existing device management strategies simply aren't capable of coping with the governance, risk and compliance (GRC) landscape that they're now faced with – creating a further opportunity for the channel to advise their customers on navigating the tricky compliance arena.
Ian Kilpatrick, chairman of distributor Wick Hill describes wearables as the next BYOD security problem "because basically wearables appear to be designed without any additional security in mind."
He agrees this creates significant channel opportunities: "They're not going to be huge straight away but they are going to be really significant in terms of network access control, leakage protection, wireless security breaches – they are wireless devices – authentication. And then security monitoring, remediation and network forensics are going to really go as well... this is going to really accelerate it."
Points of interest
But before we all rush out, as consumers, to order our Apple Watches, let's stop for a moment and consider one of the biggest inhibitors to adoption that Wearable manufacturers face: good, old-fashioned, don't-look-at-me self consciousness.
This is noted in a study by mobile app developer Apadmi, claimed that more than a third of Brits would feel embarrassed or self-conscious if they wore wearable tech as it currently appears.
Apparently, 35 percent of respondents said they would feel "embarrassed" if they wore it, while 34 percent thought it made people look like "show-offs" and 32 percent claimed that wearable technology makes people look "ridiculous". In addition, 17 percent said it makes people look "unattractive" when they wear it.
Also just last week, a survey of 2,000 adults, conducted for Hive by British Gas said that just 25 percent of us believe that wearable technology will improve our day-to-day life, while one-in-10 Britons thinks that wearable technology will actually make their lives harder!
(Also, a survey of UK marketing pros by digital agency Greenlight recently revealed that nearly three quarters believe the hype around wearable devices has been unwarranted, claiming the technology to be more about style than substance.)
So there's clearly a hard sell needed by the manufacturers to get people on board with talking to their wrist, a la Knightrider.
Channel Pro opinion
If we look beyond the hype of the Apple Watch, or the pop culture cache of pop star tie-ins, there is an opportunity for the channel from wearable tech.
WYOD will become an issue within organisations at some point in the future, just like BYOD has. The canny 'trusted advisor' should take the opportunity now to have the conversation with their customers about what this will mean for network management, data security, compliance and host of other issues that wearables will bring with them.
UPDATE: Bitdefender's Alexandru Catalin Cosoi talks about the security implications of wearables, and asks are smartwatches secure enough for the office?
Stay up to date with the latest Channel industry news and analysis with our twice-weekly newsletter
Christine has been a tech journalist for over 20 years, 10 of which she spent exclusively covering the IT Channel. From 2006-2009 she worked as the editor of Channel Business, before moving on to ChannelPro where she was editor and, latterly, senior editor.
Since 2016, she has been a freelance writer, editor, and copywriter and continues to cover the channel in addition to broader IT themes. Additionally, she provides media training explaining what the channel is and why it's important to businesses.