Wi-Fi 6 certification brings next-gen speed and connectivity
New standard will benefit both businesses and consumers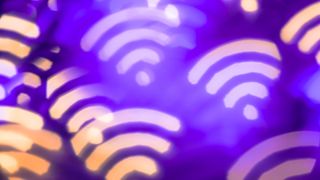 The Wi-Fi Alliance has announced the arrival of Wi-Fi Certified 6, the industry certification program based on the IEEE 802.11ax standard, designed to drive capacity, efficiency, coverage and performance in the most demanding environments.
Available from Monday, Wi-Fi 6 networks will ensure that connected devices perform at an optimum level, particularly benefitting connectivity in locations with hundreds or thousands of devices – such as stadiums, public venues and corporate networks.
Devices carrying the standard's emblem "meet the highest standards" for security and interoperability, the industry group says, offering higher data rates, increased capacity and performance, as well as improved power efficiency.
This makes it ideal for a number of uses, ranging from mission-critical business applications that require high bandwidth and low latency to streaming ultra high-definition movies.
More specifically, devices with Wi-Fi 6 certification boast a number of perks, including orthogonal frequency division multiple access (OFDMA) for sharing channels to improve network efficiency and low latency, as well as multi-user multiple input, multiple output (MU MIMO) that allows more downlink data to be transferred.
Alongside that, the standard also includes 160 MHz channel utilisation for increased bandwidth, improved network efficiency and device battery life through target wake time (TWT), 1024 quadrature amplitude modulation mode (1024-QAM) for increased throughput, as well as transmit beamforming for handling higher data rates at range.
Wi-Fi 6 devices will also offer advanced security protocols thanks to the latest generation of Wi-Fi security, Wi-Fi Certified WPA3.
"Wi-Fi Certified 6 is ushering in a new era of Wi-Fi, building on Wi-Fi's core characteristics to provide better performance in every environment for users, greater network capacity for service providers to improve coverage for their customers, and new opportunities for advanced applications," said Edgar Figueroa, president and CEO of the Wi-Fi Alliance. "Wi-Fi Certified 6 will deliver improvements in connectivity, including in high density locations and IoT environments."
With the announcement, the Samsung Galaxy Note 10 becomes the first smartphone with Wi-Fi 6 certification on the market, with the Wi-Fi Alliance adding that it expects that "most leading phones and access points will soon support the latest generation of Wi-Fi."
Stay up to date with the latest Channel industry news and analysis with our twice-weekly newsletter
Dan is a freelance writer and regular contributor to ChannelPro, covering the latest news stories across the IT, technology, and channel landscapes. Topics regularly cover cloud technologies, cyber security, software and operating system guides, and the latest mergers and acquisitions.
A journalism graduate from Leeds Beckett University, he combines a passion for the written word with a keen interest in the latest technology and its influence in an increasingly connected world.
He started writing for ChannelPro back in 2016, focusing on a mixture of news and technology guides, before becoming a regular contributor to ITPro. Elsewhere, he has previously written news and features across a range of other topics, including sport, music, and general news.
Stay up to date with the latest Channel industry news and analysis with our twice-weekly newsletter
Thank you for signing up to Channel Pro. You will receive a verification email shortly.
There was a problem. Please refresh the page and try again.