Justice Dept moving "full tilt" on antitrust probe
Deputy Attorney General Jeff Rosen calls tech antitrust probe a major priority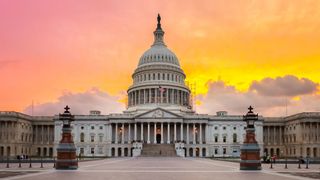 Deputy Attorney General Jeff Rosen told Reuters in an interview earlier this week that the US Justice Department is moving "full-tilt" on its antitrust investigation of Big Tech platforms, including Amazon, Apple, Facebook and Alphabet's Google.
"We are going full-tilt. It's a major priority," Rosen explained in the interview. "We have a great team working really hard to get on top of the documents, hearing from people in the industry and the like."
The probe is not being driven by political factors, though, says Rosen. Instead, he says, the goal is to act "as soon as possible."
He continued: "This is one of those issues that people from lots of different points of view are very concerned about. I can't tell you today what the date will be."
Recent reports claim the Justice Department will likely file an antitrust complaint against Google as well. In March, US Attorney General William Barr told The Wall Street Journal he wanted the Justice Department to make its final decision regarding the Google probe this summer.
The Justice Department isn't the only one setting its sights on Google either. While state attorneys general has separate probes of Google, the U.S. House Judiciary Committee also has ongoing investigations of Google, Amazon, Facebook and Apple. As reported in June, many states are also expected to join a federal antitrust lawsuit against Google.
The Justice Department began its investigation of major technology firms in July 2019. The investigation seeks to determine whether or not the tech companies engage in anti-competitive practices. Though Rosen says there has been "some division of labor" with the Federal Trade Commission, he declined to say when the government might resolve its other tech probes.
A daily dose of IT news, reviews, features and insights, straight to your inbox!
A daily dose of IT news, reviews, features and insights, straight to your inbox!
Thank you for signing up to ITPro. You will receive a verification email shortly.
There was a problem. Please refresh the page and try again.