Windows 11 Home vs Pro: What's the difference for business users?
A comparison of the various features and tools available across Windows 11's Home and Pro versions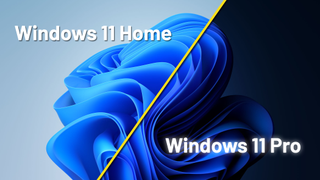 The rollout of Windows 11, earlier this year, has given system administrators and IT managers a lot of food for thought. Many businesses probably feel like they only just finished upgrading to Windows 10 (and indeed, many have).
Windows 10 was previously billed as the "last" edition of the venerable operating system, so it's quite possible that quite a few hearts sank when the announcement came. With Windows 10 being developed alongside Windows 11 until October 2024, there's no huge rush, but when the time comes, you have one important decision to make – Windows 11 Home or Pro?
Since the heady days of Windows 7 and its whopping six basic editions, Microsoft has been working on keeping the choice simpler – there are two basic options for most Windows laptops and desktops, namely Windows 11 Home, and Windows 11 Pro. But are they really all that different? Do you or your team actually need to go Pro? We've taken a look at the differences so you can judge for yourself.
Are there only two editions of Windows 11?
Technically, there are actually more than two versions of Windows 11, however the others are aimed at specific use cases; there's a stripped down version for the education sector, pitched as a rival to Google's Chrome OS, and specific editions for IoT and embedded devices. We're not really worrying about those here, as our focus is on the difference between the two primary retail editions.
A third edition called "Windows 11 Pro for Workstations" is aimed at high-end machines, such as those used by graphic designers and game developers, and for the purposes of this article, we're folding that into Windows 11 Pro. We're also not considering the stripped down "S Mode" as this can be switched on and off regardless of which licence you choose and shouldn't be a buying consideration.
Windows 11 for home workers and small businesses
Although this article is primarily aimed at business users, first a quick word about individuals, sole traders, and smaller businesses. Do you need Windows 11 Pro? Unequivocally, you don't. Although so-called "upgrade culture" tells us that only the version with all the whistles and bells will do, the same logic doesn't apply to Windows.
Most of the differences we'll be talking about are completely irrelevant unless you're working in an enterprise environment. Windows 11 Home is the right version for you if you use your machine in isolation, and you're missing nothing by opting out of the pro version.
Windows 11 Home vs Pro: Security features
When it comes to security, both Windows versions offer basic device encryption as standard, as well as tools like Find my Device and Secure Boot. They also both offer the standard internet protections you'd come to expect, such as firewalls and network protection.
The extra features in Windows 11 Pro fall into two basic camps: security, and deployment. In terms of security, there are two extra features – BitLocker Encryption, and Windows Information Protection (WIP). Both are aimed primarily at home workers and Bring Your Own Device (BYOD) users as part of Microsoft's attempts to embrace the "new normal" of work.
BitLocker
BitLocker is a full volume encryption feature to prevent unauthorised access to data held on the hard drive of lost and stolen machines. It has been around since the days of Windows Vista.
When activated, it uses the Trusted Platform Module (TPM), a separate chip in the individual machine, to encrypt the hard disk sector by sector. The decryption cypher is kept completely separate to the BIOS, and is only released when the user either types a code at the pre-boot stage, types in their Windows PIN, or uses a USB stick – this can either be a conventional type, or for extra security, a FIDO standard two-factor authentication key.
Without the key, the entire drive is locked down with banking grade 256-bit AES encryption, making it nigh-on impossible to crack. Think of it like ransomware in reverse – the computer gets locked down and the thief or finder can only access the disk with the correct key. While this could be considered a handy feature for the average users, with so many other security options included in Windows already, unless your users keep extremely sensitive information on a drive, and more importantly, the device is portable (ie a laptop), it's a "nice-to-have" and not necessarily a justification for the additional cost of the Pro Edition.
Windows Information Protection
The second security feature is Windows Information Protection (WIP), previously known as Enterprise Data Protection (EDP). This is a sort of "safety net" to ensure that in the event that computers that are introduced to the network environment, such as BYOD machines, these don't leak sensitive data due to the lack of other safeguards.
It's not aimed at stopping hackers, but rather it protects what Microsoft refers to as "honest employees" from accidentally transferring data onto the local drive, or an external USB stick. It works best in conjunction with a second feature installed on Windows Azure-based servers called Azure Rights Management, which helps identify what is considered sensitive in the first place. While it has some protection without Azure, the two tools complement each other well, giving system administrators granular control about what is safe to transfer and what isn't.
Windows 11 Home vs Pro: Network Deployment Enhancements
The biggest difference between Windows 11 Home and its Pro Edition is the massive feature-set focusing on deployment to networks.
Overhauled for the new hybrid working culture, it's these features that will primarily decide if you should go Pro or not. If the features in the next few paragraphs don't mean anything to you, then you probably don't need Pro at all.
Assigned Access: This allows sysadmins to select which apps an individual machine can use. It can be configured for a whole machine, or for particular users, letting the same computer act as both a personal and a business machine, without compromise.
Dynamic Provisioning: Allows organisations to setup machines with specific permissions and levels of security from an administration app, with the admin then able to apply the exact same settings to every machine with one click, rather than on a machine-by-machine basis. This can either be done through the cloud, or from a USB-stick.
Enterprise State Roaming: Offers Azure users a way of offering a virtualised experience that is echoed on any machine, effectively making any enrolled machine their work computer, with minimal configuration. This is only available to organisations with specific Azure licences.
Group Policy: This is the classic deployment tool, giving all users access to the same files, printers and other peripherals, when paired with a Windows Server.
Kiosk Mode: This locks down machines for use as public information terminals, such as tourist information points and building sign-in points. This can be done individually, or through cloud deployment through mobile device management (see below).
Microsoft Store for Business: This is a configurable version of the standard Microsoft Store, which can allow employees to download only the apps you want them to – for example an administrator can set it not to offer any games, or alternative OS sub-systems like Linux and Android.
Mobile Device Management: A way of securing individual devices through a range of third-party apps. Microsoft offers its own InTune package, but if you're using a third-party server environment, most are based on the MDM protocol. This is where some businesses could trip up – you may think that your vendor has you covered and therefore you don't need this feature – however, it is a dependency for many deployment environments and therefore it should be ignored with caution.
Active Directory and Azure Active Directory Support: These tools are another popular way of provisioning, allowing a single log-in across all Windows devices, with the same access to data and peripherals. They are required for Windows Server and Windows Azure based systems, respectively.
Windows Update for Business: This gives the system administrator complete control over when and if certain updates are deployed to enrolled devices. Microsoft's track record on releasing bug-free updates is less than stellar, so this can be a great way of delaying the rollout of updates that could do more harm than good. Equally, it significantly simplifies the deployment when the time comes, allowing every machine in the fleet to receive the update with a few clicks.
Is there anything missing in Windows 11 Pro?
The short answer is no. There are no 'cons' to using Windows 11 Pro.
That said, both versions have all the new front-end whistles and bells, such as enhanced game support, access to the Android sub-system, deep integration with Microsoft Teams and Microsoft's built-in security and anti-malware services. In fact, for the end user, Windows 11 Home and Windows 11 Pro are almost imperceptible.
Just as the "Pro" versions of modern smartphones often offer features that many users will never use, Windows 11 Pro only really offers advantages to machines being used in enterprise network environments.
Plus, Windows 11 Home can be upgraded to Windows 11 Pro by purchasing an upgrade key. So before you commit to paying extra, consider if Windows 11 Home is actually the right version for your business too. You may be pleasantly surprised.
Get the ITPro. daily newsletter
Receive our latest news, industry updates, featured resources and more. Sign up today to receive our FREE report on AI cyber crime & security - newly updated for 2023.
Chris Merriman has been writing about technology since the 1990s for a variety of titles including Computer Shopper, MSN, TechRadar, Tom's Guide and The Inquirer, where he broke a number of major tech news stories that were picked up globally. He has appeared on BBC, Sky News and Al Jazeera and was the resident tech expert at TalkRadio for a number of years. In between times, he has also been a consultant for several major tech firms.
Chris is fascinated by automation and the internet of things, as well as the evolution of the ways we communicate in the digital era. He's also a frequent contributor to ITPro's software guides, including Windows operating systems. Other specialisms include storage, peripherals, and web apps, and any gadget he's allowed to take apart and fiddle with, preferably after throwing away the box, manual and receipt.