Using Big Data to transform business processes
From cost management to gaining new insights, Big Data is becoming an invaluable business tool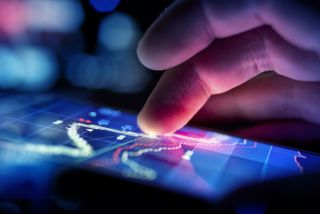 Technology is constantly advancing, and as a result, devices are consuming ever-increasing amounts of data. According to research from tech giant IBM, we create around 2.5 quintillion bytes of data on a daily basis and in 2013 it was calculated that 90% of all the data in existence had been created in just the previous two years a maxim still frequently recited in tech keynotes.
As a result of this, Big Data has become a big trend in the technology and business worlds. The term refers to datasets that are too large and complex (for example, unstructured data like emails or voice recordings) for ordinary computing systems to handle. While managing this influx of information can be daunting, Big Data has massive business benefits and has spawned allied technologies like predictive analytics and user behaviour analytics.
This area of technology has the potential to transform business and enable business leaders to make data-driven decisions faster. According to the research firm IDC, organisations will spend $260 billion on Big Data and analytics technology by 2022. This year alone, spending on Big Data analytics technologies is expected to total $166 billion, an increase of 11.7% over 2017.
Thanks to Big Data, organisations are discovering new ways to glean intelligent, actionable insights that will help them push ahead of their competitors. Big Data isn't just helping firms better understand their customers, though, it's also improving efficiencies and business processes, helping them to speed up decision making.
Gaining a competitive edge
There are many companies developing sophisticated Big Data technologies, one of which is MHR Analytics. The firm is a specialist provider of business intelligence and analytics solutions and is helping organisations make sense of disparate raw data and make intelligent decisions.
Nick Felton, a director at MHR Analytics, says Big Data can be used to help businesses gain a competitive edge by providing insight into what's working within the business and what's not, as well as identifying where to cut costs and where to invest more. "One of the most crucial decisions an organisation can make is to recognise data as an asset. This single action, rather than blind technology investment, will contribute in identifying business opportunity, help predict future trends and ultimately generate revenue," he tells IT Pro.
"Creating a trusted, governed and credible data platform that enables analysts and data scientists to make use of this asset in the right way [and] using evolving technology will give greater insight leading to faster decision making. It's also important to make sure data is easily digested by everyone regardless of technical ability. Using dashboarding and visualisation tools will initiate use and adoption of insights provided.
"If you can also change the culture of an organisation to focus on the unanswered questions, rather the comfort of seeing the known facts presented on a daily/monthly basis, they will have become data driven decision makers. This will help leap them ahead of the competition."
Streamlining operations
German software giant SAP is another company with a great deal of expertise in Big Data. Mark Darbyshire, VP of platform and integration at the firm, says companies are becoming more intelligent and streamlining everyday operations thanks to data analytics. "We're seeing a new way of business through digital intelligence. We can now look at operational, transactional and historical data, garnered from an array of sources like sensors, machine logs and other equipment, human generated data from social media, point of sale (POS), web and apps," he says.
"We then apply analytics much more broadly than ever before to understand these data sets. The analytics we then apply to the joined-up data predictive, spatial, machine learning, lexical or streaming analytics are all done on the same data set. This gives very coherent insights into faults and exceptions, into opportunities and improvements. It also allows unique levels of real-time insight and therefore decision making and acting," he tells IT Pro.
Business owners and key decision-makers can also use data to better prepare for the future, and the benefits are being felt in a wide range of industries. "This is having a sweeping impact on business. Companies can now plan for growth, for risk, for revenue and see how they pull the levers of business to achieve that. Businesses can become much more confident in their predictions," he says.
"Take healthcare for example Big Data analytics are already providing us with better prevention, diagnosis, treatment and outcomes. More importantly, the efficiencies of closed-loop personalised care from mobile app to supply chain when combined with previously untapped operational data will improve the precision, value and timeliness of our medical outcomes as patients."
New experiences
Many of the world's biggest companies are already using Big Data solutions in their everyday operations. NICE, for instance, provides customer experience and workforce optimisation solutions for the like of BT, PayPal and Metro Bank, enabling them to make smarter and faster decisions based on advanced analytics of structured and unstructured data.
Jonathan Wax, VP of sales EMEA at Nexidia (a subsidiary of NICE), says analytics solutions make a key difference to the business environment. "Big Data is a means to an end. Too often, businesses build data centers that are fragmented into unusable silos, which bar them from gaining the actionable insights they seek. One of the most overlooked of these silos is the call centre audio data, which is tremendously valuable since it holds the very voice of the customer in a specific moment in time," he says.
"This is where the expertise and technology available with established analytics programs make the difference. Figuring out how to pull Big Data into one usable trove of information is a large part of the task, ultimately breaking open the floodgates for gaining valuable insights that allow businesses to operationalise on their findings."
That said, this technology is far from perfect and concrete analytics strategies are needed, according to Wax. "A treasure trove of Big Data doesn't provide answers. A carefully managed analytics program designed around business goals and desired outcomes, alongside constant review of where the program is successful or needs improvement, is how organisations ultimately rise into the sweet spot of fast and efficient decision making and operationalisation of insights," he adds.
David Wyatt, general manager for EMEA at Databricks, says data-centric companies have a competitive advantage. "Getting data to those who need it, in real time so that impact can be driven throughout the organisation, often involves three massive hurdles: making Big Data simple, automating the processes, and increasing agility around how data is used," he tells IT Pro.
"The race among global companies to get intelligent and actionable insights out of data clearly creates competitive differentiation. More than ever, enterprises understand that improving decision-making through analytics and AI leads to better business decisions and ultimately drives results to the bottom line."
Managing large amounts of data isn't an easy task, and businesses are having to change their IT approaches to accommodate it. But while investing in new technologies is somewhat costly and time consuming, there are big business benefits. Firms are showing that, despite the challenges, they can improve the way manage operations and deal with customers daily.
This article was originally published in December 2017 and has since been updated with new statistics
Get the ITPro. daily newsletter
Receive our latest news, industry updates, featured resources and more. Sign up today to receive our FREE report on AI cyber crime & security - newly updated for 2023.
Nicholas Fearn is a freelance technology journalist and copywriter from the Welsh valleys. His work has appeared in publications such as the FT, the Independent, the Daily Telegraph, the Next Web, T3, Android Central, Computer Weekly, and many others. He also happens to be a diehard Mariah Carey fan. You can follow Nicholas on Twitter.