Kaseya targets MSP growth with latest software releases
Kaseya shares latest product launches with MSPs, talks cloud and listening to customers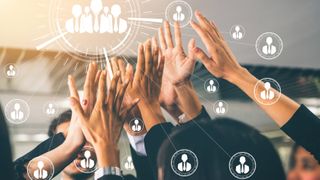 Software vendor Kaseya has unveiled a number of products to help its Managed Service Provider (MSP) customers grow their revenues.
Speaking at the company's global user event, Kaseya Connect, CEO Fred Voccola, spoke of the challenges MSPs face in an increasingly competitive market, and the need for software to help them grow their businesses above and below the line.
Voccola said MSPs need to offer more services to compete effectively, especially around security, network monitoring and the cloud.
As such the firm announced an Identity as a Service (IDaaS) offering, AuthAnvil, incorporating multi-factor authentication, single sign-on (SSO) and password management.
Voccola cited Kaseya research that says 62 percent of SMBs by 2020 will have implemented identity and access management. However, only 14 percent of MSPs currently offer IDaaS, meaning there's a significant market opportunity for service providers.
This is in line with a recent study by analyst firm Pierre Audoin Consultants (PAC) which showed 93 percent of European CIOs, CISOs and IT Security managers plan to maintain or increase Identity and Access Management (IAM) spending in the next three years.
Moreover, 57 percent are considering a Managed Security Services Provider (MSSP) solution for their next IAM investment.
Elsewhere, Voccola pointed to the growing number of network monitoring companies that are grabbing business from traditional MSPs.
To help arm Kaseya's customers the vendor announced Traverse 9.3, which includes automated discovery and mapping, service-oriented monitoring and predictive analytics to support hybrid cloud infrastructures including Amazon Web Services (AWS), Amazon Elastic Compute Cloud (EC2), Nimble Storage and Dell Compellent.
The latest version adds support for 40 new devices including firewalls, routers, switches, storage area networks, wireless controllers and servers along with new user interface enhancements for mobile devices and tablets.
Meanwhile, to help its customers' 'below the line' business the firm released the latest version of its remote monitoring and management (RMM) software, VSA 9.3 – which Voccola described as non-revenue generating software in itself, but critical to an MSP's operation.
The exec also said the vendor is working on integrating its software with competitors' professional services automation (PSA) products. Referring to the likes of Autotask and LabTech, he said: "We just spent $800,000 through a third party company to make sure our integrations on non-Kaseya PSA products are at a similar level as what we're doing with our VSA product. As much as we'd love you all on our PSA, we will not force you. Because it's the right thing to do."
No cloud? No problem
However, the most popular announcement among attendees at the event was that Kaseya would not force any of its users into the cloud.
"We are absolutely committed to delivering on-premise and cloud based support in perpetuity. No longer are we saying you must go to the cloud; we're not making people go to the cloud," said Voccola to applause.
Speaking to Channel Pro, the CEO said the firm was committed to feature parity between the two models. "You can't deliver cloud-based RMM in certain markets, so why am I going to force someone? It was arrogance that said 'we're going to make you go to the cloud.' It's someone looking at a perceived valuation and saying cloud valuations are bigger than non-cloud. But valuations don't mean anything if your customers aren't happy," he said.
Building bridges
The crowd-pleasing statement may be a response to Voccola's efforts to build an organisation that's more responsive to customer feedback. Acknowledging the company's less than stellar approach to customer management in the past, the CEO said he had met with 200 customers during his first eight months at the company. Their number one question, he said, was 'what is Kaseya's focus?'
"There was a perception in the market that Kaseya didn't care about its customers," said Voccola.
To that end, Voccola has created a dedicated customer success group. "We want to make sure we're all about our customers; we want to make sure we're not sitting in ivory towers, being arrogant and dictating down what we want to do. It's really about listening," he said.
Stay up to date with the latest Channel industry news and analysis with our twice-weekly newsletter
Christine has been a tech journalist for over 20 years, 10 of which she spent exclusively covering the IT Channel. From 2006-2009 she worked as the editor of Channel Business, before moving on to ChannelPro where she was editor and, latterly, senior editor.
Since 2016, she has been a freelance writer, editor, and copywriter and continues to cover the channel in addition to broader IT themes. Additionally, she provides media training explaining what the channel is and why it's important to businesses.