Meta deepens metaverse partnership with Microsoft and Accenture, still lacks compelling business case
The conference was rich with exciting announcements and provided a clearer long-term vision for the technology but doubts remain over the its real benefit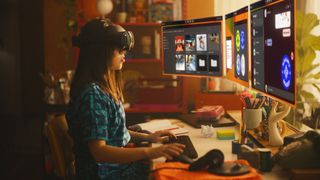 (Image credit: Meta)
Meta announced a duo of new partnerships today at its Meta Connect event with Microsoft and Accenture now firmly on hand to help guide the company in its bid to convince businesses that the metaverse is, indeed, the future of work.
Microsoft's CEO Sataya Nadella was on stage espousing the supposed business benefits of the metaverse with equal vehemence as Meta's CEO has been for around a year now.
The new deal between the two tech giants will see a much deeper collaboration effort that goes beyond just a few handy Teams plugins for virtual meetings. With Nadella's presentation today, both Microsoft and Meta now seemed to be joined at the hip, both cheerily galloping off towards the virtual sunset in harmony.
Whether businesses will follow the leaders or remain unconvinced of the future pictured by the pair remains to be seen. Even after a sit down with Micah Collins, Meta's senior director of product management, to drill down into the finer details of each announcement, we remain firmly on the fence. For an event that was supposed to deliver insights derived from a year of concerted development on the technology, around which Mark Zuckerberg completely reshaped his company, a compelling business case for the technology is still, for us, yet to be made.
Shortly after the much meme-ified rebrand of Facebook to Meta in October 2021, Microsoft was quick to confirm its confidence in the next-generation metaverse technology with Mesh - its take on Teams meetings in a hybrid reality setting.
Its latest announcements go considerably further. Teams was far less of a focus this year and the Meta-Microsoft coalition is clearly aiming to win votes from IT departments and collaboration-hungry teams with a richer Windows experience from inside their own metaverses.
Perhaps the most interesting of all the announcements was the news that there will be a brand-new version of Windows 365 built specifically for Meta VR hardware. How this looks, we're told, is completely up to Microsoft which will be tasked with developing the entire experience.
According to Collins, it won't be a case whereby staff will simply be able to slip on a headset and view a bespoke Windows desktop experience that simply works better with a VR interface, it will most likely look more like a separate metaverse experience entirely.
Instead, imagine slipping on a headset and being plunged into a virtual office with which you can interact with numerous elements. Here, you'll be able to walk up to a virtual desktop and sit at a virtual desk on a virtual chair, which runs a real, cloud-hosted Windows instance that can be used just like a normal, physical desktop.
The benefit this provides isn't immediately clear. But, it does signal that the reality of metaverse technology may not be as superficial as first imagined, and there is certainly substantial progress being made. From a pure IT perspective, too, there will also be specially designed integrations with Microsoft Intune and Active Directory to enable enterprise security and device management within the workplace.
Microsoft 365 apps will also be getting deeper integrations with metaverse tech, too. Nadella confirmed that the major Office apps will be viewable in meetings and documents will be editable just as they are in current Teams meetings via SharePoint. A Meta spokesperson told IT Pro that the expectation is for additional major software vendors to create their own metaverse integrations and that "the possibilities are endless for future integrations in this space".
RELATED RESOURCE
Remove barriers and reconnect with your customers
The $260 billion dollar friction problem businesses don't know they have
This feels like the first time we're seeing a serious focus on the metaverse for a business audience, beyond the simple and quite frankly clunky experiences with meetings that have largely been the only material business use case for the new tech so far. It's obviously still early days for the metaverse but if these are the biggest announcements, it does beg the question of just how beneficial the technology will be for businesses in the long term.
When pressed for his thoughts on the real upside to metaverse tech, Collins said that the big draw is really for teams that place great value in the feeling of social presence in collaborative sessions.
"We think the social presence use cases and the level of upgrade you get from being together in 3D is, from a collaboration use case, the big draw of VR," he told IT Pro. "There are teams that really value that and really want that level of feeling of connection with the people that they're being productive with."
Some may feel, then, that metaverse technology may only be for a specific subset of workers or industries working in very specific ways. After a year since the company totally transformed in a way that cemented its commitment to the technology itself, there perhaps should be a more compelling case for the metaverse given the steep cost required in buying the hardware, developing a company's own metaverse, and so on. Meta also said it's partnering with Accenture and together with Microsoft, the trio will be working with customers and clients to create VR solutions for businesses, based on their individual needs. Add the Big Four consultancy fees onto the basic costs, coupled with the time it will take to train teams how to use the tech responsibly, and eyebrows will surely be raised over realistic ROI opportunities.
The best is yet to come
There may not yet be a compelling case for most potential customers but like Collins said, there will be teams out there that are buzzing with excitement - the teams that live for collaboration. It's also worth highlighting once again that this is just the start of metaverse technology's long journey. It will take ten years for there to be a billion metaverse users, according to Meta's estimates, and along that road, there will most likely be much more to get excited about.
One of those milestones is Magic Room which Meta teased on stage at Connect and described to IT Pro as a "sign of where [metaverse tech] is going to be, long term". The idea for Magic Room is a true blend of the virtual and physical worlds - specifically meeting spaces.
Meta said you can think of it as taking your usual meeting room in the office and making a digital twin of that in the company's metaverse, with each fixture and fitting appearing in both worlds. It will see everyone wearing VR headsets and people in the physical office being able to write notes on the real whiteboard that can be seen by those at home, in the virtual twin. Those at home can write on the digital twin's whiteboard for it to also be seen by the physical meeting room attendees, alongside the notes made on the physical whiteboard. Again, Magic Room is still early in development and won't be properly rolled out, in whatever capacity that may be, to users until next year at least.
It's encouraging to see that Meta is opening up more about the metaverse possibilities and giving prospective customers more to think about beyond virtual meetings. A visceral long-term strategy with Magic Room and new capabilities brought with the Microsoft integration, coupled with new features in Horizon Workrooms - the multiple virtual monitors (pictured above) was cool - are somewhat of an exciting step forward. It's exciting in the sense that it's new and the novelty is certainly there, but there is nothing about what's been announced that has yet offered any convincing case that metaverse-driven work is better than what can be achieved in the 2D world.
RELATED RESOURCE
Mastering retention
Turning user behaviour insights into retention strategies
It's difficult to imagine how teams split between the virtual and physical will be able to collaborate on the same Word document, for example, as easily as they could through a simple SharePoint collaboration that can be accomplished easily and effectively in the current iteration of Teams. Collaboration may benefit, sure. But is this small element of work worth all this effort?
The future of metaverse technology is bright - Meta will make sure of it. However, very real doubts remain over whether it will be useful for all, or even just the majority, and going forwards Meta will need to continue to maintain the excitement before disbelief truly takes hold.
Stay up to date with the latest Channel industry news and analysis with our twice-weekly newsletter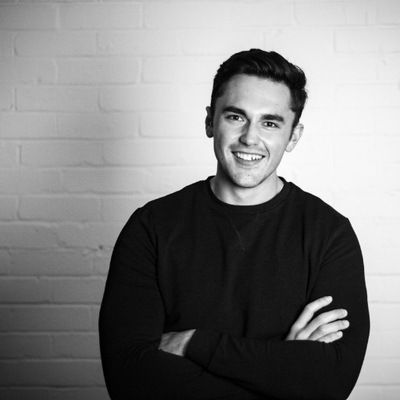 Connor Jones has been at the forefront of global cyber security news coverage for the past few years, breaking developments on major stories such as LockBit's ransomware attack on Royal Mail International, and many others. He has also made sporadic appearances on the ITPro Podcast discussing topics from home desk setups all the way to hacking systems using prosthetic limbs. He has a master's degree in Magazine Journalism from the University of Sheffield, and has previously written for the likes of Red Bull Esports and UNILAD tech during his career that started in 2015.