How can channel companies prepare for Brexit?
While all eyes are on the coronavirus pandemic, the channel can't afford to let Brexit slip from view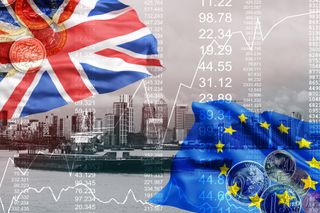 For the last four years, there has been one key subject weaving its way in and out of every part of daily life in the UK: Brexit. Since the first mutterings of a referendum on whether the UK would like to leave the European Union, to the triggering of Article 50, the political landscape has been beset with questions and uncertainty.
The shifting sands have also not been helped by the continuous uncertainty and fallout in UK parliament, with two general elections being held and three different prime ministers in place over the course of three short years.
While the COVID-19 coronavirus pandemic is holding everyone's attention currently, Brexit is still quietly rattling on in the background, with the end of the transition period bearing down upon us in December this year. Consequently, while organisations are naturally busy fighting fires caused by the immediate crisis, they must still have their eye on the game with regard to our departure from the EU.
One of the subjects at the forefront of the Brexit debate has, of course, been business and trade. What will happen once the transition period runs out? What will the eventual deal between the UK and EU look like – will there even be one? And if one is forged before the end of the year, what tariffs will be imposed and how will this impact supply chains? All key questions that can generate very different responses depending on the leanings of those you ask.
One thing is certain, however: even as uncertainty caused by the coronavirus outbreak continues, IT and tech businesses will need to adapt again in order to ensure the future viability of their operations in a post-EU UK.
Market impact
Channel firms have already seen an impact on technology markets such as PCs, smartphones, and tablets. Research conducted by Gartner found that tech vendors have been grappling with the global political uncertainty throughout 2019 and that's forecast to continue into 2020. As a result, IT companies have already needed to adapt to vendors increasing their prices.
"There is no doubt the PC landscape is changing," commented Ranjit Atwal, Senior Research Director at Garter, regarding the firm's 2017-2023 forecast update. "PC vendors are having to cope with uncertainty from potential tariffs and Brexit disruptions."
Atwal said that vendors are adjusting pricing to account for the weaker pound and have begun moving away from purchasing models in favour of service income.
"Ultimately, they need to change their business models to one based on annual service income, rather than the peaks and troughs of capital spending," he said.
Supply chain and equipment issues are of utmost significance to IT firms. Leaving the single market means that certain hardware that passes through borders will also now need to go through extra checks. As Forrester senior analyst Paul McKay noted in January last year, some hardware-based security services will be subject to extra customs controls and origin checks.
"CISOs should review their key suppliers and supply chains to determine whether this is likely to impact them and any in-flight projects," he advised. "Additional time should then be built into your security program plans to account for some additional delay in deliveries. This is not expected to be a large bump but may delay some delivery deadlines if supply chains start to jam up."
To minimise post-Brexit hits, channel firms will need to work closely with partners to investigate their supply chain and ensure there are plans in place that can negate price hikes and delays. IT leaders are advised to draw up a game plan tailored to their specific needs and market, accounting for any predicted market changes or fluctuations as the transition phase progresses.
Alongside hardware issues, another key concern for businesses is data flows between the UK and EU, McKay said. Essentially, the UK's post-Brexit data protection regulations will need to align once the country has left the bloc – but IT companies will need to plan for any potential non-agreement or an extended discussion period.
"We recommend that CISOs and DPOs start looking into alternative means now for guaranteeing the legal basis for their international data flows between the UK and EU," he said. "This can either be through model clauses or a binding corporate rules program, for example, which are already widely used for transfers outside of the EU."
On top of that, there's also the consideration of the workforce, with many IT workers in the UK born overseas. Should Brexit bring about a dramatic reduction in this worker-base, many industry observers believe it will create an even wider skills gap than the one already present in the industry.
No-deal Brexit could still happen
Of course, the spectre of a no-deal Brexit scenario continues to linger. As recently as April 18, Prime Minister Boris Johnson's controversial advisor, Dominic Cummings, ruled out an extension to the transition period, despite talks being severely disrupted by the coronavirus crisis.
Back in September, IT firm Pure Technology Group noted that should a no-deal Brexit occur, the effects on supply and currency exchange "are likely to result in temporary constriction and currency fluctuation", but added that the IT industry is "not likely to be the worst affected sector".
According to Deloitte, this no-deal scenario would leave the wider tech sector needing to mitigate effects on data flow, continuity, intellectual property protection, access to talent, as well as access to the digital single market. "The winners will be those in the sector prepared for change and alive to the opportunities," the professional services firm said.
That preparation should involve the continuous monitoring of key sources, it added, such as government and EU advice, industry bodies, as well as the business' own workforce. Companies are also advised to conduct a market access review to understand the future trade relationship with the European Union.
"Undertake a regulatory review to understand what changes to the standards or regulatory regime could mean for your products and services where they are delivered, produced and sold" Deloitte advises. "In particular with regards to the transfer of personal data and GDPR."
Others have predicted some positives, however. Analysis conducted by BNP Paribas and the Centre for Economics and Business Research (CEBR) in 2019 that looked at the long term impact of Brexit and the UK's financial recovery, found that up to 2.7 million jobs could be added to the economy by 2038. Of these, almost one million of them will come from the transport, storage and communications industry, the research predicts, driven by the rise of AI, automation, and robotics across all sectors.
While the situation may be incredibly unstable now thanks to coronavirus, companies operating in the IT channel can't afford to forget about Brexit. They must still take steps to bolster defences against economic uncertainty in the short term and, in the longer term, grow their business in a new economic and political landscape.
Stay up to date with the latest Channel industry news and analysis with our twice-weekly newsletter
Dan is a freelance writer and regular contributor to ChannelPro, covering the latest news stories across the IT, technology, and channel landscapes. Topics regularly cover cloud technologies, cyber security, software and operating system guides, and the latest mergers and acquisitions.
A journalism graduate from Leeds Beckett University, he combines a passion for the written word with a keen interest in the latest technology and its influence in an increasingly connected world.
He started writing for ChannelPro back in 2016, focusing on a mixture of news and technology guides, before becoming a regular contributor to ITPro. Elsewhere, he has previously written news and features across a range of other topics, including sport, music, and general news.