Printer ink vs toner: What's the difference?
From price per page to the finish, we weigh up the pros and cons when it comes to printer ink vs toner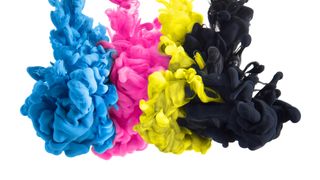 (Image credit: Shutterstock)
Before selecting your perfect printer, it's always important to consider what you'll feed your device in order for it to function.
This is critical for buying appropriately, regardless of whether your just after a cheap printer, or something capable of supporting a small business, or an all-in-one printer that can handle pretty much anything.
Fundamentally, it all comes down to choosing between an inkjet or laser printer. Simply put, inkjet printers use ink-based cartridges as fuel, whereas laser printers usually require toner, with each variety producing a different end product.
If you're not sure which is best when it comes to printer ink vs toner, then we've put together a quick guide to help you understand the differences around finish, price, and page yield.
Printer ink vs toner: What's the difference?
Printer ink and toner are fundamentally very different substances.
Toner is a type of dry, fine powder, which tends to be used by laser printers. It's a combination of carbon, plastic, or polyester particles, and a number of other colouring agents, all contained together in cylinders. An electrostatically-charged drum unit helps to transfer the mixture to paper, which is then fused to it through the printer's heated rollers. It's cheap to ship, store, and use, largely because it's powder-based.
Be aware, however, that there's three kinds of toner cartridges. These are "compatible," "OEM," and "remanufactured," which, as you probably can guess, can have a different effect on the quality of the toner. OEM stands for original equipment manufacturer and will come in a cartridge with the official brand of the company, including Epson or Canon, and these tend to be recommended by manufacturers for their printers.
On the other hand, third-party manufacturers sell alternative or compatible cartridges. These can be less reliable than the OEM versions sold by the manufacturers, but they tend to be the cheaper option. Meanwhile, remanufactured cartridges are, as you might have guessed from their name, reused cartridges that have been refilled with fresh toner. Even though they might be prone to leaks, faulty, or troublesome, they are usually cheaper and viewed as a more environmentally friendly option when it comes to printing.
Printer ink, however, tends to be a form of pigment-filled paste or liquid, which are the kinds of cartridges you'll find in inkjet printers. The colour comes from this pigment, which tends to come from a number of sources, usually dyes. This ink is used by inkjet printers to spray small drops of fluid onto the paper to create the digital image in the physical world.
When it comes to the printers themselves, typically toner-based laser printers are more expensive than ink-based inkjets – although this can vary considerably depending on the model you're buying.
Printer ink vs toner: Page finish
The type of finish you're looking for is also important to consider when deciding over ink or toner. This means looking at the type of printer you want to use.
Inkjet printers are good for high quality coloured images as they offer a better tonal variety and colour blending. This makes them good for images and or graphic designs. What's more, ink printers can work across a variety of papers, including glossy. Paper type is also a reason to pick inkjet over toner, as the latter can't be used with heat-sensitive types of paper.
The benefits of toner and largely boil down to the fact it comes as a powder, which means it can be stored for lengthy periods without becoming unusable. Businesses can therefore stock up on toner without issue.
It's also good if you need lots of high quality black and white images. They don't do as well as inkjets when it comes to colour, but they are generally faster and have more capacity, whereas inkjets tend to be more compact, so they're a better fit for home offices.
Printer ink vs toner: Page yield
When it comes to the end product, there's a fair bit of maths to do at the point of purchase. Initially, you'll pay less upfront for printer ink.
For example, HP's 364 printer ink cartridges come in a pack of 4 for £49. Each cartridge is cable of getting through 300 sheets of paper, so that's roughly £12.25 per cartridge and 4p per sheet of paper. It's worth noting that the '300' estimate is roughly based on a small sample of text on paper, rather than whole sheets. So if you use lots of ink-intensive graphics per sheet, it will run out far quicker and be much more expensive.
HP's three-pack of high yield toner cartridges also costs around 4p per page, but users will need to spend more for it initially, with the pack costing £305.99. The three cartridges can each produce 2,300 pages but, again, your usage may differ depending on your company's printing needs.
Get the ITPro. daily newsletter
Receive our latest news, industry updates, featured resources and more. Sign up today to receive our FREE report on AI cyber crime & security - newly updated for 2023.
Bobby Hellard is ITPro's Reviews Editor and has worked on CloudPro and ChannelPro since 2018. In his time at ITPro, Bobby has covered stories for all the major technology companies, such as Apple, Microsoft, Amazon and Facebook, and regularly attends industry-leading events such as AWS Re:Invent and Google Cloud Next.
Bobby mainly covers hardware reviews, but you will also recognise him as the face of many of our video reviews of laptops and smartphones.