Why digital experience is vital for success
We take a closer look at customer expectations in a changing business landscape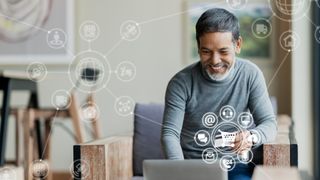 The twenty-first century has seen a rapidly accelerating shift to digital as technology has advanced. In 2020, the pandemic only exacerbated this, as with most of us now working from home our only connection to the outside world is through our phones, email, and workplace communication platforms.
In this environment, our digital interactions are all the more important to us personally, but they are also important from a business perspective. Even before the disruption of 2020, the proliferation of the internet gave customers the power to compare goods and services more easily and have higher demands in terms of personalised, connected experiences. Since nearly all of the interactions businesses can have with customers right now are online, the successful businesses are those that create great digital experiences to meet these higher expectations.
But what does a good digital customer experience actually look like, and how much does it really matter?
What is digital experience?
The term 'digital experience' simply refers to all of the online interactions a customer has with your brand, from your website and social media channels to ads and chatbots. Whereas customer experience would include building trust and human connection with customers in a physical setting, digital customer experience is just the online expression of this.
Why is digital experience important?
It used to be that offering the lowest price or the best product was enough to beat the competition, but now standing out is all about experiences.
RELATED RESOURCE
Building a digital experience dream team
Transforming work in times of change
With increasingly competitive markets and powerful customers, good experiences are now what shape buying patterns and brand loyalty. This can have a big payoff, with 67% of customers saying they would pay more for superior experiences, meaning brands don't necessarily have to drop prices to compete. Emotional connection to a brand can even drive a customer to spend twice as much as those that just feel 'satisfied'.
Long term, better customer experiences can equate to higher customer retention, higher lifetime customer value, and greater brand equity. Additionally, 72% of customers report that they share good experiences with a brand, and with rising reliance on peer review to choose a brand, this can work to your advantage.
The costs of bad digital experience
But what happens if you don't make digital experience a priority?
For many businesses that were more rooted in the physical world pre-pandemic, the transition to digital might seem like struggle enough without the daunting prospect of creating the seamless, personalised experiences every customer expects. But it's important not to cut corners when it comes to your customers, who are the whole reason your business exists in the first place.
And in an experience-driven market, you have to compete to stay afloat. More than half of respondents to this Salesforce survey have stopped buying from a company when they received a better experience elsewhere, and with the internet, it is easier than ever to find new brands. And while peer review is great if you do meet expectations, 62% of respondents said they shared bad experiences, which causes you to lose customers and risk your reputation and bottom line.
If that isn't reason enough to start focusing on digital connections with consumers, consider that UK brands lose nearly £15 billion a year due to poor customer service.
What are customers looking for in a good digital user experience?
Now that we've weighed the advantages and disadvantages of digital customer experience transformation, let's take a closer look at what you should actually be trying to achieve with your transformation.
How customers perceive interactions with your brand is everything. You want them to come away feeling that they had an easy, frictionless, and delightful experience.
Interactions need to be consistent across all channels, whether physical or virtual, because people perceive these various interactions as one experience. For this reason, it's also important that each engagement is based on earlier ones rather than siloed, taking into account previous activity and purchases. This personalisation is essential, with 85% of customers reporting that 'being treated like a person' is important to winning their business.
Ensure that your interactions are also immediate and conversational. Don't let too much time lapse after a sign-up, a purchase, or an email before you engage with your consumer in a real way. No one wants to feel like just another number, so make sure you have a comprehensive view of each customer to show them that they matter.
Your digital experience shouldn't stop at how you interact with customers. Besides personal, seamless experiences to show customers they matter, you might take a look at what your business actually offers. Customers prefer brands that are constantly innovating, so consider how your company could find new ways to meet customer needs.
Next steps in your digital experience transformation
Despite increased expectations, about half of customers report that these expectations aren't being met. The opportunity is there for the companies that are willing to jump in to transforming their digital user experience and standing out in a crowded marketplace.
Now that we've broken down the reasons why you should consider this transformation, take a look at this free guide to building the team you need to get you there, Building a digital experience dream team.
Get the ITPro. daily newsletter
Receive our latest news, industry updates, featured resources and more. Sign up today to receive our FREE report on AI cyber crime & security - newly updated for 2023.
Get the ITPro. daily newsletter
Receive our latest news, industry updates, featured resources and more. Sign up today to receive our FREE report on AI cyber crime & security - newly updated for 2023.
Thank you for signing up to ITPro.. You will receive a verification email shortly.
There was a problem. Please refresh the page and try again.