Microsoft: Business leaders' flawed approach to hybrid work is alienating employees
Report reveals that business leaders no longer understand their employees who plan to flee the nest for better and more flexible workplaces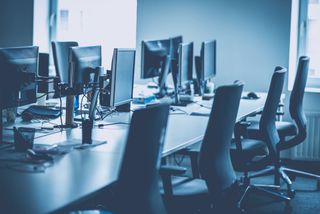 (Image credit: Shutterstock)
Microsoft's annual Work Trends Index has revealed business leaders are vastly out of touch with their employees and what they expect from their company.
The report, which examines the key factors impacting workplaces and the trends for the coming year, showed that most managers feel senior leaders don't provide them with enough influence in the office to enact the positive change their employees want to see.
There is a wide gap in understanding between senior leaders, managers, and lower-level employees, according to the report and this is emphasised in most organisations' approaches to the post-COVID return to the office.
Microsoft said exactly half the number of businesses it questioned said they were planning a full-time in-person return to the office, or already require that traditional working arrangement.
This is contrasted by the data that showed workers are seeking more flexibility in their workplace, with hybrid workers wanting to go fully remote and remote workers seeking a more hybrid approach.
A considerable percentage of surveyed employees (43%) said they are likely to consider changing jobs in the coming year and 30% of respondents said they prioritise where they work and would consider finding a remote job if it meant they could live in the area they want to.
A Gartner report published earlier this month showed IT workers were least likely to stay in their current jobs compared to workers in other industries and linked the dissatisfaction with corporate policies mandating a return to the office.
Longer days, less breathing room
Microsoft also said workers crave flexible working, but it shouldn't come at the cost of feeling like they always have to be reachable by their employer outside of work hours.
According to the company's research, the amount of after-hours work the length of a typical workday are both increasing - two factors that employees are actively trying to manage as they tackle a hybrid and remote job.
Data taken from the likes of Teams and Outlook showed that although Microsoft observed a 252% increase in time spent in meetings weekly, and a 32% increase in chats sent per person, workers are taking active steps to prevent working beyond their contracted hours.
RELATED RESOURCE
Moving forward in a work from anywhere world
A gorilla guide
Such steps include becoming more intentional about taking breaks, avoiding double-booking of meetings, establishing meeting-free times in the workweek.
All of these measures show how employees are placing greater importance on their personal wellbeing, and this was one of the key highlights of the report.
Most respondents said they are prioritising themselves over their work while nearly half (47%) said they're more likely to put family and friends before work than before.
For employers looking to demonstrate their commitment to preserving their employees' wellbeing, taking steps like limiting the number of meetings and opting to summarise discussion on email, setting clear breaks for teams to recharge, and avoiding sending emails or chats during non-work hours can help foster a better work culture, Microsoft said.
Decaying relationships harms business output
Another core highlight of the report was that senior leaders need to create ways of building and rebuilding social capital within teams and the wider workplace, if hybrid work environments are to be embraced.
A recurring workplace trend is that teams are becoming more siloed; hybrid workers said they're managing to maintain their relationships but remote workers reported not having "thriving" relationships with their colleagues.
This means business leaders need to place an emphasis on creating environments, or dedicated time and space, for employees to connect with each other and make time to recoup the lost opportunity to build social capital that's usually gained through day-to-day general office talk.
"Social capital has to do with the resources and opportunities you have access to because of your relationships," said Nancy Baym, principal researcher at Microsoft Research. "When people trust one another and have that kind of capital, you get a willingness to take risks, you get more innovation and creativity and less groupthink."
Microsoft said this won't be an easy task, but it is hugely important for employees and overall output. Employees who hold strong relationships report considerably better wellbeing than those who don't and employee productivity is also much higher when workers have good connections to their immediate team members.
A daily dose of IT news, reviews, features and insights, straight to your inbox!
Connor Jones is the News and Analysis Editor at ITPro, CloudPro, and ChannelPro. He oversees the three publications' news strategies and reports breaking news on the topics of cyber security, software, and Big Tech firms. He has a master's degree in Magazine Journalism from the University of Sheffield, and has previously written for the likes of Red Bull Esports and UNILAD tech during his career that started in 2015.
A daily dose of IT news, reviews, features and insights, straight to your inbox!
Thank you for signing up to ITPro. You will receive a verification email shortly.
There was a problem. Please refresh the page and try again.