E-commerce: a world of reseller possibilities
Participation in online retail is at booming – so what should a reseller look for in a platform partner?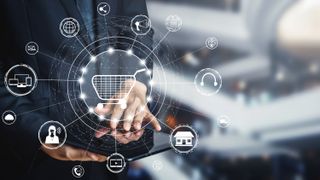 The global e-commerce market has been booming for a number of years, with key drivers of merchant success including mobile, omnichannel and marketplaces. In 2016, global online retail sales will hit $1.6 trillion rising to $3.5 trillion in 2019. The interaction between online and offline sales has never been so important to consumers and potentially fruitful for technology providers.
When we discuss big retail numbers, we most commonly think about online giants such as Amazon, eBay and Walmart. However, the remarkable course of e-commerce has been an SMB phenomenon – in fact, if we look at Amazon, some 45 percent of all goods are sold on the Amazon Marketplace by SMB retailers. On eBay, SMB merchants have accounted for a 20 percent annual growth rate over the past five years.
Thus, the market for retail technology is surging as a result. Recently, we have seen Salesforce acquiring Demandware for $2.8bn in pursuit of a slice of the e-commerce market. According to Forrester, spend on e-commerce technology globally stands at $2.6bn today and will double by the end of the decade. At a time when the demand for cloud business applications is rising by 20 percent a year, it seems remarkable that many resellers still do not offer e-commerce.
Advancements in e-commerce platforms mean that it is now possible for any service provider to offer a powerful, yet easy to use e-commerce solution with ease. For example, we are seeing more hosting providers, of all shapes and sizes, seeking to adopt or update e-commerce offerings in light of this potential.
For the reseller, addressing the e-commerce customer has some excellent benefits. The e-commerce user offers a high level of ARPU and customer lifetime. Value-added resellers have much potential to combine with other value added services. In fact, the market for associated design, implementation and support services comprises an additional $6bn today, rising to $10bn by end of 2019.
Of course, this attractive market has not gone unnoticed. E-commerce pure players, such as Shopify, have seen remarkable growth. The valuation of these providers serves to underline the high value of e-commerce customers. For example, Shopify achieves a market value of $2.5bn from a relatively modest installed base of 275,000 SMB merchants worldwide as opposed to a market value of only $5bn for GoDaddy with more than 14m hosting clients.
So, how does a reseller explore e-commerce for the first time, and what should they look for in a platform partner? It is true that e-commerce means rapidly evolving technology. The strongest platforms today will fully enable cloud agility and ensure the widest set of merchant needs can be fulfilled.
While there are options across both Open Source and Software-as-a-Service, the right choice will depend on a reseller's customer needs for design, maintenance, security etc. There are now very effective plug-ins for site builders and CMS platforms like WordPress, as well as feature-rich standalone shop packages. A fully managed white label SaaS platform will deliver the end user a high quality, robust, all-inclusive service whilst freeing up the reseller to focus on sales.
The best platforms make powerful e-commerce solutions plug and play. It is essential that your e-commerce partner works hard to evolve in line with all the best and fully localised integrations, payment and shipping methods and apps that shoppers demand.
Philbert Shih of Structure Research, a leading analyst to the cloud industries, agrees: "To keep up with the requirements of online retailers and their customers, the best e-commerce platforms will have to be current with features and functionality related to payment and shipping features. Today's demanding consumers desire and trust only the latest tools. This is crucial to the user experience, which in turn goes a long way to determining success for merchants".
Of course, successful merchants will mean successful resellers. Customers that thrive will seek further e-business products and services. Do partner with a global-scale provider whose experience and technology partnerships you can benefit from. For example, SaaS platforms with their own Apps Store and development programmes can deliver your customers timely access to the latest tools for competitive advantage online.
For the reseller, the right e-commerce partner will offer a multi-discipline, integrated approach to implementing or modernising your shop offerings. Consult the e-commerce platforms that specialise in serving the hosting and telco space – they will naturally prioritise your needs as a reseller. You can now expect tailored consulting, solution design, technical implementation, and application management and marketing.
The best e-commerce partners will be also able to offer you quality white-labelled options for hosting, design services and customer support. With so much potential to share in the retail success of your hosting customers, now is certainly a wise time to scope out your options.
Wilfried Beeck is CEO ePages, epages.com
Stay up to date with the latest Channel industry news and analysis with our twice-weekly newsletter
Stay up to date with the latest Channel industry news and analysis with our twice-weekly newsletter
Thank you for signing up to Channel Pro. You will receive a verification email shortly.
There was a problem. Please refresh the page and try again.