Lenovo and Nutanix agree partnership
Lenovo deal boosts Nutanix hyperconverged channel play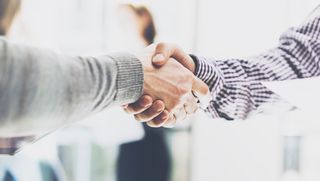 Hyperconvergence specialist Nutanix has signed a partnership with Lenovo to allow the fast growing PC and server firm to offer a line of hyperconverged appliances predominantly through its channel.
Lenovo will base the appliance on its IBM-acquired System X server line and according to Gianluca Degliesposti, executive director of Enterprise EMEA for Lenovo.
He adds that the move into hyperconvergence is "good for the channel", supporting its current EMEA position of around 95 percent of its sales going through partners.
Degliesposti says the deal brings "a different mentality to the market" with no legacy storage business to protect in comparison to the likes of Dell – another Nutanix OEM partner – and rival HP which has its own platform based on StoreVirtual storage and ProLiant servers.
The partnership will see in joint engineering and marketing activities and Lenovo has certified several hundred technical staff on the Nutanix platform that will support its rollout. However, Lenovo won't confirm what percentage of "its several thousand European partners" it expects to sell its new appliance, which will ship in Q1 of 2016.
As with Nutanix's existing relationship with Dell, the firm plans to run a deal registration process to help avoid channel conflict, although the actual mechanics of a deal reg that would theoretically run between Nutanix, Lenovo and Dell partners seems fuzzy.
However, Degliesposti welcomes the notion of existing Nutanix partners that are currently not Lenovo partners joining its community. Nutanix currently has around 100 UK and Ireland partners including the likes of Kelway, Softcat and Computacenter.
On its decision to partner with Lenovo, Brian Cox, director of product marketing at Nutanix says the vendor had rebuffed a number of offers before Lenovo. "We wanted to find a company that is ascending in the datacentre… and actively looking to grow the market," he says.
Details around hardware specification and pricing are yet to be released but Lenovo will be marketing its appliance with a range of professional services including training and support and expects a new certification track for its partners.
Channel Pro analysis
Considering its rapid rise in the PC and server market, Lenovo is a major deal for both Nutanix and the wider hyperconvergence adoption. There is a growing number credible rivals jumping on the bandwagon and few that in some ways 'top trump' Nutanix in terms of features. However, with its previous Dell OEM and new Lenovo deal, the hyperconvergence poster child extends its lead at least in terms of reach.
In the wider competitive market Simplivity adds more bells and whistles around dedupe, backup and workload optimisations. While rivals like Atlantis have carved out solid niches in areas like VDI and Scale Computing's focus on KVM allow for lower licensing costs. However Nutanix, with an estimated $300m annual run rate, is probably the largest vendor in the space and its software through these OEM deals will set the benchmark
Without knowledge of the "joint engineering" effort involved in the Lenovo deal, it is a good guess to assume that the technical specifications of the hardware will probably be higher end than Nutanix's own appliance, which will give partners more mix and match options around deployment.
The ability to say… "From which vendor would you like for your hyperconvergence?" is a beneficial sales tool in allaying fears of vendor lock in – a potential further enhanced through System X's solid reputation. The deal also suggests that Nutanix are not looking to sell up anytime soon which adds stability to a boisterous market.
One word of caution is around potential channel conflict. Although Nutanix seems wed to 100 percent fulfilment through the channel, the same can't be said for its OEM partner Dell which is more than happy to go direct. Lenovo is enabling a dedicated internal team to generate sales for its new appliance which it says will be fulfilled through the channel, which is a good sign.
For partners getting into hyperconvergence early, there is a great potential and a relatively untapped market.
Stay up to date with the latest Channel industry news and analysis with our twice-weekly newsletter
Stay up to date with the latest Channel industry news and analysis with our twice-weekly newsletter
Thank you for signing up to Channel Pro. You will receive a verification email shortly.
There was a problem. Please refresh the page and try again.