Avoiding 'shiny object syndrome' when pursuing digitisation
Adopting new technologies will mean very little unless you guarantee uptime for critical apps and services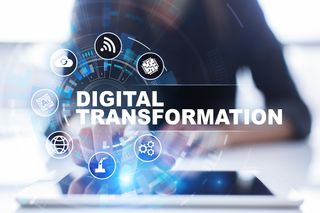 Over the last twelve months, digital transformation demands have accelerated at an unprecedented pace, with investment set to expand in the coming years. For customers becoming ever more dependent on digital infrastructure, the pace of growth shows no sign of slowing, but with advancements continuing to evolve, is 'shiny object syndrome' distracting users from the fundamentals of IT resiliency?
The fact is you need to consider a few crucial aspects when pursuing digital transformation. To deliver a successful strategy, consultants must start from the ground up, which in some cases, can require a dynamic shift in perspectives from the top down. Business objectives need to be set in stone, KPI's agreed upon and resilient power prioritised to ensure uptime for transformative mission and business-critical applications.
Rushing through digital transformation can, therefore, result in a number of problematic IT issues including disjointed systems and potential downtime, meaning reliability, or more specifically, resiliency is the foundation upon which successful projects are truly built.
Downtime versus IT investment
Worldwide IT spending will total $3.8 trillion in 2021, according to Gartner Worldwide, yet despite unprecedented disruption from the pandemic, for many channel organisations, 2020 was one of the biggest years for sales. With IT budgets and digital transformation adoption continuing to grow, the need for increased security, uptime and power protection becomes paramount, especially if we consider the cost and rate at which outages are accelerating. But how do we quantify this cost and what steps can end-users take to prevent it?
The cost of downtime will undoubtedly vary based on any user's IT environment and the applications supported. For one in six participants in the the Uptime Institute's tenth annual survey, it cost more than £700,000, with 75% suggesting a recent downtime incident may have been prevented with better management, training and improved processes.
Issues across the spectrum of critical IT and network infrastructure can include power surges and outages, equipment failures, and network congestion or overload. In fact, while power failures were always considered one of the primary causes of serious IT service outages, network issues have recently taken the crown. Physical security and human error also remain fundamental issues, and with more critical technologies being deployed in remote locations, or at the edge of networks - including schools, hospitals, retail stores and restaurants - it's no longer possible to have IT service personnel at every location.
Deploying physically and cyber secure distributed IT, alongside intelligent power protection in the form of Uninterruptible Power Supplies (UPS) is, therefore, essential at the hardware layer. However, gaining insight into the health and status of the equipment is also absolutely crucial. Thanks to cloud computing, users can gain an instant view of their infrastructure equipment from remote locations via ultra-secure smartphone applications, ensuring IT availability, while gaining the ability to mitigate outages before they become an issue. Yet while it's undoubtedly true that technologies offer an enabler to overcome many issues associated with customer downtime, the skills and expertise of service personnel or partners truly make the difference.
A business case for collaboration
Throughout the history of the IT sector, channel partners have been paramount to end-user adoption and successful IT deployments. Harnessing the skills of external consultants including resellers, MSPs and systems integrators offers end-users key technical insight, while helping to bridge the industry skills gap, which continues to grow.
The business case for collaborating with partners, however, can often be met with a number of barriers to adoption. Many end-users will assume that working with a partner will come at high cost, and it's not until a business-critical issue is encountered, one that affects customers, revenue or profitability, that true investigation takes place.
To truly reap the benefits of successful digital transformation, end-users need to leverage the latest in resilient technologies and consult with partners who have a demonstrable track record in deploying, managing and servicing critical IT. Due diligence throughout the procurement process is essential, but too often, it's overlooked, and sadly, many businesses still have to learn the hard way. Our own research found that while internal personnel can manage a fleet of new IT or power equipment, the cost savings gained by using a partner actually increase as equipment ages.
Thinking smart
If we consider the means at which IT investment is accelerating, having a joined up approach to digital transformation is crucial. Beginning with the fundamentals is key, and without resilient power, diverse network connectivity and IT availability, any strategy will fail.
Having access to the right skills and expertise is also critical for any business, and with a rapidly growing skills gap, there's no doubt that working with partners on a cost-effective, collaborative and consultative basis, can quickly overcome any pain points, alleviate pressure and ensure greater outcomes. Finally, if IT represents around 1% of the cost of the total infrastructure stack, and the cost of downtime might equate to almost £1 million in a worst-case scenario, surely investing in preventing any incidents more than justifies the business case for resilience? In fact, when it comes down to protecting your business, your customers or your reputation, it's just common sense.
Steve Santini is channel director at Schneider Electric UK&I
Stay up to date with the latest Channel industry news and analysis with our twice-weekly newsletter