The channel must prepare their customers for hybrid working
With lockdown easing, and offices reopening, channel firms must guide their clients by aggregating products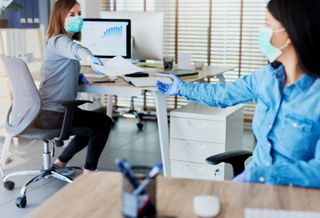 (Image credit: Shutterstock)
As politicians and scientists look to a future in which lockdown restrictions are lifted, many organisations are planning for an incremental return of employees to offices.
However, it would appear that we may be approaching a new normal of working. With employees being accustomed to working from home for nearly a year, they may want to continue utilising the lifestyle and productivity benefits that come with it. This is strengthened by research by Slack that found that only 12% of workers wish to return to full-time office life, while 72% want a hybrid model that incorporates some remote working.
In the last 12 months, organisations have shown how successful the remote working model can be when the right technology is implemented. The situation has shifted from trying to survive a move to remote working to now optimising it to be as productive and secure as possible. While there are some employees that may want to return to the office, staff must be assured they can do so safely.
A COVID-secure workplace
As hybrid working is here to stay for the foreseeable future, businesses will need to work out what this means for their productivity and security. However, poor digital infrastructure inhibits remote working. One way the channel can help their customers prepare for hybrid working is to provide the digital infrastructure that aligns with the organisation's needs.
Once such digital infrastructure has been adopted, it is then a case of helping businesses optimise their cloud environments to deliver security and allow employees to collaborate and communicate from their respective locations. Businesses will also have to make sure that authorised employees have access to what they need while safeguarding the organisation from bad actors.
Before employees return to the office, it's up to the organisation to make sure that they're safe. As social distancing measures are likely to remain in place for the foreseeable future, businesses need to manage the interactions and contact employees have within the workspace. Technology such as queue management, traffic light systems and alarms can help maintain social distancing rules. AI-based solutions can also check if mandatory protective equipment, such as masks, are being worn when employees enter a workplace, and acoustic warning signals or even prevention of entry can be triggered if an employee does not comply.
Gearing up for the office of tomorrow
It'll be difficult or almost impossible for companies to find all of the necessary solutions from one or two vendors. One way that the channel can help is by aggregating products into usable solutions. The channel can develop multi-vendor safety and productivity solutions that combine data and security technologies, as well as a range of financial, managed, and professional services. Such solutions can help organisations manage a range of scenarios effectively. These scenarios can range from social distancing, telehealth, fever detection, information access, hygiene, and so on. These usable solutions not only enhance safety in the workplace but also help businesses maintain collaboration and productivity within the organisation.
However, if organisations do not possess the in-house skills to integrate this kind of technology with their existing systems, then they will find hybrid working very difficult to shift to. The channel can help smooth this transition by providing pre-built solutions that can be tailored to each customer's needs. The channel can also provide technical support that aids with configuration and training to upskill customers on the newest innovations that can assist with offices reopening.
We're beginning to see the world of work changing. Organisations are dramatically reshaping their workplaces with a heightened focus on providing safety and security to their employees, whether they are in an office or industrial environment. In addition to this, a large proportion of the workforce will continue to work from home indefinitely.
The channel can help their customers prepare for this hybrid working by providing innovative technologies that help to adapt seamlessly and efficiently to this new norm. As the pandemic gradually gets under control, solutions such as those set out above will likely remain within organisations to help them manage the health, safety and productivity of their employees. Because of this, organisations will have to take advantage of the opportunities presented in this new reality and reshape themselves for the future of work.
Craig Smith is European vice president for data solutions and IoT at Tech Data
Stay up to date with the latest Channel industry news and analysis with our twice-weekly newsletter