Is the new breed of tech buyer a danger for the channel?
How the channel can adjust its messaging to accommodate a new generation of LoB IT buyers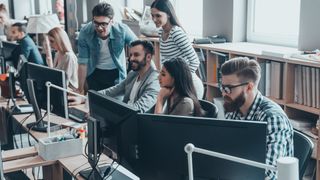 There's no denying a shift in how IT is purchased within businesses over the past couple of years. No longer the domain of the IT department or CIO, today tech purchasing decisions are as likely to come from the CFO, CMO or any line of business (LoB) executive from across the organisation.
There are several reasons for this. Todays' workforce is more tech-savvy than ever before; enabled by the on-demand nature of IT in the cloud and a blurring of lines between business and consumer tech, they expect to be able to make purchasing decisions relating to their part of the business.
"The aggressive push toward digitisation and cloud computing has greatly emboldened business unit executives and staff to vet, choose and implement their own solutions," says Estelle Johannes, director, member communities, CompTIA.
"Cloud-based applications, which can be self-provisioned quickly within a department...are mushrooming across marketing departments and CFO offices. And it's most likely that these are the types of solutions that individual business units pay for out of their own budgets."
Johannes notes that the association's 2018 7th State of the Channel report shows that a tech-astute workforce is the primary reason for business units making at least some of their technology purchase decisions independent of the IT department.
"As a result, many business unit employees are doing their own research into the latest technology solutions to address their specific initiatives and projects," she tells Channel Pro.
The influence of younger employees is also being seen. A 2018 Spiceworks survey notes that millennials are moving up the corporate ladder and are becoming more responsible for IT buying decisions and their tech preferences and buying habits are markedly different from previous generations.
As a result, the channel is having to switch gears and adapt its sales and marketing strategies in order to target what Jay McBain, principal analyst global channels at Forrester, describes as "a big swing of new buyers".
Bypassing the channel?
The potential danger for the channel is that not only are these new buyers unaware, or unconcerned, of traditional IT procurement methods, but they are willing to circumvent the channel in the sales process altogether.
"Two-thirds of every tech or telco decision today flows through line of business, or they're the lead influencer on that decision. They block internal processes, and the internal IT department a third of the time," said McBain during a recent presentation on channel trends.
Moreover, McBain said that "73% of new buyers are looking to buy direct," adding that they are likely to buy through an app store or marketplace.
Unfortunately, CompTIA's research backs up these figures, with most LoB respondents not tapping the resources of an outside firm to implement, integrate or manage their IT in the past year.
Johannes says that LoB buyers of IT "clearly lack familiarity with outside providers, perhaps because they are simply new to the IT buying and management process, or worse, that they have had a negative prior experience. Internal IT staff have a much keener understanding of the ecosystem of resellers, solution providers, MSPs and IT consultants that exist to serve them, and as such are more likely to consider hiring them."
However, she maintains that "this is an opportunity for channel firms to acquaint themselves with non-IT buyers, educate them to benefits of using a third party, and in turn learn about their business. The result should build a new pipeline of business."
Move to services
Richard Eglon, marketing director at channel firm Agilitas points out that traditionally, IT personnel are regarded as low-risk decision-makers, and likely to over-engineer solutions to ensure all eventualities are catered for - which often results in extended rollout timescales for technology projects.
"More often than not the IT operation in a business has been seen as a blocker rather than an enabler due to their cautious approach," he tells Channel Pro.
This is at odds with the market trend for businesses to become more agile in their approach in order to become more customer-centric. "This has led to more channel businesses moving towards 'as a service' models, and business outcome-based solutions are in turn driving this changing IT buying behaviour - feeding the cycle further," he says.
"As customers' buying behaviours become more agile, so too must the channel businesses supporting them. Those that do not adapt to this, by offering more solutions 'as a service', will surely be the ones that either lose custom to competitors, or even find themselves being bypassed entirely by the buyers," says Eglon.
IT still on the case
However, it may not always be a case of the IT department vs. the rest of the business. There are still many instances of IT working alongside LoBs managers to make joint purchasing decisions.
"It is important for channel partners to make sure they are relevant to conversations brewing not only within their technology stakeholders but across the business teams as well - taking on the role of a trusted broker between the two parties," Ben Boswell, VP for Europe at World Wide Technology (WWT) tells Channel Pro.
"This can be done through a succession of facilitation exercises, starting with structured sessions held by specialists. These sessions are geared towards understanding the business outcomes that LoB teams are trying to achieve and the services they are aiming to deliver across target verticals."
Channel companies should look to "break down barriers, understand the drivers that are underpinning the business objectives and then determine how to engage the IT team for successful implementation," he says.
"The conversation with the IT procurement team can also involve understanding the existing IT infrastructure and where the gaps and obstacles to technology integration may be encountered."
Alex Guillen, go to market marketing manager at Insight UK, also sees the positive in the shift in purchasing power: "This change has enabled IT professionals to become advisors in the purchasing process, giving them the power and resources to concentrate on other more strategic initiatives rather than having to spend a lot of time on supplying the correct IT to their organisation," he says.
"LoB's still have to, in most cases, adhere to internal IT guidelines to ensure integration and correct deployments are carried out. We can see this collaboration between IT and LoB continuously growing in order to achieve the flexibility required for different departments to align with IT policies."
Partners of the future
This shift clearly presents a challenge to traditional sales approaches for channel partners. However, as Forrester's McBain noted, there is an opportunity for partners if they can adapt their customer engagement accordingly. "Are you speaking that person's language? Are you marketing or messaging them the right way?" he said.
"To embody the role of 'partners of the future', the channel must bring subject matter expertise to the table, understanding the challenges their customers are facing and the competitive market they are operating in," says Boswell.
"This will enable channel partners to bridge the gap between the two conversations and produce a solution that suits the holistic needs of their customers."
Stay up to date with the latest Channel industry news and analysis with our twice-weekly newsletter
Stay up to date with the latest Channel industry news and analysis with our twice-weekly newsletter
Thank you for signing up to Channel Pro. You will receive a verification email shortly.
There was a problem. Please refresh the page and try again.