Is the 'new' channel a threat to traditional partners?
Will the 'shadow channel' kill off legacy channel players – or have rumours of their impending death been greatly exaggerated?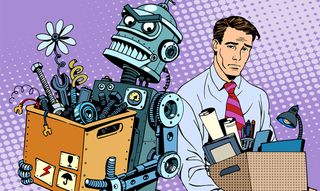 IDC has predicted that by 2021 at least 30% of channel players will not exist in the format we know them today.
The analyst noted a new generation of non-traditional types of partner – which Forrester categorises elsewhere as 'the shadow channel' – is already entering the ecosystem, with digital agencies, cloud service brokers, third platform start-ups, digital system integrators, cloud players and consulting firms all starting to offer IT solutions and services.
If IDC's prediction proves accurate, it is likely to have a significant impact on 'legacy' channel firms, which may struggle to compete in this increasingly complex environment. One option for such companies is to partner with newer, more specialised players to bolster their capabilities. But is the channel ready to get over some long-held reservations about partnering with other channel firms?
Partnering for growth
Paul Cunningham, CMO at distributor Westcon-Comstor says that when partnering, the new market entrants typically look for someone who is agile and can work as quickly as they do, and a partner who understands growth challenges.
"Networks of capabilities are also integral – channel partners ideally have skills to share, but also need great partnerships in areas where they recognise they are not strong," he says, adding that concierge services are also important. "These partners self-serve by default, but often need life hacks or quick wins – particularly when engaging in new vendor relationships or market segments."
By contrast, he notes, the 'traditional' channel seeks a partner whose success is linked with their own success, particularly in the context of vendor relationships, and someone who understands their existing business and capabilities, but will help them build effective practices in areas like cloud and SaaS provisioning, billing and renewals.
In addition, "traditional partners seek effective and easy to onboard tools – digital platforms that span quoting, billing as-a-service, end user analytics and education. They also look for help navigating finance, credit and tax challenges, especially across multiple geographic locations."
Sharing risk
There's no question that the channel is under pressure to change as customer demands change, says Will Carver, alliances and partnerships director at SCC.
"Both the channel and vendors themselves face the challenge of how to work with smaller partners with point capabilities in say IoT or data analytics, which need highly specialised skills and long term support," he tells Channel Pro.
Carver says SCC is encouraging its vendor-partners to help the company navigate their wider channel and see if it "can create circles of value for our clients in emerging markets like data migration into the cloud or specialised wireless networking apps in SDN".
"We want to share risk between ourselves, our vendor-partners, smaller channel businesses and our clients. It drives our own innovation, delivers value for customers and helps vendors climb the value-stack and be asked into discussions far earlier in the sales-cycle," he says.
Or is the legacy channel thriving?
However, Alastair Edwards, chief analyst at channel analysis firm Canalys disagrees strongly with IDC that traditional partners are set to disappear.
"It's true that partners are adapting their business models to meet the changing ways that a growing proportion of customers want to consume technology – and just as importantly, how many vendors want to sell – as a service, subscription etc. Those who fail to adapt will lose relevance, and either go out of business or be acquired.
"But the channel's strength lies in its ability to adapt, as has been shown over the history of the IT channel. And the so-called legacy channel is still doing very well, with growth fuelled for many by product as much as, if not more than, services. That growth will moderate over the next couple of years as we come to the end of the current Windows 10 upgrade cycle, but customers will still want 'products' in different forms, delivered as part of complex solutions, as a service or just as standalone products at the best price."
Edwards acknowledges that IT delivered 'as a service' or as cloud will represent a growing share of the technology market over time. And that means resellers must be able to reflect that in their business models. "But our prediction is that even within five years, that will represent no more than a quarter to a third of the total IT market," he says.
Biggest challenge
The analyst notes the biggest challenge for the channel is being able to respond to the growing level of complexity created by software-defined and hybrid IT, and edge computing. This requires partners to develop new levels of expertise in areas like automation, AI, IoT, multi-cloud and security, and articulate the value of those technologies to a business owner, whose decision to invest is driven by the strategic benefits those technologies deliver, through higher levels of professional services.
He notes: "New partner types with these skills are entering the market, and 'traditional' partners who fail to keep pace with these demands will inevitably fall behind."
Stay up to date with the latest Channel industry news and analysis with our twice-weekly newsletter
Stay up to date with the latest Channel industry news and analysis with our twice-weekly newsletter
Thank you for signing up to Channel Pro. You will receive a verification email shortly.
There was a problem. Please refresh the page and try again.