How the channel can learn from 2020 to make fresh gains in 2021
With 2021 now upon us, we ask channel companies to look into their crystal balls for the route ahead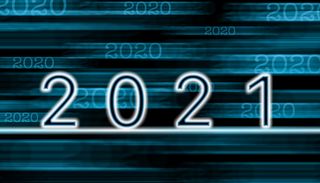 (Image credit: Getty Images)
The year just gone has been surprising, exciting and exhausting. But tough times increase opportunities for learning and growth. Channel players who've adapted well to recent challenges will be better placed to advance in the year to come.
In 2021, this might mean beyond areas like security or even cloud with moves into data-driven insights, robotic process automation (RPA) and machine learning (ML), or transformation at the network edge.
Customers need cloud shift
Mick McNeil, vice president for business development, Logicalis
Previously it took longer to transform from an office scenario to remote working, and IDC says shifts to cloud will accelerate; partners must position themselves to deliver at pace.
Spending on devices and datacentre systems will drop, but customers will want help moving into cloud; channel firms will need to invest aggressively in hybrid cloud.
Mid-market to enterprise organisations will need trusted advisors to drive that digital transformation across their entirety of needs, even across an international business. Customers increasingly seek partners for end to end 'lifecycle' solutions and services, from consulting to customer success, rather than point sales.
Cloud managed services are being commoditised. So we are investing in refactoring or re-architecting solutions to be cloud native – moving away from the infrastructure into the application and data layers. Data-driven companies acquire customers and keep them, and are profitable due to insights from that data.
Security to the edge
Jason Howells – vice president of MSP international sales, Barracuda MSP
Every industry will have to operate differently as a result of the pandemic.
Personal data use concerns will rise, with more focus on the need to protect users, not just devices. Demand for mobile device security will rise, partly due to compliance and privacy requirements.
Public cloud has become more accepted due to the pandemic, with a larger role for secure software-defined WAN (SD-WAN). Moving security closer to the edge will become much more popular in 2021.
Cloud email supplemental security (CESS) will be favoured to leverage API access and social graphs or AI, alongside broader zero trust and micro-segmentation approaches.
Firms rebuild and reinforce
Richard Evans – CTO at Cinos
The landscape has now shifted, with firms needing to consider how to rebuild and reinforce.
We may see business split into spenders and savers. Bitten by 2020, businesses may look to reduce spending and cut costs, fighting for their existence. Others that flourished or have a more aggressive strategy may look to spend their way through the uncertainty. The challenge for the channel will be to identify which customer is which and act accordingly.
The result? Channel businesses that prosper in 2021 will be those focused on integration and customer experience. With the huge increase in consumption of various cloud collaboration systems, the work begins on getting them all talking to each other. From a voice and video communications perspective this is where the channel will really make its mark.
Smarter on security
Graham Jones – managing director, Exclusive Networks UK
It will be more about offering 'as a service', remotely, so we've built out and thought about more we might deliver like this and how to help medium to small providers grow, rather than doing it ourselves.
Things will probably slow down, but there will still be a rash of new vendors. In some ways 2021 will be more of the same.
Biggest customer pain points will include the move to subscriptions and how to consume tech.
Focus on IoT and critical national infrastructure will grow, with customers looking to get really smart defending their assets.
Some may look to reduce risk by moving on-prem – being less prepared to rely on an SLA.
Certain 'one-trick ponies' are ripe for consolidation, in areas like endpoints. IT discovery will likely be strong; cloud application protection and sophisticated application control are really starting to fly.
Once again with less
Ludovic Neveu – group vice president of EMEA sales, SolarWinds
Customers feel budgets are too small and expect to be asked to do more with less. For example, the sysadmin who is also a cloud admin and developer. VARs can help with expertise, consultancy, architecture design and implementation.
Tech priorities will also be shuffled around to find the right balance. When it comes to network management software, systems and infrastructures once considered business-critical, such as a cross-campus fibre backbone, are now secondary – but 'nice to have' parts, such as client VPN become more than mission-critical.
Exploring new business fields and vertical markets will be key to the channel. Companies' digital transformation is accelerating – requiring new technical skills.
Data driven development
Christian Alvarez – senior vice president of worldwide channel, Nutanix
The new normal will redefine how we do everything – from where we work to telemedicine, from education to e-trading and how data is securely accessed anywhere at any time. Buyer journeys will keep changing and evolving. Hybrid multi-cloud architectures will be essential to enable rapid transitions and agility. Partners will need to embrace cloud services, modernise legacy systems, move more workloads to the cloud, and optimise access to data in the new era – the enterprise everywhere. 'Everything-as-a-service' will require partners to reinvent themselves, adopting new business terms and offering flexible consumption and subscription options. New heights in customer engagement, insights and telemetry will be powered by combining massive computing power, machine learning, artificial intelligence and 5G.
Partner enablement crucial
James Munro – channel director, Trend Micro
Deep integration of services and expertise – particularly around digital transformation and cloud migration – will be key, and cybersecurity skills and knowledge absolutely critical with the proliferation of cloud services and remote working.
Partners that have rested on their laurels and haven't invested in technical skills or commercial strategies will struggle.
Vendors must help partners drive revenue from services, support or solutions sales, and particularly around newer routes to market. We must 'go deeper' with partners and help them set agendas – instead of toeing a corporate line and the latest supposed buzz.
Transparency has always been the key for good vendor-partner relations and vendors with a clear and clean channel strategy will continue to win.
Security skills sought
Faisal Malik – EMEA head of business and market development, Firebrand Training
A wide-scale skills shortage is only becoming larger due to challenges from Brexit and COVID-19. Digital skills are arguably in the highest demand and the IT industry in particular is crying out for new tech talent.
Cybersecurity looks the most in demand, due partly to rapid digital transformation and remote working. Many UK businesses have a basic, damaging cybersecurity skills gap. Yet cyberattacks are on the rise and becoming more sophisticated.
Other skills such as cloud computing, AI/ML and blockchain will also be in high demand as companies quickly adopt these technologies predicted to see exponential growth over the next few years.
Desktop declines continue
Nick Offin – Northern Europe head of sales, marketing and operations, Dynabook
COVID-19 has presented unforeseen and unpredicted challenges to the channel. We have seen the use of technologies such as desktops decline in the last six months and we expect this will continue next year. While this may open new opportunities to partners operating in the mobility sector, the channel's sales in this area will be affected. The result will be companies needing to evolve their business model. In 2021, resellers should partner with vendors who are looking at new ways of incorporating services that meet the needs of remote customers into their new business strategies.
Simpler offerings required
Jan Ursi – senior director of EMEA channels and technology partners, Rubrik
The days that partners could sell complexity and wrap a lot of profitable service hours around it are over. The pandemic has shown that complexity involving a lot of heavy lifting by humans can kill a business.
Also, even in an economic downturn, it's still hard to recruit enough skilled IT people to sell service hours and complex products.
Partners will realise they need to switch to delightful, simple and consumer grade solutions as the only way to grow. The skills they sell should be higher value: consultancy services focusing on automation, orchestration, process automation, et cetera. Easy-to-use data management solutions with built in AI and machine learning will be key to business transformation.
Distribution tech desirable
Alex Tatham – managing director, Westcoast
Trading will normalise through 2021 yet with remote working about half the time – reducing office devices. Ink and toner supplier consolidation is on the cards.
Laptops, mobile devices and accessories will still see huge demand, especially higher spec as they'll need to do more.
There will be more internet voice and 5G will see faster rollout.
Home deliveries and Brexit will bolster demand for expertise in distribution, warehousing and shipping technology. Internet-connected physical security products will thrive, as will other IoT home devices and e-health devices.
Technology in education will boom, and e-sports will go mainstream – home gaming and professional teams will drive innovation. Audiovisual, RPA and production print will look strong.
Our own growth will be a more 'normal' rate of 10% (from 25%) with fewer huge public sector 'bluebird deals'.
Cloud will still perform well; more resellers will buy from distribution versus direct from Microsoft or other vendors. Microsoft open licensing will fade.
will intensify – a more coordinated Biden approach will hamper supply chains as vendors move manufacturing. Chinese brands will struggle in the UK and Europe. But we don't think UK tax rises will be significant next year.
Robotic process automation on rise
Dave Stevinson – CEO, QBS Software
The best opportunities exist around solving business problems for clients. We expect 2021 to consolidate the surge in the demand for robotic process automation and directly associated technologies. At QBS we have scaled up our 'work' team to deal with this opportunity.
Challenges will exist predominantly around depressed spending in the SMB and lower mid market sectors – where the super MSPs will need to raise their game.
Stay up to date with the latest Channel industry news and analysis with our twice-weekly newsletter
Fleur Doidge is a journalist with more than twenty years of experience, mainly writing features and news for B2B technology or business magazines and websites. She writes on a shifting assortment of topics, including the IT reseller channel, manufacturing, datacentre, cloud computing and communications. You can follow Fleur on Twitter.