Canalys Channels Forum: Michael Dell talks channel
Dell founder professes love for channel, can't resist a swipe at HP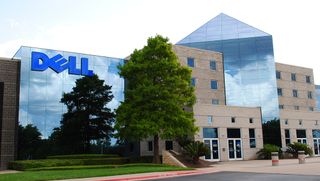 The newly-formed Dell-EMC organisation, Dell Technologies, creates tremendous opportunity for partners, according to Dell founder and CEO, Michael Dell.
Dell took to the stage at the Canalys Channels Forum in Barcelona to reiterate the vendor's commitment to its channel in EMEA, claiming that more than 50% of its sales worldwide go through partners.
When questioned if his preference was direct sales or channel, Dell paused, but he demonstrated he knew his audience, answering: "channel."
He said the vendor's channel strategy moving forward would be a combination of "the best of both" vendors. "We are going to protect the incumbency of the [EMC] partners, where they've been playing and been strong," he said, adding that Dell plans to improve incentives so "partners are very engaged with us."
When questioned on whether Dell would ever be a 100% channel sales organisation, Dell said: "We never put an upper limit on the channel."
The CEO also took to opportunity to have a dig at Dell rival HP, which last year separated its enterprise and devices businesses. He said HP decided to split after negotiations to acquire EMC failed in 2014, to laughter from the assembled audience.
Later, he commented: "If you go to a customer and say 'I have 20 different things, and I am going to divide my company up into a lot of small companies to serve you better', there's no customer in the world that wants that.
"So we're doing the opposite; we're bringing together everything that's the best of the industry and offer customers fully integrated solutions."
HP Inc. CEO Dion Weisler, also in attendance at the event, took the opportunity to swipe back at Dell, saying: "We're not a partner-led company; we're a partner-first company. We don't do 50% through the channel; we do almost all of through the channel."
Elsewhere, Dell said the vendor would increasingly integrate its diverse post-acquisition portfolio of technologies into its solutions, and a series of new products set to be announced in the run up to Dell EMC World later this month.
He also reiterated that Dell's PC business remains important to the company, claiming the firm had taken market share for 14 successive quarters, particularly among commercial devices.
Stay up to date with the latest Channel industry news and analysis with our twice-weekly newsletter
Christine has been a tech journalist for over 20 years, 10 of which she spent exclusively covering the IT Channel. From 2006-2009 she worked as the editor of Channel Business, before moving on to ChannelPro where she was editor and, latterly, senior editor.
Since 2016, she has been a freelance writer, editor, and copywriter and continues to cover the channel in addition to broader IT themes. Additionally, she provides media training explaining what the channel is and why it's important to businesses.
Stay up to date with the latest Channel industry news and analysis with our twice-weekly newsletter
Thank you for signing up to Channel Pro. You will receive a verification email shortly.
There was a problem. Please refresh the page and try again.