Why subsidies alone won't grow the UK's semiconductor industry
The national strategy's £1 billion subsidy package is far smaller than commitments made in the US and the EU, with the UK opting for a more targeted approach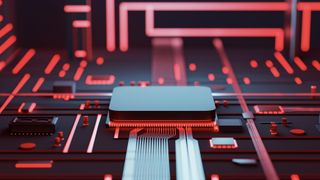 (Image credit: Getty Images)
Last month, after a long delay, the UK government published its much-anticipated National semiconductor strategy.
Originally due last year, the strategy's announcement comes as the US-China chip war intensifies, with Taiwan – a key supplier of chips and home to TSMC – caught in the crossfire, raising concerns about supply chain security.
The strategy's publication also coincided with the G7 summit in Hiroshima, where the UK and Japan agreed a partnership to safeguard their respective chip industries.
"Semiconductors underpin the devices we use every day and will be crucial to advancing the technologies of tomorrow," said prime minister Rish Suank in a statement. "Our new strategy focuses our efforts on where our strengths lie, in areas like research and design, so we can build our competitive edge on the global stage."
Up to £1 billion of subsidies will be made available through the strategy over the next decade, with an initial £200 million to be spent between 2023 and 2025. A significant portion will be directed toward expanding the compound open foundry ecosystem. Compound semiconductors have capabilities beyond silicon chips found in smartphones, and are used in electric vehicles, renewable energy technologies and satellites.
Why the UK is targeting compound semiconductors
Compound semiconductors are a considerable growth opportunity for the UK, says Mark Dickinson, CEO of London-based Intrinsic Semiconductor Technologies. In March, the company announced it had raised £7 million in funding to develop a resistive random-access memory (RAM) technology that addresses the memory bottleneck caused by current external flash memory solutions.
Dickinson explains the UK can't manufacture silicon chips without the help of other nations. Yet, becoming a leader in compound semiconductors, for example, "would allow us to form reciprocal supply arrangements for silicon chips with potential partners".
RELATED RESOURCE
Journey to SASE
Modernize connectivity to drive business agility
Mark Lippett, CEO of Bristol-based XMOS, which designs fabless chips for embedded systems, agrees with this sentiment. XMOS is mentioned by name in the UK's strategy.
"The UK won't be able to develop a full supply chain to fulfil its semiconductor needs – this is beyond the scope of even the EU or US. The question is, how does the UK secure a seat at the table. And, the answer is by having technology that others want," argues Lippett.
An example of this in action is the Netherlands, whose golden goose, ASML, is a leader in the photolithography machines market. Photolithography uses light to etch integrated circuits onto silicon wafers – ASML's machines are wanted by chipmakers around the world and its customers include Intel, Samsung and TSMC.
An underwhelming level of investment
While the UK has finally joined the subsidies race, the level of investment is smaller than the £2.5 billion the government has committed to quantum computing, while it also pales in comparison with packages offered by the EU and US.
The former agreed a deal in April to spend €43 billion (£37 billion) to try to double its share of the global semiconductor market to 20% by 2030. The US pledged $52 billion (£42 billion) to its chip industry to counter China as part of the $280 billion CHIPS and Science Act signed by President Biden last August.
Dickinson is disappointed at the low level of investment pledged by the UK and thinks "there is no way we can catch up" to the EU and US.
"It leaves the UK in a very vulnerable position – both in terms of security of supply and advancement in research and development. We will be left behind in this critical sector of the economy," adds Dickinson.
The government is hoping to mitigate any problems by leveraging existing expertise in tech clusters, including Cambridgehshire and South Wales. Words such as 'skills', 'training' and 'talent' appear dozens of times in the strategy, a sign that the government recognises the importance of nurturing and developing home-grown talent that will help design and build next-generation chips.
One thing the strategy doesn't mention, though, is how overseas talent can be used to plug the short-term skills gap.
Supporting the startup ecosystem
The success of the strategy is ultimately going to hinge on the support the UK's chip startups receive to launch and grow. To this end, the Department for Science, Innovation and Technology (SIT) is expected to review pre-seed and seed funding opportunities made available through incubators.
"We need more detail on the specifics," warns Scott White, founder of Cambridge-based Pragmatic Semiconductor, another company that is mentioned in the strategy. "Scale-ups today face evermore enticing opportunities from abroad and the government needs to address the very prominent later stage funding gap in the UK – and quickly."
Ekaterina Almasque, general partner at deep tech venture capital firm OpenOcean, believes the government has to have a more strategic vision.
"Funding pledges are important to get the ball rolling in driving innovation and growth, but alone they are not enough," says Almasque, who led early investment in Bristol-based Graphcore, whose chips are used for artificial intelligence applications and is also mentioned in the strategy.
The UK needs to ensure that it's investing in the data economy and supporting the startups developing data-intensive applications that will help to fuel demand for semiconductors and power the future businesses, governments and academia.
"This will enable domestic companies to scale and compete with international rivals," adds Almasque.
If the UK's semiconductor startups and scale-ups are held back by what they perceive to be a lack of support, they could potentially relocate their operations and manufacturing overseas. They'd be far more likely to thrive away from the UK, and could get their hands on a bigger slice of a bigger subsidy pie.
If this happens, it could also trigger an exodus of innovative companies, especially those that want to shorten their supply chains. Homegrown talent might then follow, resulting in a brain drain and pushing the UK down the global semiconductor pecking order.
Stay up to date with the latest Channel industry news and analysis with our twice-weekly newsletter
Rich is a freelance journalist writing about business and technology for national, B2B and trade publications. While his specialist areas are digital transformation and leadership and workplace issues, he's also covered everything from how AI can be used to manage inventory levels during stock shortages to how digital twins can transform healthcare. You can follow Rich on LinkedIn.