Could 'cloud first' cause traditional suppliers to vanish?
Contrary to perception, customer-focused third-party technology suppliers are here to stay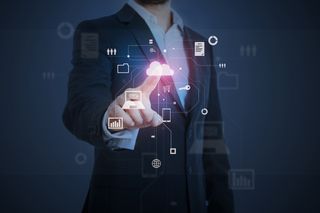 Time and again we're told that cloud computing sounds the death knell for traditional, third-party technology suppliers as we know them. The conventional view is that once a solution is deployed in the cloud, the need third-party suppliers is minimal or even redundant. Their job is done! Or is it?
It's true that once a solution is implemented in the cloud, the upgrades and back-end maintenance become the responsibility of the vendor. It's one of the key reasons why many organisations are adopting cloud technology.
That doesn't mean third-party technology suppliers will disappear entirely, however, especially if they are doing their job properly. The value that both parties provide, and how they approach provisioning and ongoing maintenance, varies markedly.
Retaining a holistic view of intermingled infrastructure
Seldom are solutions deployed 'out of the box' - regardless of whether they're implemented on-prem or in the cloud. First and foremost, the solution needs to be configured to the customer's way of working, but thereafter third-party suppliers continue to play a major role in ensuring these systems work how they're supposed to. For example, there may be client PC or mobile device pre-requisites to be monitored, configured and updated; and data to be migrated into the new system or shared with other systems.
No platform sits in isolation, either, and the IT infrastructure is usually complex. Enterprises deploy various software for different business functions, from customer relationship management (CRM) to regulatory and compliance tools, with several of these systems also integrated together as organisations endeavour to create a seamless working environment.
A cloud vendor upgrade of one system can express a domino effect for many other systems. Additionally, with many software developers having moved to agile development, upgrades to solutions are regular, routine and 'business as usual' - both on-premises and in the cloud. Due to the complexity of multi-solution integration, a holistic view of client implementation is needed, even if the third-party technology supplier is only deploying a single application.
Time and again, we find a symptom is different from the cause of the problem. For example, following a server upgrade of a cloud system, an error message may appear in another application, even though nothing has changed in the software itself. This is because it's a victim of a change of code or a bug within the upgraded system. We see this happening regularly as software vendors add to, and enhance, their systems and application program interfaces (APIs).
Adding value by problem-solving
Software vendors typically, focus on and support issues, that, on the face of it, are related directly to their own proprietary platform. Cloud-based vendors are primarily interested in selling licences and don't want to build a full professional services team themselves. With limited technical resources and expertise, they don't want to get involved with solving more generic technology issues. Third-party suppliers, due to the nature of their offering and their skills and experience, are well-equipped to triage issues and 'problem solve'. Also, they take a service-led approach, providing ongoing holistic support. This is a major value-add.
Implementing new technology, moreover, is merely the first step. An application's success is defined by user adoption. For users, a new application often demands a different way of working and offers uncertainty, which can lead to resistance. Just because an app is hosted in the cloud, it doesn't mean you can underestimate how important it is to play how users are sold system, and trained to use it. As trusted advisors, this level of change management has become a significant service that is provided by third-party technology suppliers. It lends the 'human element' to the technology deployment.
Moreover, while cloud technology vendors focus on the development and quality of their software, they're reliant on third-party partners to provide the professional services to design, implement and support their products in customers' environments. These suppliers take a consultative and best-practice approach to change management. They offer expertise and experience that encompasses technical elements of the project, like the discovery processes to determine problems that need fixing, and health checks to pre-empt future issues.
More crucially, however, they greatly help enterprises with communication strategies, in-depth user acceptance testing, and customised training. Additionally, post-deployment, they undertake ongoing reviews to ensure clients are deriving full value and benefit from the products' capabilities. This even includes educating and training new hires.
Contrary to common perception, good quality and customer-focused third-party technology suppliers are here to stay. They earn their stripes by delivering value that goes beyond simply implementing a solution within enterprises. They have varied expertise, vast experience as well as the breadth and depth of knowledge that can only come from exposure to a range of applications and unique customer situations.
Roy Russell is CEO of Ascertus
Stay up to date with the latest Channel industry news and analysis with our twice-weekly newsletter
Stay up to date with the latest Channel industry news and analysis with our twice-weekly newsletter
Thank you for signing up to Channel Pro. You will receive a verification email shortly.
There was a problem. Please refresh the page and try again.