Gamifying the channel to stay competitive
How smaller distributors can take the fight to their bigger and more well-resourced rivals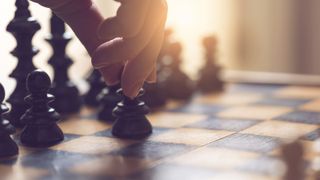 The dual forces of COVID-19 and the ensuing lockdown has presented challenges to businesses of all shapes and sizes. The UK reseller environment is no different. As the reseller community grapples with the dilemma to either batten down the hatches and try to ride out the storm, or to intensify efforts with domestic operations, what specifically can be done to meet the demands of working under a pandemic?
My gut instinct tells me that here lies the opportunity for resellers to grab all available chances and to adopt a 'can't-fail-won't-fail' attitude. The upside of greater risk is much greater reward, and I believe those who are willing to make bold choices while sailing the stormy seas of coronavirus will be those who benefit the most. Ultimately this will require much greater 'thinking outside of the box' coupled with the very real need to pivot given the traditional business model is currently unsustainable.
Competing in the big leagues
A specific dilemma that has been thrown up under the current operating conditions is the lack of personal interaction with partners. How, exactly, does a small distributor compete and win business against much bigger rivals? To give you an example, a smaller distributor might go into a reseller in the UK with just one or two vendors on the table. Larger distributors may well have up to 20 different vendors that they supply, and they're likely to have someone who is full time looking after that one reseller.
The pandemic has seen smaller distributors operate at a disadvantage versus larger rivals when trying to win new business. The larger distributors tend to have call centres where potential partners can call up and get a price; the smaller guys don't have that ability at scale. By not being able to meet existing and potential partners they have to think outside the box to keep themselves relevant. Basically, this means really being on top of your game to win and maintain business, exploring initiatives that drive personal service that you deliver and committing your dedication to your partners' success.
Building a gamification strategy
So what do such initiatives look like in real life? Our own initiative for partners involved expert webinars, hosted by experts and economists, providing insights and advice for partners on how to deal with the pandemic from a business perspective. Our '10 at 10' challenge is a particular highlight, however, which exemplifies the gamification of the channel, and involves running a ten-question quiz for ten consecutive weeks with prizes on offer each week. This included a live leaderboard with over 120 partners taking part.
Without the physical interaction that we're so used to, we had to get creative - and we've done exactly that. The benefits have been far-reaching; raising visibility, building lasting relationships. Our partners have loved taking part, and we have even been able to secure new partners as a result. Win-win all round. We've had 108 different partners participate in this campaign to date, which kicked-off back in March. As a business, we pride ourselves on developing one to one personal relationships and the account management and support we provide. We were faced with COVID so we had to think quickly to adapt, and these are the results. We've increased business and maintained the essence of what has made us successful. I firmly believe that we punch above our weight because we are deeply committed to a service-first approach.
For many resellers, the coming months will be the toughest they have ever faced as a business. Some might concentrate on simply keeping their heads above water - instead of looking at new opportunities. However, I choose to invest in an optimistic and bold approach which I am sure will pay off in the long term. We've worked extremely hard to transition our approach to the online world, we are maintaining our existing business and winning new partners.
Michael O'Hara is group managing director at DataSolutions
Stay up to date with the latest Channel industry news and analysis with our twice-weekly newsletter
Stay up to date with the latest Channel industry news and analysis with our twice-weekly newsletter
Thank you for signing up to Channel Pro. You will receive a verification email shortly.
There was a problem. Please refresh the page and try again.