Inside Singapore's mission to infuse itself with technology
With government agencies building cutting-edge technologies in isolation, could this risk pulling Singapore's digital progress in completely different directions?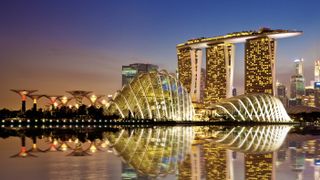 (Image credit: Getty Images)
Countries around the world are embarking on a digital transformation to boost their economies and revitalise public services. While some nations continue to languish in analogue processes, struggling to break into this digital age, others are setting new standards and innovating at pace.
From preserving the city-state's greenery, to eliminating manual processes in agriculture, Singapore is one such nation aggressively injecting technology into the fabric of society. Questions, however, arise as to how desirable it is to digitise as much as possible, and what the best model for digital transformation might be. IT Pro visited a number of projects across the island nation over the course of a week to find out how Singapore is attempting to lead the world on digitisation.
Using technology to preserve greenery
Thanks to its location on the equator, Singapore enjoys a climate of perpetual summer and is dominated by tropical rainforests and mangroves. Officials claim that it's one of the greenest cities in the world. Travellers who arrive at the airport are immediately struck with Singapore's greenery, with trees lining every road and plants crawling up designated spaces on the sides of buildings. Over the years, Singapore has shifted its ethos from being a 'Garden City' to a 'City in a Garden', whereby the city bathes in tropical foliage – emphasised by its seven million trees, with two million of them planted in the urban area.
Indeed, the National Parks Board (NParks) has its work cut out, with 3,347 hectares of nature reserves to look after, alongside 400 parks and gardens. To help, it's aiming to create an ecosystem of technology by digitising a swathe of processes, says Tan Chong Lee, assistant chief executive officer of NParks.
An NParks employees knocks a tree with a metal hammer to determine its health
The organisation has created a digital twin of its urban trees by coupling light detection and ranging (LiDAR) technology with machine learning. This lets NParks remotely inspect its trees and manage them better, since it can model growth or monitor carbon sequestration. Lee says staff can check their trees on a regular basis through remote access software from the office. Additionally, if there's any sudden tree movement, wireless tree tilt sensors attached to some alerts NParks to if a tree has been uprooted.
If any trees need a physical touch, NParks deploys its contractor fleet management system to monitor contractors' vehicle locations and work progress through videofeed. The closest contractor can be alerted to a tree and solve any issues. From there, they're able to use drones or tree drills connected to tablets to monitor the tree's health. The TreesSG software also allows the public to plant, plot, and search for trees through its website. Members of the public can even leave a 'Treemail' to post a photo along with a comment.
Cutting grass has become digitised too. NParks has installed grass height sensors, attached to its employees or vehicles, which is paired with an automatic lawn mower. Once the grass gets above a specific height, the lawnmower can get to work. It claims this saves 70% on manpower versus manual grass-cutting. It also uses Radio Frequency Identification (RFID) to verify its plant stocks.
The NParks robot helps visitors, and also lets them know when it's time to go home
These different forms of technology are all developed in-house, reveals Chong Lee, before they're shared with NParks partners. He hints these systems are also shared with other countries, but declines to name them.
A smart city begins with a smart district
Singapore is also developing its first smart district so it can decentralise its main business district due to traffic congestion, explains James Tan. Tan is director of digital transformation agency GovTech's sensors and IoT team as well as the JTC, an agency in charge of Singapore's industrial progress.
The Punggol Digital District (PDD), located in the north east of Singapore, is around 50 hectares, which "isn't very big", says Tan. The district is targeting high tech companies to move in and start new ventures, with the aim of creating 28,000 new jobs.
This drive comes hand-in-hand with the Open Digital Platform (ODP), a smart district operating system, which the agencies aim to deploy by January 2025. This is essentially a platform that hooks up to sensors and IoT devices across an area and allows them to be controlled from single user interface (UI). The agencies are aiming to bring in artificial intelligence (AI) and machine learning capabilities to also turn the ODP into a digital twin, to help make better decisions.
This will be the first time a district comes with software to power it and govern how smart systems work together. The ODP aims to unify a host of separate functions, including a smart car park system, cleaning robots, a smart grid, and more. It's already running in two of JTC's estates, including a building in the western Jurong region. In a demo, the platform was able to control door locks, delivery robots and cool temperature inside a room.
Tan highlights how it could be used in the new Punggol district; it can provide data on anything from local transport to water levels. The idea is that by combining different streams of data, it can help businesses and local authorities be more prepared. For example, if there are high water levels in the district, the platform combines this with weather forecasts to see whether flooding could be an issue
Tan (pictured) demonstrates how weather data and water levels could be combined in JTC's digital twin to predict flooding
Integrating smart systems together can lead to significant cost savings for the public sector, he adds. Fewer people are needed on the ground to inspect systems, since this can be done through the platform. Companies may also be able to link up with the system to smoothen businesses operations. For example, last-mile delivery firms, like Amazon, could connect to the platform and help their robots enter buildings to complete a delivery.
However, Tan admits when the platform was created, cyber security was the team's first major worry. "They were very concerned as to what happens if your command and control systems got hacked," he says. Tan adds if the overarching system goes down, every single silo system must continue to work, which is part of the platform's design principle.
As to whether the project is looking to integrate the tree data from NParks, Tan says they could bring tree information onto the platform, but only using JTC data. He questions how useful "outside data" would be, and is scpetical of mixing datasets together. It's an early hint that, despite progress Singapore's agencies are making, digitisation within the island nation might not be so collaborative.
Using AI to feed fish
Singapore imports 90% of its food, with the 10% it produces comprising vegetables and fish. Due to this imbalance, the Singapore Food Agency (SFA) was estsablished in 2019, with a target of boosting domestic production by 30% by 2030, or "30 by 30".
RELATED RESOURCE
The future of wholesale distribution
A leader's guide to digital transformation
To help fish farmers increase production, SFA's Marine Aquaculture Centre (MAC) teamed up with GovTech's Data Science and Artificial Intelligence Division (DSAID) to create a tool to count rotifers.
A crucial component in large-scale fish hatchery, rotifers are zooplankton used to feed fish. They only live for 72 hours, and a disruption in their supply leads to a significant loss in any fish harvest. On St John's Island, DSAID and SFA are developing a mobile app that can count the number of rotifers in an image of a water sample taken from fish larvae tanks. This process takes 40 minutes if carried out manually, but it takes just one using the app. The AI tool uses the open source library yolov3 to train labelled images, and is hosted on the cloud.
The process of counting rotifers will be slashed from 40 minutes to just one by applying AI
Developing the tool took up to six months, reveals Tan Kai Wei, a GovTech software engineer. He underlines that, since it's based on open source code, the agencies didn't have to build the AI engine from scratch. All they needed to do was train the model. It's missing some functionality, such as an authentication layer, although Tan stresses they can add a layer in future if they want. Set for deployment within three to six months, they hope farmers will use the app to count rotifers based on images taken on their smartphones.
An island embracing technology
This anthology of digisation offers a glimpse into how Singapore is undergoing an exciting phase of digital transformation across its public sector. It's worth considering, however, whether it's necessary to digitise absolutely everything – and to the nth-degree.
For example, is it really necessary to measure grass height through sensors to know when parks need to be cut? Given Singapore has a similar tropical climate all year round, it may be easier and more cost-effective to set a simple schedule.
Alternatively, considering the security and privacy consideration that must be overcome to build and launch smart city IT infrastructure, one might question whether many innovations will see the light of day. It's also important to consider whether businesses will really attach sensors to all corners of their buildings, given the cost involved. Although it might look flashy, and attractive to visitors, organisations might find the immediate ROI lacking.
Also related to this abundance of technology is the fact each government agency appears to be working on different projects and in different ways – giving the impression technological transformation is being pulled in different directions. While each agency does know best – using their own data to build systems to solve specific problems they face – it could also lead to inefficiencies. With each agency choosing its own path, it isn't clear to what extent these tools and systems will be interoperable across the breadth of the public sector, or whether workloads and functions might be needlessly duplicated.
Opting for a federalised approach, rather than a centralised approach, provokes a sensation that agencies are competing with each other, hence an almost over-the-top infusion of technology into every process. That said, Singapore is comfortably ahead of many of its international counterparts, and confident in its approach. It's impressive how agencies, along with a soft guiding arm from GovTech, are developing their own tools to solve everyday problems. With more encouragement from the digital transformation agency, it's exciting to see what might come next, and whether these systems could eventually be shared across the spectrum of Singapore's public sector.
Stay up to date with the latest news and analysis from the world of cloud computing with our twice-weekly newsletter
Zach Marzouk is a former ITPro, CloudPro, and ChannelPro staff writer, covering topics like security, privacy, worker rights, and startups, primarily in the Asia Pacific and the US regions. Zach joined ITPro in 2017 where he was introduced to the world of B2B technology as a junior staff writer, before he returned to Argentina in 2018, working in communications and as a copywriter. In 2021, he made his way back to ITPro as a staff writer during the pandemic, before joining the world of freelance in 2022.
Thank you for signing up to Cloud Pro. You will receive a verification email shortly.
There was a problem. Please refresh the page and try again.