Highgate IT Solutions shifts to permanent four-day working week following trial success
The company's sales director says the results "far exceeded anything we could ever have imagined"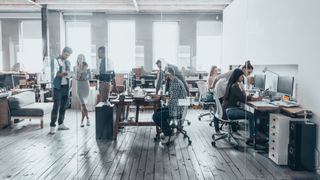 (Image credit: Shutterstock)
London-based IT reseller Highgate IT Solutions has announced a permanent shift to a four-day working week, following the success of a six-month trial period.
The company began testing the scheme on 1 April, in a move believed to be a first of its kind in the UK channel, with the aim of giving staff more free time while retaining its usual productivity levels.
It implemented the 100:80:100 model, committing the business to 100% pay for 80% of time, in return for 100% productivity.
RELATED RESOURCE
Using application migration and modernisation to supercharge business agility and resiliency
Modernisation can propel your digital transformation to the next generation
With the trial now complete, Highgate has revealed that the initiative was "overwhelmingly successful" and as a result, it will be implementing the working structure on a permanent basis.
Bob Sahota, sales director at Highgate, explained that the COVID pandemic changed perspectives on people's time and how it's used via a post on LinkedIn.
"We all experienced suffering to varying degrees and the long-term consequences were unknown," he said. "As an organisation we have always prioritised employee wellbeing and mental health ahead of everything, making that the keystone of our entire operation, knowing very well that if we as a company can look after our employees, they will in turn look after us."
The launch of the four-day working week gave the company the opportunity to take this philosophy further, with the prospect of significantly improving everybody's work-life balance.
"The reality is that our results far exceeded anything we could ever have imagined," he added. "Commercially, we saw performance and productivity increase, including several individual and team personal bests being registered throughout the trial. We also experienced zero negative cases from our clients."
However, Sahota said it was the positive impact on employee wellbeing that was the most impressive outcome of the trial.
"We saw work/life balance and overall quality of life improve the most. Seeing how everyone used their new-found extra time was also very rewarding," he said.
"For me personally, I would say it has been nothing short of life changing. Having an extra day to spend however I need to, has improved the quality of my life drastically."
The push towards a four-day working week has gathered momentum since the pandemic. This year, not-for-profit organisation 4 Day Week Global and think tank Autonomy announced a UK-wide pilot programme to measure impact on staff productivity and wellbeing, as well as environment and gender equality.
More than 70 organisations signed up to the scheme, including 3,300 workers. Data taken at the halfway stage revealed that 95% of organisations had so far found productivity to either have been maintained or improved, while 86% do not intend to revert back to the old dynamic.
The UK's official nationwide trial comes after numerous other countries around the world have run similar pilots often returning successful results.
The most widely cited example was that of Iceland's which ran a four-year trial, reporting overwhelming successful results. Other countries to embark on similar pilots are Spain, which is currently trialling a three-year pilot, Scotland, Ireland, and Japan which is still planning how it will begin its trial.
Stay up to date with the latest Channel industry news and analysis with our twice-weekly newsletter
Dan is a freelance writer and regular contributor to ChannelPro, covering the latest news stories across the IT, technology, and channel landscapes. Topics regularly cover cloud technologies, cyber security, software and operating system guides, and the latest mergers and acquisitions.
A journalism graduate from Leeds Beckett University, he combines a passion for the written word with a keen interest in the latest technology and its influence in an increasingly connected world.
He started writing for ChannelPro back in 2016, focusing on a mixture of news and technology guides, before becoming a regular contributor to ITPro. Elsewhere, he has previously written news and features across a range of other topics, including sport, music, and general news.