Why Commvault overhauled its channel programme
Company's VP of channel in EMEA says it's "walking-the-walk" with new partner strategy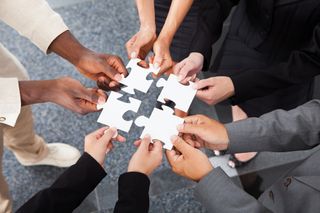 Commvault recently announced what it described as the "simplest, most profitable" partner programme in the company's history.
This latest version of the Partner Advantage Programme follows a series of operational and organisational changes introduced by the storage vendor in July 2018, which included overhauling Commvault's channel-go-to-market strategy.
Bruce Park, Commvault's VP of channel in EMEA says the changes to the partner programme are a continuation of a broader strategy to move the business closer to the field and to the regional organisations by giving partners greater incentives to work more closely with Commvault.
"While many vendors rely on their partner network, they are often unwilling to walk-the-walk," Park tells Channel Pro. "Commvault is looking to build long-lasting and sustainable relations with its partners, and we recognise that resellers can't hit targets every quarter, but that shouldn't prevent them from benefiting from annual bonuses and other incentives in the long-term.
"We are aiming to provide practical support to our partners, and the new opportunities and capabilities available through the Partner Advantage programme are made to help partners accelerate business, expand the path to multiple revenue streams and consistently win more business."
What's new?
With the new programme, rewards for Commvault's top resellers more than double, while the programme itself is easier to navigate: "The biggest new development is a simplification of the processes around deal registration, specifically in terms of timeframes and deal closure," says Park.
Commvault has expanded deal registration to include its Alliance Partners and Global System Integrators. In addition, it has added optional deal registration extension time periods to accommodate the deals that may be more complex or have a longer sales cycle, enabling the vendor to continue to support the partner that registered the deal.
Elsewhere, the updates to financial rewards include instant-win rebates awarded upon order entry for a new Commvault customer delivered by a partner, and back-end rebates to "land and expand" business for new customers. Commvault also announced "achievable proxy quota" with performance-based rebates and year-end bonus structure containing "multiple bonus accelerators to maximise overall profit potential". It also has introduced promotional rebates focused on consistent and repeatable business with Commvault, "building and rewarding partner loyalty".
Park says the vendor has also heavily invested in "an upgraded digital experience" where partners can register an opportunity, prepare a quote, and launch a marketing campaign to drive demand, train and enable their sellers and solution engineers and gain 24X7 access to partner professionals.
He also points to the launch of a PSD (Partner Success Desk) in EMEA, with 40% of partners using it to address queries and problem-solve.
New CEO's channel commitment
Park says the company's commitment to the channel has been strengthened by Sanjay Mirchandani, who in February this year replaced Bob Hammer as CEO, who led the company for more than two decades.
"Sanjay has underlined his commitment to evolving Commvault globally into a truly partner-centric organisation and these current enhancements represent an evolution in our programme with a focus on simplification, innovation and market execution," Park explains.
"The indirect route to market has never been more important for those looking to get UK sales and services coverage. As competition tightens, vendors are turning increasingly to the channel to spur growth. But what is often overlooked it that to drive greater revenues, IT vendors need to create a network of advocates who truly believe in, and understand, a specific solution, product or vendor.
There has been a trend in recent years, of vendors looking to simplify their partner engagement. However, Park notes that "it is not as simple as trying to incentivise quick sells, as this only takes into account a short-term view of the partner relationship."
"By providing simpler partner programmes, as is the case with less complicated technology, the value proposition and overall business benefit can be achieved more effectively," he says. "In short, I see a move to these more simplified approaches becoming the rule rather than the exception over the next couple of years."
Elsewhere, part of the changes announced last year included plans to slim down CommVault's distribution channel in EMEA. While the company wouldn't provide an update on the rationalisation, it did say that distributors are also in line to see improvements with the new programme, with those bringing in new business and making the required transactions able to earn 1.65 times more than before.
Moreover, Park pointed to an expected growth in channel sales. Currently more than 90% of Commvault business goes through partners, but he says that as the firm continues to develop its networks and put more emphasis around initiatives like the Partner Advantage programme, "we expect that to significantly increase over the coming quarters".
Stay up to date with the latest Channel industry news and analysis with our twice-weekly newsletter
Stay up to date with the latest Channel industry news and analysis with our twice-weekly newsletter
Thank you for signing up to Channel Pro. You will receive a verification email shortly.
There was a problem. Please refresh the page and try again.