How the IT channel can support the NHS in a time of crisis
With Covid-19 pushing an already-stretched public health service nearer to breaking point, can digital transformation help ease the strain?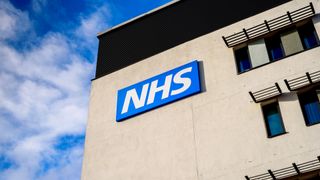 (Image credit: Shutterstock)
The British Medical Association (BMA) says Covid-19 disruption is "storing up greater problems for the future" of UK healthcare. From April to November last year alone, 2.57 million fewer elective procedures were performed and outpatient appointments fell by 18 million.
However, John Thompson, managing director at Leeds-based Advanced Power Technology (APT), suggests some digital projects that can help relieve the pressure are being accelerated. APT was in the middle of a datacentre project for an NHS Trust refreshing power and cooling systems, shoring up infrastructure efficiencies and uptime, helping the Trust do more with less while keeping ahead of emerging IT issues when the pandemic began in March 2020.
"We were expecting to have to stop work halfway through," Thompson tells ChannelPro. Instead, the team was told to double down.
"There's more demand for companies like us. We've just won a tender to build a new hospital datacentre and they're asking for another one now. They want partners who can guide them and help develop strategy."
NHS projects often require more handholding and help identifying what's available IT-wise, optimising budget, and how to approach the solutions – great for channel value-add, Thompson says.
Service and problem-solving for the specific customer environment is key. Hospitals are often busy non-purpose-designed spaces with an array of odd nooks and crannies, so it takes expertise to work out which solutions could fit where and deliver desired outcomes. Anything that frees up resources and guarantees uptime or adds visibility, monitoring or management across a distributed network or campus can be helpful.
Update them on IT available
Often, in-house teams haven't had time to keep up and can be a few years behind, Thompson says. It's not all about supplier frameworks: APT works direct as well as on frameworks such as the Guy's and St Thomas's zero-carbon panel.
Pascal Holt, head of marketing strategy at liquid-cooling vendor Iceotope, says its sealed-chassis liquid cooling technology is going through proof-of-concept for healthcare deployments. These are harsh environments where human interference and error isn't far away.
Physical security risks, space constraints, acoustics and noise are all concerns in healthcare settings, from bedside or consulting-room areas where testing and diagnosis or critical emergency care may be taking place, or sensitive instrumentation or imaging may be involved. Then the requirement moves to scale-up, criticality and removing latency and resiliency issues, whether from interoperable modules or self-contained point systems.
"When you've got AI coming in within healthcare that means faster, more powerful chips for processing data. Then heat becomes a massive issue – not just in terms of what you do with the heat you've captured from the IT or how much is generated, but how do you take it away to let the chips work at maximum?"
Faster diagnoses improve and speed up treatment. If on-site health professionals can access 150,000 scans of similar people to make decisions, the results include better patient outcomes as well as greater efficiency across the board.
According to a McKinsey report, by 2030 the world will be short of some 9.9 million doctors, nurses and midwives. The OECD estimates that about 20% of global healthcare spending is wasted – a 2017 figure that includes error, fraud and unintended patient harm.
The UK comes in about average in the OECD statistics, so there's scope for tech solutions, and the government does recognise the benefits – for instance earmarking £7.5m for digital shift-scheduling aimed at helping nurses spend more time with patients.
Scoping the opportunities
Channel opportunities likely exist across any and all IT support aspects, from servers and storage to services, communications, remote and distributed working. There are also business applications such as enterprise resource management, as well as the sorts of personalised and targeted healthcare that will be enabled by data analytics. Interoperability of medtech with IT is improving too -- but more is needed.
Robin Ody, senior channels analyst at Canalys, suggests that larger partners with broad capabilities could be well placed.
"Particularly larger partners with large discounts from vendors, allowing people to save money. Also, they have analysts who've done a lot of work providing the UK public sector with ways to manage through this pandemic," he says, adding that larger partners can have strong logistics and access to constrained supplies of hardware as well.
Healthcare can benefit from cost-effectively switching to improved management methods via its data and IT environment and assets, for example via cloud and software migrations. Look at ways to offer cheaper and secured data storage and free up infrastructure to add value, Ody suggests. For example, integrated automation tools can help classify data and secure cloud workloads.
"For example, cloud storage, cloud backup, cloud disaster recovery software from leading providers that is able to be integrated quickly and relatively cheaply by entities that can throw the manpower at it. The NHS does struggle with updating software; it often doesn't have the money and is stuck with existing legacy infrastructure."
Smaller specialists could deliver expertise in niches around regulation and navigating compliance issues, especially around patient data handling -- something that remains a concern for transformation-focused NHS Digital.
"That kind of value proposition can be quite margin rich," says Ody.
Stay up to date with the latest Channel industry news and analysis with our twice-weekly newsletter
Fleur Doidge is a journalist with more than twenty years of experience, mainly writing features and news for B2B technology or business magazines and websites. She writes on a shifting assortment of topics, including the IT reseller channel, manufacturing, datacentre, cloud computing and communications. You can follow Fleur on Twitter.
Stay up to date with the latest Channel industry news and analysis with our twice-weekly newsletter
Thank you for signing up to Channel Pro. You will receive a verification email shortly.
There was a problem. Please refresh the page and try again.