Highest paying tech jobs of 2022
A guide to the best paying technology jobs in both the US and UK, and what they entail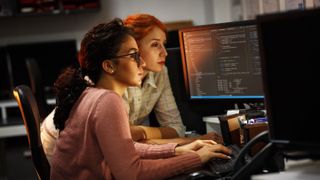 (Image credit: Shutterstock)
As of 2022, over half of the global economy is built on, or influenced by, digital services, according to global marketing intelligence firm IDC. It also estimates that by 2023, 90% of organisations worldwide will have started to prioritise their investments in digital tools to augment physical spaces and assets.
RELATED RESOURCE
The financial services survival guide
How uncertainty and disruption is forcing financial services to innovate
With all this investment, it's no surprise that some of the highest paying jobs can be found in the technology sector. In the UK, for example, the latest KPMG UK Tech Monitor found that in Q3 2021, rising volumes of new work and efforts to expand capacity led companies to add to their payrolls once again. The rate of job creation was only fractionally slower than the record pace seen in the previous quarter.
Similarly, in the United States, the US Bureau of Labor Statistics (BLS) projections demonstrate that tech occupations are set to grow by 11% through to 2029, which is "much faster than the average for all occupations".
We've compiled a list of the highest-paying tech jobs in 2022 for both the UK and US, with data based on GlassDoor figures for both the UK and US. Don't forget that most of these careers require extensive work experience and training, some require extra certifications, and for many it can be a fairly competitive market.
1. IoT solutions architect
Average salary UK: £68,822 year
Average salary US: $127,454/year
Contrary to popular belief, the Internet of Things (IoT) is no longer in its infancy. Worldwide, 41 billion IoT devices will be installed by 2027 — up from 17.1 billion in 2016.
An IoT architect primarily oversees the development and deployment of IoT-based solutions, involving a network of internet-connected objects exchanging data using embedded sensors. IoT developers are also well-versed in systems engineering and hardware device programming.
2. Big data engineer
Average salary UK: £48,414/year
Average salary US: $104,463/year
Big Data engineers turn large volumes of structured and unstructured data into usable data. Also tasked with designing scalable data management systems, top-tier algorithms, and predictive models, big data engineers foretell market fluctuations, industry shifts, and other trends with high levels of accuracy.
The most common titles for big data engineers include business intelligence developer, data analyst, and research scientist.
3. Cloud architect
Average salary UK: £70,507/year
Average salary US: $137,265/year
Cloud architects design and develop cloud environments. A cloud architect may suggest a public, private, or hybrid cloud infrastructure depending on the organization's needs. Cloud architects also carry out deployment, maintenance, monitoring, and management tasks within the implemented cloud structure.
Cloud architects may also choose cloud providers and vet third-party services for compatibility and security.
4. Computer network architect
Average salary UK: £51,185/year
Average salary US: $113,488/year
Computer network architects, also known as network engineers in some companies, are responsible for building and designing a business' communications network, often from the ground up. These networks may be made up of local area networks (LANs), wide area networks (WANs), intranets, or extranets, depending on the nature of their deployment.
Once that initial work is done, computer network architects are tasked with troubleshooting problems as they occur, and improving the network as is required. They are also responsible for keeping up to date with new network research, and proposing new strategies for upgrading the network's hardware and software, such as the various support drivers, in line with new technology.
The computer network architect role is an umbrella term that pulls together a number of popular job titles, including the computer systems analyst, network administrator, and systems architect. The average salary for a network architecture role is around $112,690, making it one of the highest paying roles in the tech industry.
5. AI engineer
Average salary UK: £52,260/year
Average salary US: $119,297/year
Combining data engineering, machine learning, data science, and software development skills, artificial intelligence (AI) engineers build, test, and deploy complex networks of algorithms that mimic human intelligence. But that's not all. AI engineers also convert machine learning models into ready-to-use APIs so other applications can access them.
Popular designations for AI engineers include AI research scientist, business intelligence developer, and computer vision engineer.
6. Software developer
Average salary UK: £39,943/year
Average salary US: $97,763/year
Software developers build applications that allow users to perform specific tasks on computers and other devices. They supervise the entire software or web development process while also leading and instructing programmers who write and test computer code. You can also spot developers writing code at times.
After deployment, developers perform upgrades and maintenance. Software developers also work closely with UX designers and business and systems analysts to identify areas needing modification.
7. Quality assurance engineer
Average salary UK: £38,907/year
Average salary US: $83,719/year
Quality assurance (QA) engineers play a vital role in the software development life cycle. They carry out tests to identify bugs and potential problems in a software product, keeping quality high.
Most importantly, QA engineers ensure deliverables meet functional and non-functional (design) specifications and requirements. QA engineers also troubleshoot issues encountered by customers in live production environments. Based on a company's internal structure, QA engineers can advance to executive or managerial roles.
8. Data scientist
Average salary UK: £46,953/year
Average salary US: $117,212/year
The job of a data scientist is to lay the foundations for others to dissect and analyse the information gathered, by combining computer science, statistics, and mathematics.
Data scientists are responsible for helping a business figure out what questions it needs to ask about the data it collects, and how to answer those questions. Naturally, this involves a lot of collaboration with business stakeholders, in order to understand objectives and how data might help achieve these.
Data scientists are tasked with gathering, processing, analysing, and interpreting large amounts of structured and unstructured data, and making sense of it all. Technology like machine learning, artificial intelligence (AI), data mining, and algorithmic and statistical tools are then deployed to transform the data into something usable by the rest of the business.
The most popular job titles related to data science include research analyst, data architect, and data engineer.
9. Information security analyst
Average salary UK: £39,323/year
Average salary US: $99,275/year
Information security analysts identify vulnerabilities in enterprises' digital security systems and execute security measures to shield sensitive and proprietary information. Information security analysts can also use intrusion detection systems (IDS) to monitor networks for suspicious traffic.
With cyber attacks becoming more sophisticated each year, there is increasing demand for information security analysts to develop intelligent security solutions to counter online fraud and phishing attacks.
10. DevOps engineer
Average salary UK: £47,698/year
Average salary US: $105,017/year
By its very name, DevOps ties development to operations processes. The versatile role involves overcoming traditional barriers between software development and operations teams.
Engineers specializing in DevOps primarily collaborate with software developers and operators on software development, create actionable timelines, automate testing, and perform maintenance.
DevOps engineers also oversee code releases within the production environment. Strong IT infrastructure management skills and deep knowledge of dedicated, multi-tenant, or hybrid cloud environments set them apart.
11. Database administrator
Average salary UK: £36,845/year
Average salary US: $83,700/year
Humans create over an estimated 2.5 quintillion bytes of data every day. Much of this data is stored in databases.
Database administrators (DBAs) use specialized software to store, manage, and organize sensitive data, such as customer details, purchase history, and shipping records. They also ascertain database systems' physical requirements, including disk space and network requirements.
Additionally, DBAs control access permissions, develop and test backup and recovery plans, and fine-tune system parameters for optimum performance.
Get the ITPro. daily newsletter
Receive our latest news, industry updates, featured resources and more. Sign up today to receive our FREE report on AI cyber crime & security - newly updated for 2023.