Managed services revenues tipped to exceed $472 billion this year
The latest research from Cisco and Canalys predicts managed services revenue growth of 12.7% in 2023 for the sector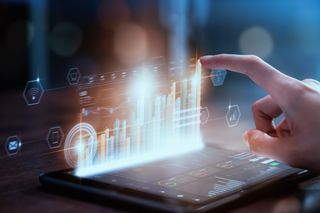 (Image credit: Getty Images)
IT channel partners that provide managed services are expected to experience significant revenue growth from cyber security managed services this year, according to a new report from Cisco.
The research, conducted by research firm Canalys, tips the sector to see growth of 12.7%, outstripping the 3.5% increase predicted for spending across the overall IT industry.
A critical need for cyber security, combined with IT talent shortages, appears to be fueling this growth. At a partner level, 89% of survey respondents said they expect their managed services revenue to increase in 2023, while 56% are expecting growth of 10% or more.
Alexandra Zagury, Cisco's VP of partner managed services and as-a-service sales, said the positive outlook is underpinned by customers integrating more technology into their operations and requiring IT partners to meet increasingly complex needs.
"The evolving ecosystem of IT partners selling managed services is adapting to meet customer needs and challenges by finding ways to modularize and package what once were customized solutions," she said.
"We anticipate more innovation and specialization from channel partners through managed services that offer distinct business outcomes and exceptional experiences."
Looking to the channel
Vendors have adapted their go-to-market strategies in response to an increase in partner types in recent years, the report found, meaning they can engage with customers across a broader range of areas and activities.
Vendors have also shifted toward a model that focuses on helping partners deliver value throughout the entirety of their lifecycle, which includes orienting programs toward the customer journey and co-selling.
In the wake of the pandemic, vendors have also moved to reduce headcount as they increasingly rely on channel partners.
This has created an opportunity for partners to tap into a specialist pool of tech talent, Canalys said, with 59% of partners expected to add headcount in 2023.
Growth opportunities
According to the report, more than a third (35%) of surveyed channel partners stated that they expect to experience a minimum growth of 20% in the managed services business this year.
Canalys senior analyst Robin Ody said the segment is now "the force driving the global IT industry's adaptability and growth."
"Our research underscores the substantial potential for companies selling managed services, opening up diverse avenues for them to thrive in a post-pandemic era," he said.
MSPs revealed managed services critical to their current revenue streams are data center management, managed endpoints, as well as network managed services.
The highest expected revenue growth among MSPs will be in endpoint and network security, the survey revealed.
RELATED RESOURCE
Learn about Cloudflare's new Brand and Phishing Protection feature which will help protect you from phishing attacks

WATCH FOR FREE
Cloud infrastructure management was also identified as a key opportunity for growth, with 55% of channel partners stating that they expect revenues for the segment to increase in 2023.
This hike is being fueled by organizational challenges in shifting to the cloud, such as those associated with complex cloud infrastructure across both public and private, as well as distributed applications and services.
Additionally, emerging tech such as artificial intelligence (AI), data analytics, and the increasing focus on sustainability measures represent an opportunity to further accelerate revenue growth.
More than half (59%) of respondents said they believe that AI presents opportunity, while 39% stated the tech will have either a "significant" or "tremendous" effect.
With regards to sustainability, 57% said they expect customers are prepared to pay a premium for related solutions.
"By specializing in specific verticals, technologies, or even geographic areas, partners in managed services are helping customers to solve their IT challenges, remove complexity and deliver outcomes that drive a business forward," commented Ody.
Regional prosperity
In the UK, a total of 12,615 partners delivered managed services in 2022, generating $23.8 billion in revenue through the segment. As a result, MSPs in the UK grew by 4.5% year-on-year.
Looking ahead, Canalys said partners that focus on managed services are set for further global growth over the next two years, tipping double digit compound annual growth rate (CAGR) across all regions.
EMEA, which currently boasts managed services revenue of $122 billion, is expected to see growth of 12% in that time, while North America could see a similar increase of 10-12% from its current revenue of $190.6 billion.
Elsewhere, Asia-Pacific and Latin America appear poised for 14% and 11-12% growth respectively.
Stay up to date with the latest Channel industry news and analysis with our twice-weekly newsletter
Dan is a freelance writer and regular contributor to ChannelPro, covering the latest news stories across the IT, technology, and channel landscapes. Topics regularly cover cloud technologies, cyber security, software and operating system guides, and the latest mergers and acquisitions.
A journalism graduate from Leeds Beckett University, he combines a passion for the written word with a keen interest in the latest technology and its influence in an increasingly connected world.
He started writing for ChannelPro back in 2016, focusing on a mixture of news and technology guides, before becoming a regular contributor to ITPro. Elsewhere, he has previously written news and features across a range of other topics, including sport, music, and general news.