Let it snow: The cloud never bothered partners anyway
Snowflake has set its sights high in terms of revenue growth and customer success, with channel partners set to play starring roles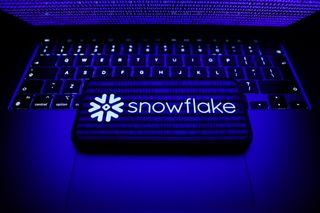 (Image credit: Getty Images)
It's not a revelatory statement, but one that is true nonetheless: Technology vendors really can live or die by the health of and focus on their partner ecosystem.
READ MORE FROM SNOWFLAKE SUMMIT 2023
Snowflake: "We want our Marketplace to be Netflix not YouTube"
Data cloud firm Snowflake is no exception. But it's not simply a numbers game, as Dan Waters, vice president of partners and alliances in EMEA told ChannelPro at the company's annual conference, Snowflake Summit, in Las Vegas at the end of last month.
"We don't have a customer success team. Our customer success needs to be delivered through our partner community. It's everyone's responsibility to make sure that our customers are as successful as they possibly can be and realize the value of Snowflake Data Cloud. Our partner ecosystem is central to delivering that," he says.
"[If we want to] realize our goals as a company, we can only do that with a strong and diverse partner ecosystem."
Recruiting at the top
That win/win sentiment is definitely echoed company-wide and Snowflake is putting its money - and its talent - where its mouth is right here and right now. Indeed, earlier this month, the firm appointed Tyler Prince - who'd spent the previous 10 years at cloud giant Salesforce and many more before that in key industry roles - as its senior vice president of worldwide alliances and channels.
"Snowflake's vast ecosystem of partners are absolutely essential to our mission of mobilizing the world's data," Chris Degnan, Snowflake's chief revenue officer said in a press release announcing Prince's appointment in mid-June.
"I'm thrilled to welcome Tyler to Snowflake. His deep industry relationships and extensive experience leading exponential growth across the channel will accelerate our partner enablement and go-to-market strategy globally."
Prince joined the firm on 5 July and appeared to be laser-focused on the partner opportunity from the get-go.
"Customers are at the heart of everything Snowflake does, and the Snowflake Partner Network is a world-class example of how delivering choice in the tools and solutions available to customers drives our customers' success," Prince said at the time of his appointment becoming public.
"I look forward to continuing to grow the Snowflake ecosystem, engaging more deeply and broadly with partners to accelerate their own businesses."
READ MORE
Snowflake poaches Salesforce's Tyler Prince to lead its channel business
Prince is in good company in terms of experience, vision and execution, certainly as far as EMEA is concerned. Waters is a 24-year technology industry veteran, with experience at Arrow ECS and Bell Microproducts under his belt prior to joining Snowflake. His primary focus right now is to ensure words turn into action, specifically in EMEA.
"My role is to make sure that we've got the best and most capable and competent partner community that we can possibly have to really serve the needs of our customers, in each of the markets," he adds.
"That isn't a one size fits all [approach]. The UK market is very different to our market in Israel, which is very different to the market in the Nordics, which is very different to the German market. So it is very much [a question of] what's needed locally, and making sure that we've got the right partners, doing the right things, and the right connections into our sales teams to give customers the best possible experience working with Snowflake."
'Partners' is an overarching umbrella label with many different types of organizations sitting underneath, myriad of sizes, and focused on different specialisms and sectors. Ultimately, Snowflake has many different types of partners flying the firm's flag, from small to large, from services and technology and everything in between.
What's more, while Snowflake is a global business with a global partner ecosystem to match that status, many markets around the world have more differences than they do similarities. And that calls for a unique, market-by-market approach to ensure success for all concerned.
"It takes local to local intentional engagement and planning and execution, to actually move the needle in any given location, especially in EMEA," Waters adds. "I think that's what's really unique about our market. It's about local-to-local engagement, local customer, local commitment, and local capability. We call it the three Cs."
Building a global community
Snowflake was founded 11 years ago in July 2012 and launched publicly just over two years later in October 2014. Three data warehousing experts were behind the firm's inception: Thierry Cruanes, Benoît Dageville, and Marcin Żukowski The former made up of two ex-Oracle alumni and Żukowski's background being that of co-founder of Vectorwise, a Dutch start-up.
What has happened during that time has been an exciting ride for industry watchers as well as Snowflake's assembled cast of internal and external players. Growth has been phenomenal and success sustained. Indeed, as of May 2023, the firm's platform boasted a 3.1 billion average daily query volume, which is up 59% year-on-year and 7x the average number of daily queries if we compare April 2020 (the company's FY21) to May 2023 (the company's FY24).
Furthermore, right now Snowflake has 40 regional deployments and 599 customers featured in the Forbes Global 2,000 list, the company cited during its Investor's Day in June 2023.
RELATED RESOURCE
Building for success with off-premises private cloud
Organizations have discovered that a one cloud solution doesn't meet all needs. Learn how co-location facilities can fit into your cloud strategy.
In the firm's FY19, it generated $97m in product revenue. In FY23, that figure had grown to $1.9bn. For FY29, Snowflake has set its ambitions high with a target of $10bn in revenue during that financial year.
Partners - in their many forms - and customer attraction, as well as retention, will clearly be key to achieving such lofty ambitions.
"We're trying to bring the community together a bit more. Both visibly and effectively. We've got a phenomenal global community, but I think the EMEA market is definitely different and complex. It's not-a-one-size fits all [thing] - every market is different," Waters emphasizes.
Snowflake and NTT Data: A flourishing partnership
One such partner is NTT Data, which has a longstanding relationship with Snowflake that goes above and beyond the sort of standard channel unions that have become typical of late.
Snowflake has recently put in new partner management in the UK for NTT to help strengthen and further support the relationship, Waters explains.
"That really makes a difference," he says. "We've been very focused on making sure we have the right talent to work with the right partners."
NTT Data is what Snowflake describes as a 'Services' partner and it's certainly a relationship where both benefit from collective as well as individual experience.
"It's the customer conversation again. It's about [looking at] real-life pain points for your customers as it pertains to service industries. That then gives the partners an opportunity to really differentiate," Waters says.
"We verticalized our sales teams in EMEA in the core markets in February of last year. I think that's really helped us get closer to our partners and mine their specialization and capabilities as it pertains to their vertical skills. It's a fairly new approach for Snowflake having verticalized relatively recently, but partners like NTT have been verticalized for years."
Gareth Lyon, head of data and intelligence alliances at NTT Data UK, says the firm does around $100m of business with Snowflake each year.
"There was recognition that if we didn't get on the Snowflake train, then we'd get left behind. We very much see Snowflake as being one of our key software partners that will allow us to accelerate our clients' route to value," Lyon says.
"We primarily look at Snowflake - it's very much a way for us to generate three to four to five to 10 times the professional services revenue compared to the Snowflake consumption that is sold," he adds.
RELATED RESOURCE
Solving the cloud-native app puzzle with CNAPP
Cloud security is complex. This whitepaper will help you protect your cloud environments and infrastructure. Figure out how to solve your cloud-native app puzzles.
"On engagements, we've been brought in after the sale. So my remit and objective for this year is for us to not only co-create but to also co-sell. And to do that in the spirit of truth, a true partnership, where we bring opportunities to each other."
All has definitely been well with the NTT/Snowflake partnership thus far. But, as Lyon explains, the firm is keen to expand its horizons.
"We've seen the results of it so far. The pipeline has tripled in size. It's now about making sure that we close some of those deals, and then continue to deliver volume," he says.
"I get approached probably on a weekly basis by another partner. I see it very much like [as a case of] 'Where can I drive the best value for the client?' And Snowflake is [the answer]. We've seen it with the engagements where we've delivered in the past."
The value of two-way relationships
Snowflake also has strong ties with the 'big three' in AWS, Google and Microsoft and those relationships are likely to get stronger rather than weaker over time, as Waters alludes to.
"We don't have an on-prem product. So our partner relationships with Microsoft, AWS and Google are absolutely critical in terms of how we go to market," he says.
"That actually connects really well into our services partners as well, where we have what we call a power of three play."
Collaboration is definitely the name of the game as far as Snowflake and its growing number of established and new partners are concerned. And both Lyons and Waters concur that communication is critical.
"We had an open and candid conversation earlier on talking about how the partnership is going and how we can improve it. A partnership for me is about walking into the room, shoulder to shoulder. If you do that, then you are being successful," Lyons adds.
Waters adds: "In any relationship, there are always ups and downs and peaks and troughs. You've got to hold each other accountable, to be the best that you can be. A lot of the conversations I'm having with partners over this week [at Snowflake Summit] is [asking them to] tell us how we partner. That's not just on us and it's not just on the partner. It's a two-way thing."
Stay up to date with the latest Channel industry news and analysis with our twice-weekly newsletter
Maggie has been a journalist since 1999, starting her career as an editorial assistant on then-weekly magazine Computing, before working her way up to senior reporter level. In 2006, just weeks before ITPro was launched, Maggie joined Dennis Publishing as a reporter. Having worked her way up to editor of ITPro, she was appointed group editor of CloudPro and ITPro in April 2012. She became the editorial director and took responsibility for ChannelPro, in 2016.
Her areas of particular interest, aside from cloud, include management and C-level issues, the business value of technology, green and environmental issues and careers to name but a few.
Stay up to date with the latest Channel industry news and analysis with our twice-weekly newsletter
Thank you for signing up to Channel Pro. You will receive a verification email shortly.
There was a problem. Please refresh the page and try again.