Manufacturers must digitally transform. How can the channel help them see past the hype?
Customers in manufacturing are looking towards big data, smart factories and Industry 4.0, yet cynicism remains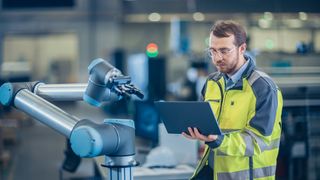 (Image credit: Shutterstock)
Manufacturers could be a growth area for the channel as the UK moves past Brexit, with all segments increasingly encouraged to harness data-driven insights. However, MIT research finds that implementation and customer experience often leave something to be desired.
Paul Crutcher, operations director of Newport office equipment manufacturer Bisley, says he's "very conscious" of not having joined the big data revolution, with digital transformation still "a bit of a blind spot" for manufacturers unsure of benefits.
"I want to demonstrate conclusively that it will increase value. It could just be a layer of sophistication and noise that sits on top of a poorly understood system," Crutcher explains. "You see it everywhere."
Implementations with management buy-in can still negatively affect people working on the factory floor, which Crutchers says happens "more often than you'd like".
How can the channel help?
VARs and vendors are typically comfortable with the tech market's intensity and conviction. Manufacturers, however, may come from a different perspective, often focusing on very concrete aspects, compared to financial services or other more information-based customers.
Andrew Corcoran, UK director of partner and channel sales at VMware, insists that tech can deliver, even for manufacturers that are slower to take on the job of digital transformation. Channel partners must work to "speak their language" to deliver value and outcomes that manufacturing customers expect.
"Even in manufacturing, it's likely IT is expected to generate revenue, not be a cost centre," Corcoran notes. "If you don't deliver, I think your customer will always view you as potentially overhyping the story."
Tracking and measuring the success of the infrastructure or solution throughout its lifecycle with the customer is therefore critical, although the UK channel is "pretty mature" already in delivering services, he says.
"Our Success 360 is about ensuring we've achieved the business objectives set out when we delivered the technology," Corcoran says. "And if they're cynical, you point to customers where you've delivered a measurable achievement against the outcomes."
It all sounds easy enough, until you look at the typical host of marketing-driven collateral that can make it nigh-on impossible to understand the whole story, or compare apples with apples.
Instead, metrics should reflect business value, customer experience and solution performance. Many partners already do this well, but no doubt some could go further to prove solution value, with vendors fostering this development through stronger partner programmes, Corcoran suggests.
This can help avoid shiny object syndrome, delivering for the diversity of manufacturing – comprising customers in high-tech sectors like biopharma already focused on IoT and AI, as well as more traditional plants where equipment is yet even to be electrified.
Get smarter about customer needs
Neill Burton, UK and Ireland director of channels and alliances at application security vendor F5, notes that many manufacturer customers are seeking to understand and improve the ability of retail partners to sell to and deliver for end user customers, often online, across the whole supply chain. Much of that was accelerated due to COVID.
"Some large airline-engine providers required solutions for people flow and going digital, whereas we had other manufacturing customers that create packaging, where online commerce rocketed and their systems broke," Burton says.
Providers need to go deeper on understanding the customer. Burton says go beyond their pain points to learn about all their challenges – "their headwinds and tailwinds" – to translate that information into smarter solutions and implementations of technology applications across their whole business.
"An example is a customer we had with a huge peak at certain times of the year. Selling them tech as a consumption model rather than capex is one thing, but understanding where their renewal points come is another," Burton says.
"Should you base next year's bill on three months usage, or month eight of the contract? Don't write contracts just before a spike."
Eric Stoop, chief executive officer of plant audit provider Ease, says most manufacturing staff work in plants and on the plant floor: Buyer sophistication can be lower than partners are used to and implementations longer.
"Many managers may have never made a purchasing decision and may not even have a software budget. The buyer might not know how to make the business case or procurement process," Stoop says.
Saar Yoskovitz, chief executive officer at diagnostics specialist Augury, adds that many manufacturers are stuck in "pilot purgatory", unable to scale due to Covid.
"Is your technology providing the same value at more mature sites as at newer plants? This shows you can deliver value across the entire manufacturing operation, rather than just the pilot site," he notes.
Manufacturers can be particularly risk-averse and need complete assurance, Yoskovitz warns.
Stay up to date with the latest Channel industry news and analysis with our twice-weekly newsletter
Fleur Doidge is a journalist with more than twenty years of experience, mainly writing features and news for B2B technology or business magazines and websites. She writes on a shifting assortment of topics, including the IT reseller channel, manufacturing, datacentre, cloud computing and communications. You can follow Fleur on Twitter.
Stay up to date with the latest Channel industry news and analysis with our twice-weekly newsletter
Thank you for signing up to Channel Pro. You will receive a verification email shortly.
There was a problem. Please refresh the page and try again.