Why good deals go wrong
Partnership and miscommunication are often at fault when a seemingly good deal goes bad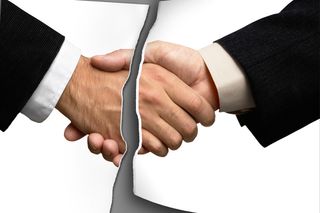 Some channel deals are memorable for all the wrong reasons, and the flaws are often related to a failure to forge strong working partner relationships that deliver the best customer solutions – as several partners have revealed to Channel Pro.
Partnership problems can often be spotted early on and are likelier with multi-tier, multi-partner channels, according to Ian Moyse, chief revenue officer at sales software provider OneUp Sales and a 30-year veteran of the IT channel.
The most difficult deals can also seem too easy to begin with.
"Sometimes they tell you confidently that they just want to buy X. It can be a hard one to throw that back and ask: 'Are you sure?'," he says.
"So you think you need to do this thing, and you do it. But that's just your interpretation. You've asked certain questions and come up with this assimilation. It's like a doctor prescribing medicine when they haven't seen the patient. How do you know it's the right thing?"
Moyse says miscommunication can then get worse the further away partners are from the vendor, making for potential misunderstandings about the nature of the relationship and the solution. The customer then becomes frustrated as they're not sure who to blame for what's gone wrong, while IT providers can end up providing additional commercial, technical or other special resources to support a deal.
Additionally, sales professionals can be tempted to oversell – positioning their company or partner solution as the definitive answer. Sometimes, this might be because the partner simply hasn't stuck around long enough post-implementation to find out whether a solution really delivers.
If you're not speaking directly with the end client yourself, things can turn sour fast, he confirms.
If you're serious about growing your MSP, then you first need to focus on building a top-performing sales team. Sales experts share their advice in this free guide.
"Get on the phone together and work it out," says Moyse. "Be on those first calls together too. Don't assume you know everything and don't guess."
Kevin Eley, UK and Europe vice president of sales at security platform vendor LogRhythm, similarly finds that the most difficult deals stem from multilateral, complex relationships. Miscommunication in the procurement process especially can catch channel partners out.
"Once we were told that the organisation in question had appointed a third-party procurement agency to run a 'very robust and tightly managed, highly scrutinised request for information (RFI)/ request for proposal (RFP) process'," Eley reveals.
Eley recalls that the team did not know if this agency had ever been involved in similar solution discovery or design, or cybersecurity functions. Despite doubts, they decided to proceed.
"Our team had really constructive discussions, directly with the expected users. We felt that we were building rapport, and were a good fit," he says. "We won the deal, and felt good about that until about a week later."
They were then told by the third-party agency that an unnamed organisation had contested the outcome, looking at the procurement process, and decided to rerun the entire process again. This obviously increased the resource outlay, with a knock-on impact on the actual project after winning both requests for proposal.
Also, says Eley, this revealed "some competing and conflicting parameters around what the customer was looking for".
Their post-sale review indicated they could have done more diligence on the third-party agency, its role, and on the entire process – and then ensured that the process followed actually matched the steps outlined in detail, he says.
"That's probably the only area. Maybe we could have triple-checked and consulted with a couple of other stakeholders just to make sure we fully understood," he says. "Also, maintaining and retaining dialogue with the end user customer, to understand what they're trying to achieve. I think in future we would seriously question an opportunity if it didn't allow that."
Eley also recalls one service provider that they started working with and then worked out it wasn't a good fit. Rushing into the deal optimistically "really didn't work out". Like Moyse, Eley recommends being "upfront and genuine" as key.
Christophe Malapris, sales director EMEA at email security provider Vade, confirms similar issues onboarding a European MSP with a sales team that seemed "really excited" about Vade's products.
"We had a great relationship and helped them win their first deal. But their sales reps started sending us their prospects and we began to close all the deals for ourselves. At first it was great that they trusted us, and brought us a lot of business."
"After a while, it became too time-consuming for sales, presales and support teams. We had to think of a solution quickly to keep the customer happy while managing our own workloads," Malapris says.
The solution was to train the customer's employees, which was a "major undertaking" even though it delivered the required results, enabling sales and marketing to reduce its dependence on Vade.
Research from McKinsey has shown B2B solutions sales can be prone to these kinds of issues, because many B2B solutions providers – such as IT VARs and MSPs – can be less commercially focused than transactional sales companies, such as box shifters and transactional resellers.
A more recent global study of 2,500 B2B companies highlights "insights, agility, talent and (in-house) tech" as key to superlative performance, suggesting the importance of human skills, supported by tech, to sales that deliver to customer needs.
"Outperforming B2Bs are more aggressive in making adaptations that put the customer first," the write-up notes. "Outperformers are 27% better at solution selling."
Stay up to date with the latest Channel industry news and analysis with our twice-weekly newsletter
Fleur Doidge is a journalist with more than twenty years of experience, mainly writing features and news for B2B technology or business magazines and websites. She writes on a shifting assortment of topics, including the IT reseller channel, manufacturing, datacentre, cloud computing and communications. You can follow Fleur on Twitter.
Stay up to date with the latest Channel industry news and analysis with our twice-weekly newsletter
Thank you for signing up to Channel Pro. You will receive a verification email shortly.
There was a problem. Please refresh the page and try again.