For the channel, 5G offers a new landscape of opportunities
Intelligent analytics and services will likely drive partner profits, say early movers in the space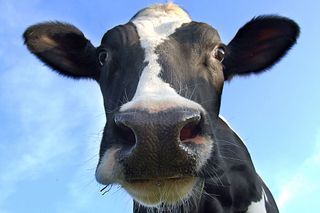 It's a timeless scene: 50 dairy cows grazing peacefully in a lush, green field in Somerset. However, this is a 5G RuralFirst testbed project: the cows' 5G-enabled collars and ear tags not only monitor their health remotely, enabling a quicker response to problems in the field, but allow the cows to take themselves to the shed for milking, using robotics that communicate with their sensors.
A farmer with 100 cows in such a setup could, it's suggested, gain 25 more milking days and save £11,000 a year. Could similar Internet of Things (IoT) opportunities eventually mean bigger profits for the channel?
So what's the beef?
Paolo Campoli, senior director of EMEAR service providers at Cisco, a vendor partner of the 5G RuralFirst testbed, says the opportunity for the channel in 5G is layering intelligence on top of the mobile connectivity, benefiting from speed, ultra-low latency, and higher scalability.
"It's providing a programmable platform for a new generation of developers to code for services, via APIs," he tells Channel Pro.
In the 5G-enabled world, Campoli believes channel providers may increasingly go "beyond IT" to work or even merge with other business areas, from automation to logistics and physical security, building facilities and environments.
"It gives you much more ability to compare and control data coming from all these connected and mobile devices. You can do data correlation, and algorithms. You can get the data in and start analysing this data. You can use it to make decisions and deliver very very close to the end point," he says. "That's the grand vision."
Ultimately, it's a chance for the channel to sell information-rich solutions and services in verticals from agriculture to healthcare and government, in locations from farms to sports stadia and university campuses, he says.
Bigger shares for the channel?
Michael Deittrick, senior vice president of digital strategy at Information Builders solutions partner DMI, tells Channel Pro 5G will enable the facilitators, the shared aggregators of mobile data, to earn higher revenues than producers of phones, networks or infrastructure.
"The company that gets 5G, IoT and analytics right will be the next Amazon," he predicts.
DMI has been developing IoT accelerators that provide pre-configured analytical capabilities for asset tracking, fleet management and predictive maintenance. 5G-enabled geofences, custom notifications and predictive maintenance analytics can help supply chain and transport companies to optimise their vehicle use.
5G analytics will facilitate rich content in smart cities, Deittrick explains, and speed up business decisions. For example, 5G will connect retailers with the reactions and interactions of customers and potential customers walking along their street.
"Businesses in that location will collaborate to create personalised experiences. Brands will be able to immediately see whether adverts are having an effect," he says.
Pitfalls amid the promise
Craig Lodzinski, chief technologist for emerging technologies at infrastructure provider Softcat, agrees it's worth getting out in front in case there's a first-mover advantage, but says there are plenty of challenges for the channel.
"A small subset [of projects] in areas like high-frequency trading and investments and in big companies will be quite expensive to achieve; I think the range of the base stations is only a couple of 100m," he says. "Most organisations will have to have a very strong business case."
Intelligent edge computing is a key goal – for example, AI instances at the edge. Yet higher data volumes with low lag mean a high noise to signal ratio; channel providers will need to work hard to extract that signal to shrink Big Data bottlenecks and provide business value, Lodzinski notes.
"Like gas or water or electricity, once you have it there's a lot you can do with it. But it's up to resellers like us to design and build and implement the solutions in ways that fulfil business imperatives," he said.
This may mean new considerations about billing too, which may need restructuring to suit customers who may start to realise that "bigger pipe" for data might work out to be rather expensive. Meanwhile, Lodzinski believes plenty of education will be needed, both within the channel and of customers.
"5G will be seismic," he says. "But it really depends on what you can build on top of it."
John Delaney, associate vice-president for mobility at IDC, tells Channel Pro there's still a way to go before it will be clear exactly what's possible with 5G, including full final approval of 802.11ax (WiFi 6). Questions will have to be resolved about security and privacy too. It will often be expensive, and about building up practical enterprise use cases that shore up RoI.
But doing nothing yet – seeing 5G as just a wider pipe, and not appreciating that in a few years 5G will start to deliver revolutionary things in settings such as factories and hospitals – is risky. 5G will enable network slicing, delivering an application, for example, over a segregated virtual instance of the network.
"Just because it's not a revolution," Delany says, "doesn't mean it won't cause one."
Stay up to date with the latest Channel industry news and analysis with our twice-weekly newsletter
Fleur Doidge is a journalist with more than twenty years of experience, mainly writing features and news for B2B technology or business magazines and websites. She writes on a shifting assortment of topics, including the IT reseller channel, manufacturing, datacentre, cloud computing and communications. You can follow Fleur on Twitter.